Moment of truth for Republic of Ireland
Crunch time. The business end. Call it what you like, but there is no doubt that the Republic of Ireland have arrived at the most important stage of qualifying for the 2014 World Cup.

While many expect to be nervously chewing on fingernails as they watch Giovanni Trapattoni's team host Sweden in the Aviva Stadium on Friday night before heading to Vienna to take on Austria four days later, there is a slight hum of optimism in the air around the squad.

No, the Irish players have not discovered some inside information about their forthcoming opponents that tilts things in their favour. Instead, realism has reignited their spirits like the first sip of coffee on a cold morning; as they know that both of their Group C rivals are not only beatable, they are, in fact, quite ordinary.

Clinching the runners-up spot behind group leaders Germany is the target for Ireland and that has not looked more achievable throughout this topsy-turvy qualifying campaign. Man for man, team for team, point for point, Ireland are starting believe that they can overcome the Swedes and take out some revenge on the Austrians for having the audacity to equalize in the final minute of their duel back in March.

And, this, arguably, is the best squad that Trapattoni has had at his service since being drafted in as the team's savior in 2008. Okay, both Shay Given and Damien Duff have retired and Darron Gibson is still in exile, but there is a more balanced feel to this roster with strength in almost every position rather than just two or three spots as was the case when they reached the Euro 2012 finals and unsurprisingly bombed.

A scan through the squad pops up names like Seamus Coleman, John O'Shea, Marc Wilson, James McCarthy, Jonathan Walters, Wes Hoolahan, and Shane Long, who are all proven Premier League players. Add to that mix, the guile of captain Robbie Keane, the experience of Richard Dunne, and the spark that could come from Robbie Brady, James McClean or even the uncapped Anthony Pilkington, and you can start to see why positive vibes are flowing through the team's hotel in Portmarnock.

The only real danger in stopping this group from clicking as a cohesive unit and showing that Irish hardware can outclass IKEA style is Trapattoni. At 74, the fiery Italian continues to keep supporters on edge with his dreary tactical approach and baffling team selections. And alarm bells were sounding this week when Paul McShane and Simon Cox linked up on the left-hand side in a training game. But surely he can't mess things up with this squad.

Trapattoni knows that his future as Ireland manager hinges on these two games, particularly the Sweden match as that is at home and will set the tone for the Austrian encounter. Although, the players are the key as their collective enthusiasm is allowing them to dare to speak of spending next summer in Brazil and they could just cause a stir.

"We've got a good young squad together now and we've got a lot of young players coming through. Hopefully now is the time for them to grow up and show us what they're made of and if we can qualify for Brazil that would be something else," said Stoke City powerhouse Walters.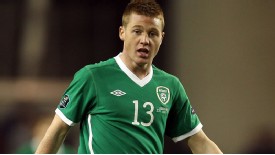 GettyImagesMuch is expected of midfielder James McCarthy after swapping clubs.
One of the younger players who he was referring to is McCarthy -- the Scottish-born central midfielder who swapped Wigan Athletic for Everton on transfer deadline day and is beginning to fulfill his potential. It took quite a while for the 22-year-old to earn the trust of Trapattoni and prove that he could cut it on the international stage, but now he is an important player in the most crucial area of the pitch.

Little appears to faze McCarthy and he brushed off talk of increased pressure after Everton splashed out £13 million for him and about playing a leading role against Sweden. For him, everything is simple with the focus solely on finding a way to beat Erik Hamren's team, who they drew with in Stockholm earlier this year, and taking the next step forward.

"The main thing is getting the three points against Sweden and then go to Austria. We will take it one game at a time, but there is a real buzz about the camp," said McCarthy in his now typical way of never over-hyping big games.

Before egos get too inflated it is important to remember that this is still the same Irish team who failed to register a single shot on target the last time that they played Sweden. Then there is the threat of PSG's Zlatan Ibrahimovic, who can be a game-winner when he decides to turn up and assistant manager Marco Tardelli insisted that he was "scared" of him.

Yet, fear is not an emotion that the Ireland players should be feeling ahead of kick-off on Friday night. Even if they listen to Trapattoni and stick with his 4-4-2 system, they should still be more than a match for their visitors and prove that this group has more quality than they are given credit for -- and that includes from their own manager.

Of course, there is one other motivating factor and that is a World Cup spot (or at least a play-off qualifier to get there). Fall at home to Sweden and the journey is more-or-less over, but win and the trip to Vienna suddenly takes on even more importance.

And confidence could just be what this team needed all along. We'll find out one way or another on Friday.