If the World Cup started tomorrow: The no-hopers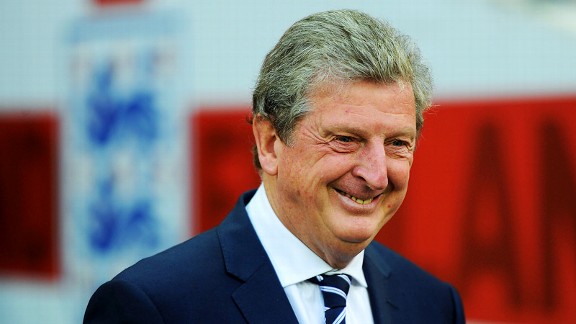 Michael Regan/The FA/Getty ImagesEvery England manager, Roy Hodgson included, starts out with smiles and positivity. But that will change.
Hope is a funny thing. It can nourish or starve the soul. It keeps us going until the reality kicks in. To paraphrase John Cleese from the seminal 1986 slapstick comedy "Clockwork," "I can take the despair. It's the hope that kills you."

And he's right. When it comes to sports -- you know, those formalized playground games we invest our money, sanity and emotional well-being in -- there is no greater hope than that of the World Cup. Next summer's pageantry will see 32 teams converge in Brazil, 31 of which will fly home no better off (perhaps much worse) for having made the trip.


---
World Cup 2014 Coverage
- Bennett: Shadow of '70s looms over Brazil
- Macintosh: Brazucas, Belgians, and Brazilians at Barca
- Gab Marcotti: World Cup favorites
- England: Hodgson faces a history of failure
- Is this a tournament too far for Spain?
- World Cup no-hopers
- How good are the U.S.?
- SPI: World Cup interactive map
- Top up-and-coming players
- The dark horses in Brazil
---
With one year to the big show and only Japan having secured a spot alongside host nation Brazil, some 115 countries (out of 203) still have a chance, however slim, of even qualifying. Then once the field is whittled down to the final 32 by mid-November, only a quarter of those sides can hold any realistic expectation of actually winning the thing.

Yet none of the above -- or the fact that no European team has won a World Cup in South American, arguably limiting the pool of possible victors even further -- will stop a cavalcade of chancers from getting excited. With that in mind, here are four teams that should probably find something else to dream about.

England:
If stages of grief could somehow be extrapolated to some kind of 64-team tournament, England's national football team would be the consensus No. 1 overall seed. The unyielding nightmare of feelings known as watching the Three Lions is simply unparalleled, not to mention the healthy secondary market for schadenfreude-laden fans of other nations who enjoy seeing the proud, brass band-touting Brits full of woe. Now I can understand why we invented this game.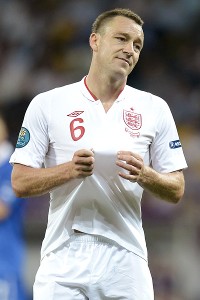 Filippo Monteforte/AFP/Getty ImagesJohn Terry won't be in the England mix next summer but his sadness at another tournament disappointment will be.

Nowhere is Cleese's soundbite apropos than a tournament cycle for whatever proud, chest-puffed 23-man squad England has clicking over at a temperature somewhere between "room" and "low simmer."

Coach Pearce/Capello/Hodgson/no-is-it-Redknapp?/stone-faced custodian is barely keeping it together while flawed heroes such as Jack Wilshere, red-faced Phil Jones and Theo Walcott gallop about in qualifying, gathering a steady but stultifying momentum aided by Gareth "Stodge" Barry and James "More Stodge" Milner. Michael Carrick metronomes proceedings at 60bpm while Wayne Rooney's latest contract hiccup gathers as many, if not more, headlines as a 1-1 draw in Cyprus.

But, lo, they finish top of a comfortable group. Players perform ably at club level. The manager affords himself a smile and a modicum of optimism. As things creep closer to the main event, the lads say all the right things. They look sharp. They look hungry. This will be the year.

And then another dispiriting extra-time draw begets defeat on penalties in the round of 16. It's an outcome beyond self-parody, a tragedy worthy of performance art. Everyone turns puce, flags wilt, songs cease, lager spills in unison with the tears of its drinkers.

Assuming they can defeat the entirely artificial obstacle that is "currently being second in qualifying to Montenegro," expect the above to play out next summer like a warm, comforting case of deja vu. Not even Sisyphus pushed this hard.

Netherlands:
The Dutch are more rational than the English when it comes to its national team, but the surfeit of natural talent at the Oranje's disposal at least justifies the emotional investment. In 2010, Robin van Persie led a merry band of thugs through the tournament, kicking and screaming their way to within a few minutes of a chance to win the World Cup on penalties. (Nigel de Jong should have kicked harder.)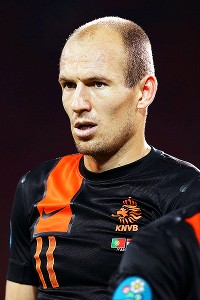 Julian Finney/Getty ImagesArjen Robben and Wesley Sneijder have had tension before and while things seem smooth in the Oranje camp at the moment, it could easily flare under World Cup pressure.
It wasn't pretty, it wasn't Cruyffian, it wasn't beloved … but it was effective. Yet the 2013 Netherlands side is blessed with more art and apparent harmony than previous incarnations. Wesley Sneijder's gradual disconnection has relieved Arjen Robben of his usual antagonist. (Both were omitted from February qualifiers yet turned up on the recent tour to Indonesia.) Van Persie is healthy and sublime. Mark van Bommel and de Jong have moved on, paving the way for a more graceful and dynamic clutch of midfielders, some of whom are currently at the U-21 European Championships: Kevin Strootman, Jordy Clasie, Marco van Ginkel, Siem de Jong, Adam Maher, Leroy Fer and Giorginio Wijnaldum. There's also an able goalkeeper in Maarten Stekelenburg. (Newcastle's Tim Krul ain't half bad either.)

But it will unravel as a few Dutch teams have been known to do: on defense. Johnny Heitinga is a passable disaster at times, Ron Vlaar is still finding his international sea legs, Joris Mathijsen is 33 years old, Gregory van der Wiel is under-used (and sub-par) at PSG and Jetro Willems is still recovering from the humiliations of Euro 2012.

Well, that and the usual tempers and personality clashes.

Uruguay:
Inconsistency is a killer in international football because to win a World Cup, you need to do two or three basic things:

1. Play well in every game.
2. Get winning results from every game you play.

Ergo, there's no room for anything else, really. Yes, Spain started off slowly in both 2010 and 2012, losing to Switzerland and drawing to Italy before decimating all and sundry, but wild fluctuations from world beaters to forlorn mess simply won't guide you to the promised land. And by Promised Land, I mean sharing a stage with an inanely grinning Sepp Blatter, some greedy leaders of industry, a trophy and enough confetti to sink an ocean liner.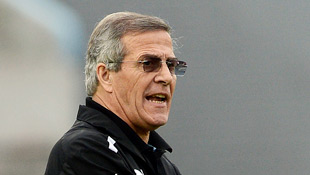 Franck Fife/AFP/Getty ImagesUruguay's Oscar Tabarez hasn't yet found his ideal lineup, hardly the kind of uncertainty that bodes well for a World Cup run.

For this reason -- as well as a wobbly back four -- it's safe to assume that Oscar Tabares' side won't be bettering its semifinal finish from 2010. (If they even make it at all, given that they're currently trailing Venezuela for the fifth CONMEBOL spot and a playoff with the AFC chattel.) Luis Suarez is great, Edinson Cavani is great, Diego Forlan is old and great, but there are too many concerns and possible combinations for Tabares in squad selection that disappointment surely awaits.

Ghana, Nigeria, Cameroon, Senegal, Cote D'Ivoire, etc.:
Given that I didn't want to pick France and make this a UEFA-dominated party (lucky Les Bleus!), we can probably put off the awe-inspiring sight of seeing an African winner for another four years. This is the saddest conclusion of the four I've picked out, for many obvious reasons.

For a start, the generation gap. While the progress of all the aforementioned sides has been brilliant over the years, it remains to be seen whether or not the next wave is good enough to sustain the charge.

Michael Essien. Didier Drogba. Benni McCarthy. Samuel Eto'o. Yaya Toure. All iconic players who helped put African football on the map. All either retired, close to it or have precious few years left at this level. A quintet of essential stars that aren't easily replaced.

Then there's the miserly apportionment of World Cup berths. Of the 52 teams registered to compete in CAF, 39 are still alive in the second of three qualifying rounds. (We'll get to this bit in a minute.) Those 39 teams are fighting for just five slots at the big show. Might seem fair considering the relatively lop-sided spread of good international teams across the globe -- simply, more of them are in Europe so it clings to its 13 guaranteed spots, double or triple the allocations for any other continental association, like Linus clutched his blanket next to Charlie Brown -- but that slim hope of qualification throws up any number of surprises along the way.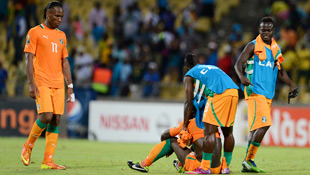 Lefty Shivambu/Gallo Images/Getty ImagesDidier Drogba can't do this forever. But who will step up to take the Cote D'Ivoire forward?

Which brings me to the labyrinthine qualification format. While many observers moan that UEFA should be instituting a tiered system so that teams like the Faroe Islands and Azerbaijan aren't wasting everyone's time for months of windy, ne'er-do-well internationals sprinkled throughout the club calendar, African qualifying is as stratified as it gets.

The 24 worst African teams play seeded, randomly drawn 2-legged tiers, which wipes out 12 sides immediately. Swift, dispassionate defeat.

Then, the 12 remaining teams are drawn against the 28 "best" African teams in a four-pot, 10-group (four teams each) second round. All teams play the other teams in their group twice, home and away. The winner of each group advances into a home-away third round in which the 10 teams are split into five games and the five winners end up at the World Cup.

Given that the entire structure involves just 10 games (and that's if you're in the tournament from the beginning) but broken up as it is, it requires the equivalent of lightning in a bottle just to get to the World Cup.

Though there are frequent surprise sides emerging from this chaos -- Angola and Togo in 2006, Algeria in 2010 after a 24-year absence -- the same nations generally qualify and generally underwhelm. Ghana reached the quarters in 2010, winning two games; the other five African sides mustered two wins out of 15 games, none of them escaping the groups.

Jury's out as to whether or not history will repeat in 2014.