Road to Rio: Who would make the cut for England?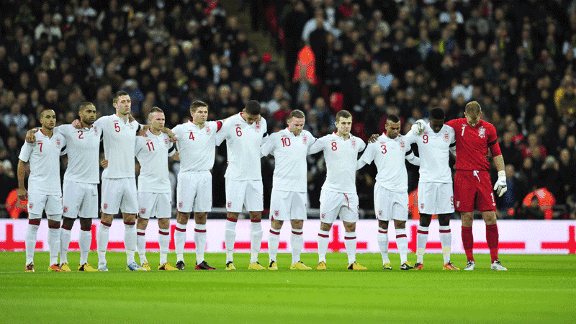 PA PhotosIf England make it to Brazil, Roy Hodgson has to whittle his players down to a 23-man squad.
Wednesday's England-Scotland match was great fun, a throwback to days of yore. But the fun has to stop some time, and Roy Hodgson's England must negotiate their way through four crucial Group H fixtures to qualify for the 2014 World Cup.

Moldova, Ukraine, Montenegro and Poland will decide their destiny. England's players are some way away from being able to request an aisle seat on a plane to Rio. Should they get through -- and a play-off may yet be required -- then the make-up of the final 23 is the next question to ponder.

A gruelling Premier League season awaits. It will bring injuries, loss of form and hopefully some new contenders too. But for the moment, and to set a marker, here is ESPN FC's projection of the Three Lions' World Cup squad.

GOALKEEPERS

Joe Hart (Manchester City): Undisputed No. 1, though last season saw a worrisome drop in form. He had looked a future great but supplied some rather distracted showings in 2012-13, before a fine performance against Brazil in June proved a timely revival. The butter-fingered error for James Morrison's goal for Scotland set the doubts back in.

Ben Foster (West Bromwich Albion): Back in the fold with former West Brom manager Hodgson after self-imposed exile from the international scene. Perhaps now living up to his early promise.

John Ruddy (Norwich City): The Canaries 'keeper has been a model of consistency, and done nothing wrong after the pain of missing Euro 2012 with an injury. May be vulnerable to other contenders.

Bubbling under: Jack Butland probably needs to play games at Stoke City, but the Potters are yet to sell Asmir Begovic. Alex McCarthy may pay the price of demotion to the Championship with Reading. Fraser Forster can impress again if Celtic get into the Champions League.

DEFENDERS

Glen Johnson (Liverpool): The incumbent right-back but under heavy threat from Walker, and needs to repeat the consistency he showed for Liverpool last season. Still better going forward than defending, and oddly, is better at defending from the left rather than the right.

Kyle Walker (Tottenham Hotspur): Last season did not match the showings of his 2011-12 breakout campaign, and was not totally reliable when called for England. Another whose strength lies in attacking rather than defending. Rather wasteful in possession against Scotland.

Phil Jagielka (Everton): The most consistent English central defender in the Premier League last season, and has rarely let his national team down when called upon. At 31, this would be his big chance to play as a starter in a major tournament.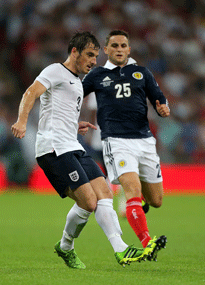 GettyImagesUnless Ashley Cole gets injured, Leighton Baines will have to be satisfied with his role as high-class deputy.
Gary Cahill (Chelsea): Lucklessly missed the Euros with a broken jawbone, and especially good against Brazil in February. Hodgson clearly likes him but may be concerned if Cahill is not first-choice for Chelsea this season. Scotland was hardly his finest hour. Getting done by Kenny Miller is not a good sign.

Phil Jones (Manchester United): The signs are that David Moyes would prefer Jones to play as a central defender at Manchester United, but his versatility will almost certainly land him a place on the plane.

Joleon Lescott (Manchester City): Not a first choice under Roberto Mancini at City last season, but may benefit from an injury to Matija Nastasic. Has rarely let England down, and excelled at the Euros.

Leighton Baines (Everton): His club future is not yet decided but if, as anticipated, he stays at Everton, then few could expect him to do little but maintain his admirable consistency as a high-class understudy to Cole.

Ashley Cole (Chelsea): The centurion remains perhaps England's only world-leader in one position, and has shown little sign of age affecting his form. Reunion with Jose Mourinho may see him get yet better.

Bubbling under: Chris Smalling needs his injury worries to end to re-establish himself at Manchester United, but Hodgson has always liked him from their days together at Fulham. Steven Caulker left Tottenham to join Cardiff City to pursue first-team football, with a World Cup place no doubt in mind. Aston Villa's Matt Lowton may challenge the right-backs while Manchester City's Micah Richards could yet force his way back in and Southampton's Luke Shaw may be given a look.

MIDFIELDERS

Theo Walcott (Arsenal): The mascot of 2006 has transformed into a key player for his country. An ability to play up front is there to be called on, and his pace down the flanks is an outlet. A great solo goal against the Scots suggested another strong season lies ahead. Really, 2014 should be the key tournament of Walcott's international career.

Alex Oxlade-Chamberlain (Arsenal): In truth, Oxlade-Chamberlain had a poor campaign for Arsenal last season, and his international career looked in trouble after an especially poor match against Ukraine at home. However, a fine equalising goal against Brazil in June should have revived his confidence.

Steven Gerrard (Liverpool): Hodgson has leant heavily on his captain, and Gerrard's maturity beyond 100 caps will be key. After last season's thankfully injury-free campaign, more of the same is required. Had an excellent Euro 2012.

Frank Lampard (Chelsea): A year ago, his England career looked finished, and when a move to MLS was mooted, that looked to be the end of his hopes of playing in Brazil and reaching 100 caps. Still highly capable of contributing but may only travel if Gerrard is absent; age may yet prevent him getting the call ahead of much younger men. It looks like being a competition between him and Tom Cleverley.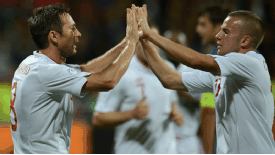 GettyImagesTom Cleverley found a regular place alongside Frank Lampard in Roy Hodgson's midfield.
Jack Wilshere (Arsenal): Wilshere is one of those players who seems to get better the longer he was absent from the team, but his linking of midfield and attack against Brazil in February pointed to his ability to be the key man. A captain of the future, surely, and towards the end of his 45 minutes against the Scots, he began to grow into a rather complicated role.

Michael Carrick (Manchester United): Quiet consistency transformed into influential pass master last season, and recognised for those qualities by Hodgson despite turning down a Euro 2012 spot. Should have had far more caps. He has been poorly used by England down the years.

Ashley Young (Manchester United): A wreck of a domestic season after repeated injury followed a first term of promise at Manchester United. Has often been better trusted by international bosses than club manager but his place could be at serious risk if he does not get regular football.

James Milner (Manchester City): Maligned by those who cannot recognise his unflashy efficiency and ability to carry out his manager's instructions. It remains to be seen if his club's heavy recruitment denies him first-team football. Versatility is the friend to his selection.

Bubbling under: Tom Cleverley has been a Hodgson favourite and though Wilshere has superseded him a little, a creative showing against Scotland suggested he has more than a fighting chance of finals selection. Successive England managers would like to have seen more of Jack Rodwell but it remains to be seen if he gets more of a run at Manchester City. Wilfried Zaha is already a squad member, and a good season at United could see him push Oxlade-Chamberlain for a place. If Scott Parker joins QPR then his World Cup chance is surely gone. It probably is at Fulham too.

STRIKERS

Wayne Rooney (Manchester United): Able to shelter from the storm of his club career when playing for England, as shown by his performances against Ireland, Brazil and Scotland. Still the best England have on offer, but a quality finals performance is required for him to not be considered as a squandered talent at international level.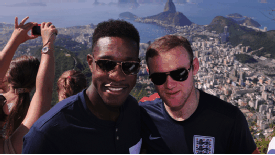 GettyImagesDanny Welbeck and Wayne Rooney will return to Brazil as England's first-choice attackers if the Three Lions qualify.
Danny Welbeck (Manchester United): Needs goals so as not to be seen as the new Emile Heskey. In fairness, his strike rate is far better for country than club and he is already just one short of Heskey's goal total from just over a quarter of the matches. Hodgson trusts him to lead the line but can rely on him to play off the flanks too. Man of the match against Scotland, who were repeatedly troubled by his athleticism.

Daniel Sturridge (Liverpool): A repeat of the promise shown in his first few months at Liverpool and he can become an England regular. His showings for Team GB in the 2012 Olympics showed off a player who is both ruinously gifted and woefully inconsistent. A swift and uncomplicated recovery from the injury sustained against the Irish in May is needed.

Andy Carroll (West Ham United): The Plan B these days is what used to be Plan A in English football. Carroll might actually be a greater threat at international level than in the club game since there are not so many strikers like him on the continent. Only injury and a lack of off-field discipline can cost him a place. Hodgson is a definite fan, as was Fabio Capello.

Bubbling under: Rickie Lambert's selection and goal for the Scotland game was a neat parable for the hard-working professional and there seem very few options aside from him. Jay Rodriguez, his Southampton colleague, could find a good season wins him an England chance. Jermain Defoe's club future is as uncertain as his international career. Raheem Sterling's Tuesday excellence for the Under-21 team may have forced Hodgson's hand were it not for the Liverpool player's off-field problems.

ENGLAND'S POTENTIAL WORLD CUP XI