Trapattoni and Ireland warming up for critical qualifier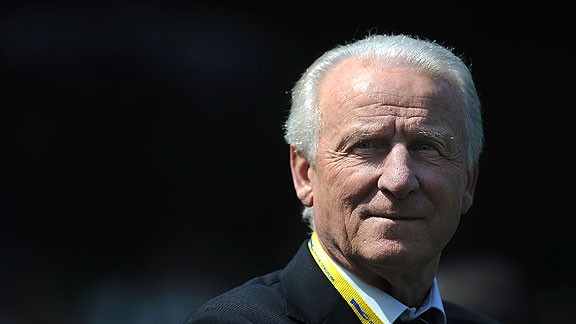 Christopher Lee/Getty ImagesGiovanni Trapattoni's future in Ireland is facing a crucial test.
Football managers often talk about the beautiful game now being a results business, but only when the pressure is building. And that is why Giovanni Trapattoni has reached for that battered cliché.

Ironically, results were the one thing that the Italian promised when he took charge of the Republic of Ireland in 2008. At his unveiling, which was held in the massive RDS concert hall, where anyone with any connection to journalism or Irish football blagged their way in, Trapattoni spoke of transforming Irish supporters into believers.

The man who had led Juventus to every club honour and won trophies in four different countries was promising a new dawn. With his slicked-back silver hair, bright blue eyes, sharp suit, and infectious passion, Trapattoni made those present ask themselves: "if Greece can win the European Championships, then why can't Ireland?"

Well, if Trapattoni, a manager of such experience and a reputation for getting results, said we could do it, then we had a chance. Except, nobody bothered to ask how that might be achieved, what would need to be sacrificed along the way, and would it be worth it in the end? Now, though, those are exactly the types of questions being asked of the 74-year-old's five-year reign.

On Wednesday night, he will cross his arms on the sideline, shout at his assistant Marco Tardelli -- who is as useful as an electric blanket on a summer's day -- and urge his team on in what is perceived to be a meaningless friendly against Wales at Cardiff City Stadium. Except, he knows that it is not meaningless at all, because of what is coming next -- Sweden at home in a must-win World Cup qualifier.

Confidence has gradually disappeared from this Ireland squad and the respect that the players once held for Trapattoni is nowhere to be seen. Sure, they say in interviews that he lifts their spirits and inspires them, but the truth is that standards have dropped to concerning levels and it is individual quality rather than managerial guidance that is keeping their World Cup hopes alive.

Lose to Sweden at Aviva Stadium on September 6 and Ireland will effectively be ruled out of the three-way battle (with Austria also involved) for second spot in Group C. And if that happens, then Trapattoni's time will be as good as up and he will have to start preparing a new speech to convince another nation or team that they can compete at a higher level.

And that is why this friendly with Wales is important. It is the final chance for the team to gel and to work on a game-plan ahead of the Sweden game. Although the players would be forgiven if most of their chatter is about stopping Zlatan Ibrahimovic & Co for a second time (the teams drew 0-0 in Stockholm back in March) as that is all that really matters to them.

"I think the game against Sweden will be make-or-break for our qualifying campaign. I feel that we could have won when we played them away and definitely should have beaten Austria at home. I think we are better than those two teams, we just have to go out and prove it now," said striker Shane Long.

"If we could take four points from the home game against Sweden and away to Austria, I think that would be good for us. I still feel that we have a great chance of getting second place in the group, but the Sweden game is massive.

"Let's just hope those dropped points -- against Sweden and Austria -- don't come back to haunt us. But this game against Sweden is massive and that is the task at hand that we have to focus on."

The opposition hardly matter to Ireland for this friendly, but Wales should provide a decent test if they can start with their first-choice midfield of Premier League regulars that includes Gareth Bale, Joe Allen, and Aaron Ramsey, while Cardiff City's Craig Bellamy should be a handful up front.

Historically, there hasn't been much between the teams with Ireland winning five of their 12 meetings -- although only two of those have been in competitive qualifiers -- and no real rivalry exists. But using this game as an exercise to prepare for Sweden can be beneficial for Trapattoni and his tactical approach to it will be interesting.

Personnel-wise, Trapattoni has made a big statement going into this game by adding QPR defender Richard Dunne to his ever-extending list of former favourites who are now exiled: think of Keith Andrews, Stephen Ward, Liam Lawrence, and Kevin Doyle. The manager no longer cares about being Mr Popular, he simply wants to get results.

And while beating Wales won't count for much, securing a win against Sweden will. So in order to achieve the latter, Ireland must excel in this latest outing and show that they are ready to take a giant step towards next summer's World Cup finals.