World Cup kickoff times a threat to player safety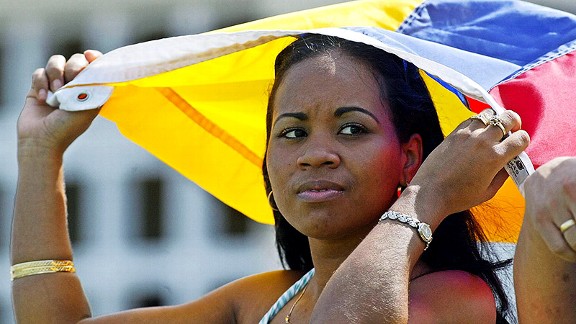 Daniel Garcia/AFP/Getty ImagesBrazil's stifling summer heat could pose a danger to both players and fans at next year's World Cup.
Huge temperature differences will be a feature of next year's World Cup in Brazil. Down south, in Porto Alegre or Curitiba, it can be genuinely cold in June and July. Up in the north and northeast, there is no such thing as winter. It is tropical year round.

Players already discovered this during the Confederations Cup. Especially in Fortaleza, but also in Recife and Salvador, some were uncomfortable with the heat of the 4 p.m. (local time) kickoffs. The third-place game kicked off in Salvador at 1 in the afternoon; Italy captain keeper Gianluigi Buffon was scathing about that piece of scheduling after his side had beaten Uruguay.

Plenty more 1 p.m. kickoffs are planned for the World Cup -- one in Fortaleza and two in each of the other northeastern host cities, Recife, Salvador and Natal. All of these games are likely to be played in draining heat. There are five 1 p.m. starts in Brasilia, also likely to be uncomfortable, and conditions may not be easy even for the five 1 p.m. kickoffs further south in Belo Horizonte. Afternoon kickoffs in the topical humidity of Manaus are also controversial.

Enter the players' union. It is not an agglomeration especially known for its militancy. Argentina has a long history of strikes. The Peruvian players' union has gained prominence in recent times. Brazil's has less tradition, but its Sao Paulo branch has put the cat among the pigeons.

A series of tests were carried out. Games were played at 1 p.m. in host cities, with the body temperature of the players being monitored. Physiologist Turibio Leite de Barros, with decades of experience in sports medicine, was scared by what he observed, with players' temperatures, from a normal 36.5 degrees Celsius (97.7 Fahrenheit), climbing toward 40 (104 Fahrenheit). Forty-three degrees Celsius (109.4 Fahrenheit), he said, is usually a case of hospital treatment and can be fatal.

"It is an insanity to have games kicking off at 13:00," he said. "It is very dangerous. There is a real risk. The union have already sent a document to FIFA requesting that the time of these games be changed. The possibility exists, should FIFA refuse, of the union taking action in the labour justice system to prevent these games going ahead."

This could be a tricky one for FIFA. The bulk of its revenue comes from the sale of World Cup TV rights, where Europe is a vital market. The standard Brazil time in June and July is four and five hours behind the major western European nations. An early start makes it easier to fit in three game times that are not too late for the other side of the Atlantic -- 1 p.m., 4 p.m. and 7 p.m.

A possible compromise could be brokered around the introduction of a water break in the middle of both halves of football -- as often happens in domestic Brazilian games that kickoff during daylight in the summer.

"A pause would allow for hydration and a drop in the temperature of the players," conceded Leite de Barros. "It would help."

But would it be enough? In the interest of protecting the players, there should surely be a wider debate on this issue.