Friendlies offer World Cup insight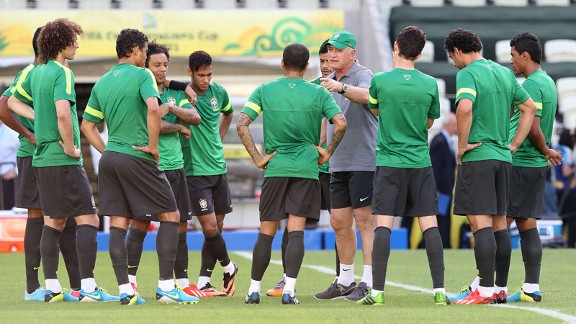 GettyImagesLuiz Felipe Scolari has few problems in selecting his Brazil side.
The mid-August FIFA date for international matches is soon to be phased out of the calendar, and it is easy to see why. It comes so early in the season, just as the major European leagues are about to kick off, and right at the start of many of the domestic South American championships as well. Club coaches are understandably upset at having to part company with key players at such a sensitive time. It is not easy for the international coaches either; they have little or no current form on which to base their selections.

But it is always possible to gain an insight into the mind of the coach from the squad that he picks. And as the South American teams build up for one final effort to secure their World Cup slot, these are a few of the standouts from the squads that have just been announced.

1. BRAZIL HAVE ONE AREA OF DOUBT

Winning the Confederations Cup has left coach Luiz Felipe Scolari sitting pretty, with his squad more or less defined and an environment that is all serenity in comparison with the pre-tournament turbulence.

To no one's surprise, he has called up the Confederations Cup winners for the friendly against Switzerland, but there is one addition. In as the reserve left back comes Maxwell of Paris Saint Germain. The left side of Brazil's defence looked the most vulnerable area of the side back in June: Marcelo, first choice left back, is exuberantly talented in attack but less disciplined in defence, while David Luiz, the left sided centre back, combines classy moments with rash lapses. Maxwell gives the option of an experienced figure.

Another preseason talking point is the immediate future of Luiz Gustavo. The holding midfielder has now established himself as a key part of Scolari's side. But there are doubts about the amount of playing time he will be given at Pep Guardiola's Bayern Munich.

2. IT'S A CASE OF "WHAT WE HAVE, WE HOLD" FOR ARGENTINA

All but mathematically assured of a place in Brazil, Argentina enjoyed an excellent 2012-13, and coach Alejandro Sabella is clearly happy with the resources at his disposal.

With more time on the training field, he could choose to have a closer look at a three centre back formation -- employed in both the away games at altitude (against Bolivia and Ecuador) -- but if so, the switch will be made using players already in the squad, such as Jose Basanta and Fabricio Coloccini.

"A window always has to be left open to take advantage of a player finding form," Sabella said last week. "But once I make up my mind, it's hard for me to change it. The idea is to form a good group in both technical and human terms."

The message is clear. Fringe members of the squad need to take their opportunities -- on and off the field -- when Argentina travel to Rome to take on Italy. This probably applies specifically to left-footed attacking midfielder Erik Lamela, who will be playing in his home stadium.

3. CHILE STILL LOOKING AT OPTIONS

Three consecutive wins have put Jorge Sampaoli's revitalised Chile back in the driving seat for an automatic qualification place. They now have a five-point cushion on Uruguay and Venezuela.

But Sampaoli, who spends matches scurrying up and down his technical area as if he runs on batteries, is a restless soul. He clearly wants to have a look at all of the attacking options available to him. Sampaoli recently managed to talk veteran playmaker David Pizarro into ending his long, self-imposed international exile. Now, for the friendly against Iraq, he has recalled playmaker Jorge Valdivia, who is full of twinkle-toed talent, but so often exasperating. The coach obviously wants to check that the player has made a full recovery from injury problems.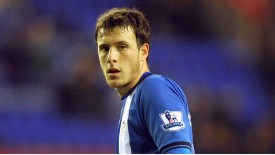 PA PhotosAngelo Henriquez
And he also seems keen to have a look at his options at centre forward. Established choices Humberto Suazo and Esteban Paredes have been left out. Manchester United's young Angelo Henriquez is included, and there could be a place for the strong Nicolas Castillo, so impressive in the recent World Under-20 Cup.

4. URUGUAY STICKING WITH THEIR GROUP

One way or another, an era of Uruguayan football is coming to an end. It will either happen next year (if Uruguay make it to the World Cup) or later on this year (should they fail). But until then, Oscar Washington Tabarez is sticking loyal to the group he started to form in the 2007 Copa America -- and which subsequently went on to reach the 2010 World Cup semifinals and win the 2011 Copa America.

There are some creaking limbs in that lineup now. But with the team in the dogfight for fifth position in the table -- the playoff spot -- Tabarez has resisted any temptation to freshen up the squad for the friendly against Japan.

To be fair to the coach, the Under-23 generation hardly covered themselves in glory last year in the London Olympics, and Tabarez clearly feels that it is still too early for the starlets who came second in the recent World Under-20 Cup.

There could be opportunities against Japan for fringe members of the squad. Martin Silva's impressive Copa Libertadores displays for Olimpia might get him a rare game as first-choice goalkeeper. But basically it is the old guard who are being trusted to carry Uruguay through to Brazil.

5. PARAGUAY LOOKING TO THE FUTURE

After four consecutive World Cup appearances, bottom of the table Paraguay would seem to have no chance of making it to Brazil. New coach Victor Genes is full of fighting talk. Three of his side's remaining four games are at home, giving him a tiny spark of hope that Paraguay can make up an eight-point deficit and snatch the playoff slot. But it would need a mathematical miracle, especially as so many of the sides chasing the playoff position are in action against each other, meaning that they cannot all lose.

More realistically then, Paraguay are planning for the future. The choice of Genes reflects that. He has been promoted from the Under-20 side, and he has taken a couple of players with him. One of them is the dynamic, lung-busting Jorge Rojas, who now joins Benfica in Portugal. The other is even more interesting -- 17-year-old striker Antonio Sanabria, already on the books of Barcelona. Sanabria played in the South American Under-17 Championship earlier this year, and did so well that he was taken to the Under-20 World Cup. More promising performances there mean that his meteoric rise continues, and he has been named in the squad to face Germany -- a first senior call-up in an international career, which Paraguayans hope will help get them through to World Cups of the future.