If the World Cup started tomorrow: The dark horses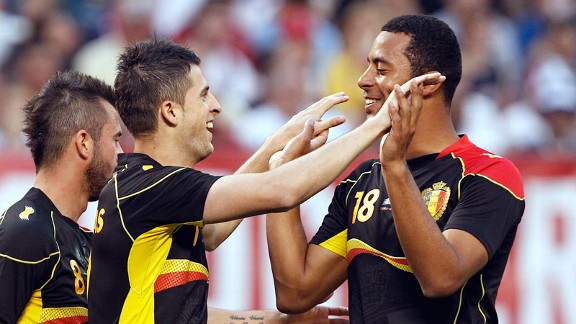 Matt Sullivan/Getty ImagesBelgium has become a consensus pick for most likely to surprise next summer.
The usual suspects will be among the main contenders to win next summer's World Cup. Previous winners Brazil, Argentina, Uruguay, France, Germany, Spain, England and Italy will all be fancied if they complete qualification, with serial semifinalists Portugal and Holland also likely to feature prominently.

However, there's an interesting range of outsiders attracting attention with just 12 months before the tournament starts -- here are four such dark horses hoping to cause a shock at Brazil 2014.

Belgium
In the build-up to major international tournaments, there is often such broad consensus about the competition's "dark horse" to the point that it's so frequently cited as a dark horse that it's no longer a dark horse.

At the start of the century, the Czech Republic was frequently tabbed as a promising outsider (despite occasionally, like at Euro 2004, being arguably the best side in the tournament), and Belgium is a similar candidate, boasting some excellent individual talents despite not being a traditional footballing powerhouse.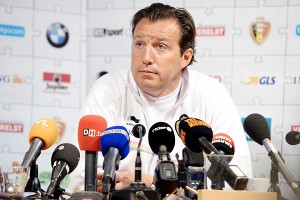 YORICK JANSENS/AFP/Getty ImagesBelgium coach Marc Wilmots has starred at a World Cup before and boasts a squad ready to succeed in 2014 if it can qualify.

Many have backed Belgium already -- according to online betting exchanges, Belgium is the fifth favorite for the tournament ahead of the likes of Holland, France, Italy, Portugal and England. That's a staggering status for a side with so many question marks against its name -- qualification is not assured, it hasn't played in a major tournament since 2002, its manager is very inexperienced and the side remains, at this point, weaker than the sum of its parts.

The coach, Marc Wilmots, was Belgium's star man in its previous tournament appearance in 1990 and Belgium has unquestionably improved under his leadership. There's a cohesive, familiar feel to the attacking section of the side -- Christian Benteke plays up front, supported by a band of three attacking midfielders most frequently comprising Marouane Fellaini, Eden Hazard and Kevin De Bruyne, although a "Plan B" attacking quartet could be formed from Romelu Lukaku, Kevin Mirallas, Dries Mertens and Nacer Chadli.

In the center of midfield, there's a good combination between the solid, dependable Axel Witsel and an astute transition player, Moussa Dembele, plus a fine goalkeeper behind it all in Thibaut Courtois.

There's a selection of center backs including Jan Vertonghen and Vincent Kompany. Belgium's clear weakness is at full back, where Thomas Vermaelen has become accustomed to playing out of position at left back while Ajax's Toby Alderweireld plays on the right. Essentially, Wilmots is forced to play four center backs across the back four, which creates problems in wide zones both offensively and defensively.

That's the problem Wilmots must overcome in the next 12 months -- the past four World Cup winners have boasted the best full back duo in the tournament, an area that is undoubtedly Belgium's Achilles' heel.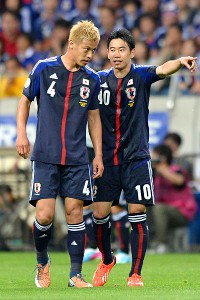 Toshifumi Kitamura/Getty ImagesJapan's excellent play is due in no small part to the creative combination of Keisuke Honda and Shinji Kagawa.
Japan
By sneaking a draw against Australia this past week, Japan became the first side to qualify for next summer's World Cup, aside from host Brazil. Qualification itself was a relatively smooth process despite, bizarrely, the fact Japan played a friendly against Iceland a year ago, unwittingly lowering its FIFA ranking and making its draw for the qualifying stages more difficult.

Considering Japan made its World Cup debut in 1998, its quick evolution into a promising outsider has been highly impressive. With a 100-year plan for football in place, the success of the J-League has been important though a nationwide youth development program has been even more pivotal. Japan boasts a solid footballing structure and is now creating genuinely top-class internationals.

Japan's starting XI features two highly gifted playmakers, Keisuke Honda of CSKA and Shinji Kagawa of Manchester United, while a key feature of its Asian Cup success was the storming overlapping runs from right back Atsuto Uchida and left back Yuto Nagatomo -- both offer tremendous energy and are good technicians, too. Equally crucial is the long-standing midfield partnership between the hard-working Yasuhito Endo and the underrated Makoto Hasebe, captain and a brilliant controller of the tempo. Their coach, Alberto Zaccheroni -- famed for his love of a back three in Serie A -- has a variety of alternative systems he can deploy.

Japan's traditional problem is physicality. As recently as last month, Arsene Wenger -- who managed the J-League's Nagoya Grampus Eight prior to taking over at Arsenal -- said "Japanese players technically have a very good touch, they are mobile, agile, a bit lightweight." However, former Japan manager Philippe Troussier believes "changes to the FIFA rules taking away a lot of the physical aspect of the game [means] Japan's technical style has prospered."

Still, Japan lacks strength at either end of the pitch. In midfield and wide areas the Japanese are excellent, but there's a lack of a top-class No. 9 (still crucial in international football) and a dearth of impressive center backs. "In [the past] three years, we have scored 62 goals and we conceded only 17," Zaccheroni said. "Curiously, we have given away three own goals and quite a few weird goals ... it is quite clear that we score a lot and we concede little, but with all the chances we create, we should score even more."

The task is simple: Japan must become more efficient in both penalty boxes in order to make the most of its technical ability.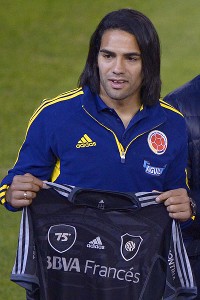 Juan Mabromata/Getty ImagesRadamel Falcao is one of the world's best strikers but Colombia might fare better if he drops a little deeper in order to help link midfield and attack.
Colombia
Colombia won the Copa America in 2001 but has spent the subsequent 12 years in the international wilderness, unable to qualify for the three World Cups during that period and outplayed on its only return to the semifinal of the Copa America. But Colombia is one of the few countries who boasts the top footballer in the world in his role -- center forward Radamel Falcao.

An intriguing debate at the international level is how to use a No. 9 when he's the best footballer in the side -- Falcao clearly belongs in the penalty box, but it sometimes seems a waste to keep him up front, receiving little service. Zlatan Ibrahimovic, Samuel Eto'o and Nwankwo Kanu have all dropped into deeper roles for Sweden, Cameroon and Nigeria, respectively, in recent years and while Falcao is unlikely to become a No. 10, he often drops deep to link play at international level rather than staying up front as a pure poacher.


---
World Cup 2014 Coverage
- Bennett: Shadow of '70s looms over Brazil
- Macintosh: Brazucas, Belgians, and Brazilians at Barca
- Gab Marcotti: World Cup favorites
- England: Hodgson faces a history of failure
- Is this a tournament too far for Spain?
- World Cup no-hopers
- How good are the U.S.?
- SPI: World Cup interactive map
- Top up-and-coming players
- The dark horses in Brazil
---
That's not to say Colombia doesn't have other exciting footballers, but coach Jose Pekerman has yet to find a consistent starting XI or formation, criticised heavily in the Colombian press for changing his system between the 5-0 thrashing of Bolivia and the surprise 1-0 defeat away in Venezuela. It's not quite clear whether Pekerman prefers Falcao up front alone or alongside Teo Gutierrez.

With Carlos Bacca and Jackson Martinez other forward options, what Colombia really lacks is a reliable No. 10. Fredy Guarin, who combined excellently with Falcao at Porto, is a more combative, energetic player while Macnelly Torres has never truly convinced at international level.

There is at least a solid defence, Colombia's traditional area of strength. Full backs Pablo Armero and Juan Zuniga are more accustomed to playing as wing backs at club level for Napoli, and scamper forward repeatedly to stretch the play.

Colombia's weakness is between the edge of the opposition third and the penalty box -- how to convert its possession into chances for Falcao. However, with Rodriguez and Falcao set to link up for Monaco this season, Pekerman might find himself with a ready-made combination in the final third.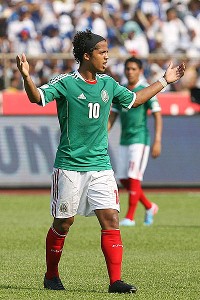 Carlos Perez/LatinContent/Getty ImagesGiovani dos Santos has been particularly frustrating at the international level and Mexico's lack of attacking spark could prove costly.
Mexico
Despite an unfortunate second-round elimination at the hands of Argentina, Mexico played some impressive football at World Cup 2010. Mexico's fluid system allowed it to dominate possession and push its full backs forward into dangerous positions, although Mexico lacked efficiency at both ends of the pitch, with mistakes at the back and an uncertain forward line.

Mexico's brilliant 4-2 victory over the U.S. to claim the 2011 Gold Cup demonstrated its potential, but it feels like Mexico should have progressed more since that tournament win. With a mixture of experience and exciting young attacking talents, Mexico should be collecting more consistently positive results.

Coach Jose Manuel de la Torre has brought structure to the side, but having previously looked dangerous because of its attacking fluidity, now the side appears overly defensive. Its 1-0 win over Jamaica on June 4 in Kingston was Mexico's first victory of 2013 -- amazingly, from six matches Mexico had recorded six draws.

Mexico's problem seems to be similar to that of Colombia -- between midfield and attack. Andres Guardado and Pablo Barrera are both talented but highly inconsistent, while neither Giovani dos Santos nor Carlos Vela has yet fulfilled his vast potential. Dos Santos has been consistently good for the national side at international tournaments but has wasted much of the past five years at club level -– strangely, since moving to Mallorca and getting regular playing time, his international displays have dipped.

Meanwhile Vela has been excellent in a Real Sociedad side that has qualified for the Champions League, but was suspended for six months for his role as ringleader in a party in late 2010. He hasn't returned to the national team since and it seems unlikely his differences with the Mexican football federation will be solved in the next year. Combined with de la Torre's defensive nature, Mexico might lack the requisite attacking spark.