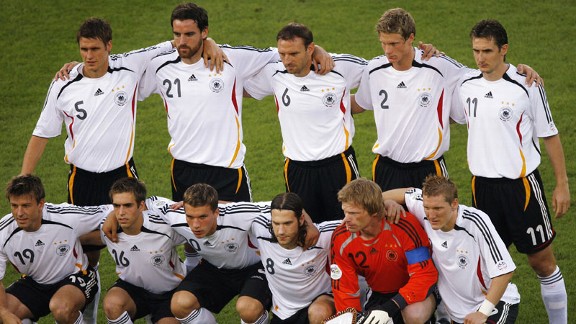 GettyImagesChristoph Metzelder (21) was part of the team which finished third at the 2006 World Cup
On the weekend, a few hundred people came out to see a game in Wethmar. Wethmar has about 5,000 inhabitants and is a borough of Lünen, a town ten miles north of Dortmund. Westfalia Wethmar, the local club, competes in the multi-tiered eighth division. On Saturday, the first team played a pre-season preparation game in scorching heat against TuS Haltern, an amateur club that was relegated to the seventh division a few months ago.

It was a lively and entertaining game that was tied at 3-3 until the final two minutes. Then a player by the wonderful name of Abendroth (which translates as "afterglow") scored Haltern's fourth, and the team eventually added another goal to run out 5-3 winners. Despite the goal deluge, the people in attendance were disappointed. They hadn't come to see goals, they had come to see a player.

That player is the former Real Madrid defender Christoph Metzelder, a Bundesliga champion with Borussia Dortmund and DFB-Pokal winner with Schalke. Metzelder was born in Haltern. He joined TuS before he even started going to school, spent nine years at his hometown club and then moved to a bigger team.

A few weeks ago, Metzelder finished his professional career at 32 years of age. Almost immediately, he applied for an amateur player passport. As soon as it was issued, he made his Haltern comeback, playing for 45 minutes as a holding midfielder in a friendly, which his team lost 4-1 against fifth-division Roland Beckum. (When Metzelder came off, the game was still scoreless.)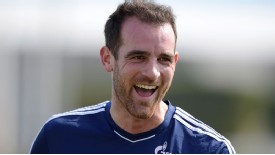 AssociatedChristoph Metzelder has joined German amateur club TuS Haltern.
Naturally, the Lünen press announced that a man who'd won almost 50 caps for Germany would grace the local pitch when Wethmar hosted Haltern. There were even posters that said "Metze plays in Wethmar!!!" (Yes, one exclamation mark wasn't enough to do justice to the occasion.) Alas, he didn't. Metzelder was on holidays and couldn't help his team.

Stats books will tell you that Metzelder's greatest achievement with the national team was reaching the 2002 World Cup final. That's not true. His biggest achievement was being part of Germany's 2006 World Cup campaign. Even though this side fell at the semi finals, it did a whole lot more for German football -- for instance restoring faith, enthusiasm and optimism -- than the 2002 team and, consequently, is much more fondly remembered.

The summer so far has been a reminder of those sunny, warm, exciting June and July weeks seven years ago, and not just because of Metzelder. Michael Ballack, the team's captain in 2006, staged his testimonial match in early June. A few weeks later Arne Friedrich, who saw action in every game save the third-place play-off in 2006, announced his retirement on account of recurring injury problems. And Torsten Frings, whose contentious one-match suspension may have cost Germany a place in the 2006 final, is currently lining up old friends and foes for his own farewell game to be staged in September.

Then there were Gerald Asamoah and David Odonkor. Now that Germany regularly sends out a multi-cultural team, with players of Turkish, Ghanaian or Moroccan backgrounds, it's easy to forget how much people made of the fact that we suddenly (or so it seemed to foreign observers) fielded minority players all those years ago.

Asamoah has also been in the headlines again this summer. Last week, Schalke announced that the 34-year-old is going to join the club's marketing department and will also serve as something like a player-on-demand for the reserve team, which is basically an Under-23 side competing in the fourth division.

It shouldn't come as a surprise that Metzelder and Asamoah refuse to really hang up their boots and continue playing competitively at a level much lower to what they are used to. After all, their former national manager has done the same thing: In 2003, at 39 years of age and five years after what was supposed to be his retirement, Jürgen Klinsmann made eight appearances for Orange County Blue Star at the fourth level of the U.S. game under the nom-de-foot Jay Goppingen.

Maybe that's why there were rumours that the 36-year-old Torsten Frings could follow this example and make a comeback in the fourth division for Alemannia Aachen. Frings was born less than five miles north of Aachen, spent seven years at Alemannia, has always said he'd like to return one day and even asked the club last season if they needed his services in the relegation fight. Apparently, they didn't (and went down). Now he says he has "other plans" than to play for Alemannia.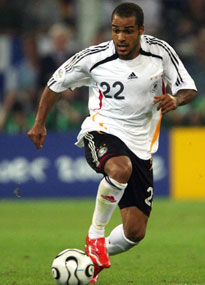 GettyImagesDavid Odonkor in action for Germany in their 2006 World Cup semi-final
A 2006 World Cup hero who did play for Alemannia was Odonkor. His name has been in the news recently, too, but for all the wrong reasons. After the World Cup, Dortmund sold Odonkor for an astonishing transfer sum of €6.5 million (£4.3 million) to Real Betis, where he signed a five-year contract. He never settled in, was often injured and became very unhappy. But since he was saddled with that ridiculous price tag, he didn't find a club that could afford him, and basically had to wait until the five years were at long last over.

The reason he's now in the news is that, after a season with Aachen in the second division, he went to the Ukraine but didn't settle in there either. At the moment, he's being linked with Bangkok United, who have won promotion to the Thai Premier League.

Odonkor is only 29, so he should still have a few seasons ahead of him, even if you take his long history of knee problems into account. But somehow his aimless trekking across the globe doesn't bode well.

He's made so many bad decisions in the past seven years that one wishes he will finally find peace and footballing happiness somewhere -- or step down as gracefully as most other members of the Class of 2006 have done.