Can Buffon stand the test of time?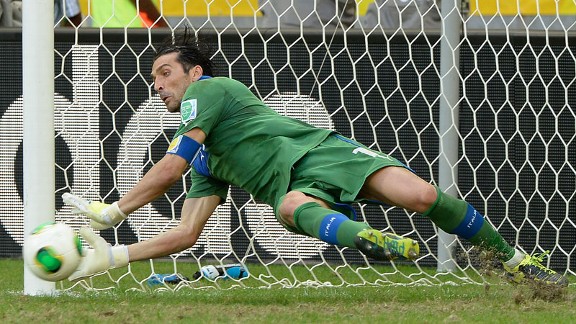 GettyImagesBuffon saved three of Uruguay's penalties in the Confederations Cup third-place play-off to reassert his position as Italy's number one
Italy have been in safe hands with Gianluigi Buffon between the posts for well over a decade now, but how long can the Squadra Azzurra continue to rely on the 35-year-old to provide such solid foundations at the back?

His performances at the Confederations Cup raised doubts as to whether he truly is Italy's number one, a question he answered himself in the third-place play-off. Three saves in the penalty shoot-out against Uruguay made the Juventus custodian a hero once again, but more than that, they proved how thin the line can be between sublime and susceptible, in a goalkeeping sense.

Buffon's international career was thought to be heading down the final straight after Spain put five spot-kicks past him in the Confederations Cup semi-final. Only days later, it was claimed he could still be Italy's number one in five years' time.

"Buffon is going to play at Euro 2016 after the 2014 World Cup," said his agent Silvano Martina to the Gazzetta dello Sport. "He is an absolute champion and is still the best goalkeeper around. The condition he is in, he could make it to 40 and play the World Cup in 2018."

Dealing with the ups and downs is all in a day's work for a goalkeeper, admitted a philosophical Buffon after the end of an era was prophesised again last week.

"Being a goalkeeper in Italy is the most difficult job in the world," he told Globoesporte. "The criticism goalkeepers receive is generally very severe in Italy. If I make a mistake, the press can go on about just that one error for four months. Never mind, though. If that's the case, then it means they are not used to seeing me get things wrong very often."

Indeed, goalkeepers are treated as a different species in a country where diving around with arms flailing in front of a set of goalposts is taken as seriously as resolving the national deficit. Dino Zoff, Walter Zenga and Gianluca Pagliuca have more glowing reputations, and have arguably become more household names, than the country's most recent prime ministers. And just as the threat looms eternal to overturn the government, goalkeepers live in constant fear of being cut down to size if they do not live up to the expectations of a nation.

Buffon, however, has survived the test of time. After debuting under Cesare Maldini in 1997, he has gone on to appear 133 times for his country, just three fewer than the all-time appearances record-holder Fabio Cannavaro. The imposing figure, not only physically, should break that record even before next summer's World Cup, while there is little to suggest Cesare Prandelli will not be building his squad for success in Brazil on Buffon's foundations.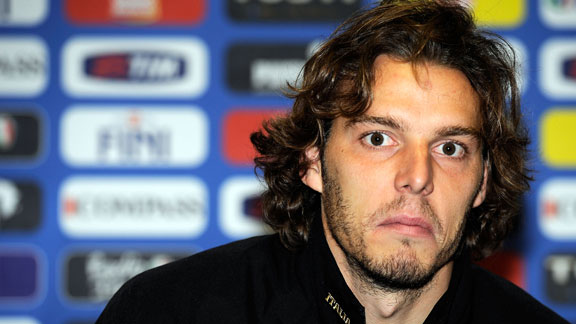 GettyImagesFederico Marchetti failed to impress when he replaced an injured Buffon at the 2010 World Cup


Where else can Italy's commissario tecnico look? Certainly Buffon's hitherto undisputed status as Italy's number one has less to do with the meagre quality of the competition and more to do with his own overbearing presence. Growing up as a goalkeeper over the past 10 years has been an unenviable, if not impossible, task for budding Italian number ones, with just a handful of appearances on offer for the likes of Morgan De Sanctis, Federico Marchetti and Salvatore Sirigu, who have to peck away at them like crumbs to a pigeon.

Having Buffon in the way can be a source of even greater pressure, as Marchetti discovered to his cost at the 2010 World Cup. Standing in for the injured Buffon, he simply could not rise to the occasion and emerge from the inevitable comparisons favourably, disappearing almost completely upon his return from South Africa and not earning a recall to the national team fold until two and a half years later, last February, in the midst of arguably his best season to date for Lazio.

That leaves Italy Under-21 custodian Francesco Bardi as a potential heir to Buffon's throne. The Inter Milan goalkeeper underlined his potential at the recent European Under-21 Championships in Israel, but it is likely to be a few more years before his hands are big enough to fill Buffon's gloves.

Likewise, a precursor in the Inter goal, Emiliano Viviano, came and went as he failed to make the expected breakthrough with Inter and, subsequently, with the national team. Furthermore, top-level Italian goalkeepers are no longer such a hot commodity with eight Serie A sides putting their faith in foreign custodians last season, giving Buffon even more breathing space at the top of the Italian game.

Agent Santana therefore may have a point: It's hard to see anybody but Buffon standing between the sticks in Brazil next year, or in France two years later, while it would not be a surprise to see Buffon boarding a plane for Russia at the ripe old age of 40.

Zoff played for Italy when he was 41, lifting the World Cup as captain in 1982 at the age of 40, and there is little to suggest Buffon cannot do the same, even if it will mean four more years of defying the critics in the way he knows best, on the field of play, between the 7.2 metres which have become his domain.