Come for the popularity, stay for the results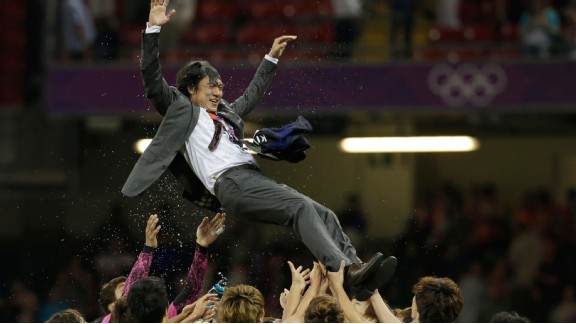 GettyImagesHong Myung-bo is a fan favourite in South Korea but his popularity will be dependent on results
It may have been confirmed last Monday but it was always a question of when and not if Hong Myung-bo became head coach of the South Korean national team. The only negative Korea Football Association (KFA) officials could think of when they considered him for the position was that he was perhaps "too popular".

Popular he is. Internationally, Hong was best known as a player for captaining the national team to the semi-finals in 2002 but that was, in fact, a fourth World Cup (he scored against both Germany and Spain at the 1994 tournament) during which he showed the world that Asia was more than capable of producing classy, calm and authoritative defenders.

Pele later named him as one of his 125 greatest living footballers. Predictions may not be the Brazilian's forte but he knows more than most as to what makes a good defender.

The attraction of Hong the man is obvious. He is a pleasing example of someone whose personality off the field reflects almost exactly the way he played on it - classy and calm but with more than a hint of iron underneath.

The attraction of Hong the manager is equally clear. He is the first of a new generation of coach to take control of the national team. The relationship between a traditional Korean boss and his charges is clear - players do what they are told and that's it. The old guard tended to carry big sticks and while Hong does too, his is made mostly of carrots. The 44-year-old combines the charisma of a natural leader with an understanding that with stars spread all over Europe and Asia, the old approach is not the best.

Even if he hadn't had such a glittering playing career - which included stints in the K-League as well as Japan and the United States - Hong would have been suited to being suited up on the touchline. After hanging up his boots in 2004 with LA Galaxy, too soon said many, he headed back to Korea to join Dick Advocaat's coaching staff at the 2006 World Cup and Pim Verbeek's retinue at the 2007 Asian Cup. He then took the reins of South Korea's Under-20 team and took the young Taeguk Warriors to the quarter-finals of the 2009 World Cup, losing 3-2 to eventual champions Ghana.

A number of that team were around when he took the reins of the Under-23 side in preparation for the 2012 Olympics. In the United Kingdom, Hong's band of boys took the bronze medal with a series of impressive performances. Manchester City's chief scout reported that while the Koreans lacked outstanding players, they worked incredibly well as a team. The KFA hope something similar can happen with the senior national side next summer - after all, many of the same players are already involved or should be.

Still, it is not ideal to have a new, and relatively inexperienced, coach coming in with less than 12 months on the clock. Hong may have familiarity but that's nothing compared to years of actually selecting squads, training with the players and deciding the way the team plays. He has been watching, like everybody else, from the sidelines. Sometimes he was far behind that - the last six months in deepest Dagestan as assistant to Guus Hiddink, a big influence, at FC Anzhi Makhackkala.

Hong saw Korea stumble along the road to Brazil. Cho Kwang-rae took over from Huh Jung-moo after the 2010 World Cup and served up a main course of youth with a side dish of youth and a garnish of Spanish style football. A third-placed finish at the 2011 Asian Cup was acceptable given the fact that Cho was looking at the bigger picture.

But in doing so, he took his eye off the ball at his feet. A friendly defeat in Japan in August had serious repercussions with unusual rumours of divisions in the team and then between players and coach. Cho was fired - messily so as he was told of his dismissal just minutes before it was announced on national news - in December 2011 after defeat to Lebanon in Beirut.

Choi Kang-hee was the obvious successor. The former international defender had turned Jeonbuk Motors from a mid-table K-League team into an Asian powerhouse. He didn't want the national team job and repeatedly refused requests. That just heightened the KFA's desire and in the end, they plied him with soju, the local liquor, and were rewarded with an 18-month commitment.

Choi was always clear in his determination to return to Jeonbuk in June 2013 as soon as qualification finished but the KFA were quietly confident in persuading him to stay on after a place in Brazil had been successfully sealed. By the time it actually was, however, there was no desire to do so. The final round of qualification saw a plodding Korean team increasingly taking the long-ball route to South America. Choi never looked past June 2013 and thought nothing of the future. Mission had been accomplished by the narrowest of margins but the team was left with little direction and purpose.

The search for a new coach was never really that, it was all about Hong. But for a time, it looked as if he may do a Choi and initially refuse. Sources in the KFA claim that former boss Chung Mong-jung intervened. That may or may not have helped, but in the end Hong said yes. His major worry was the lack of time before 2014 with a long run at the 2018 World Cup being preferrable. The 'Eternal Libero' is held in very high regard but expectations in Korea are just as high. A couple of defeats and even Hong's halo will start to slip. People talk of looking past 2014 to the future but Brazil is moving into view. Soon it will obscure everything else.

So there is work to do. At the Olympics, the defence had problems only against Brazil and it is hoped that Hong can sort out the backline for the senior team. The regular conceding of soft goals from set pieces had become an increasing source of annoyance. The constant chopping and changing of personnel stands in marked contrast to the stability of neighbours and rivals Japan.

The new coach will also have to sort out the striking position. Park Chu-young shone at the Olympics but has endured a couple of tough years in England and Spain. Whatever happens, Lee Dong-gook, who was the go-to goalgetter under Choi much to the chagrin of many fans, already looks to be on his way out.

Fortunately for Hong, he has three games in July against China, Japan and Australia in the East Asian Championships. It's a low key tournament and ideal for experimentation, especially with European-based stars usually absent.

Low key is relative of course. The spotlight is going to be on Hong Myong-bo for the next year. He is currently the most popular man in Korean football. Whether he stays that way will depend on events next summer.