Desperation to reign with Brazil on the line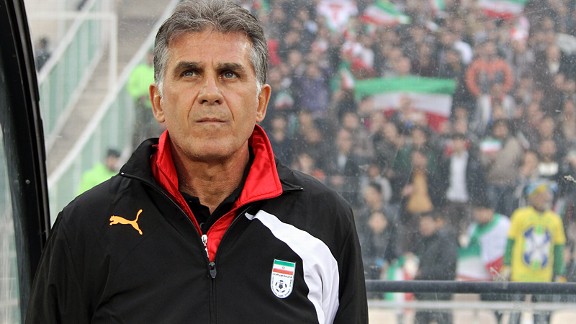 GettyImagesCarlos Queiroz has been the face of criticism in Iran's World Cup qualifying campaign
When ESPN spoke recently to Carlos Queiroz, now head coach of the Iranian national team, he made it very clear that he had nothing at all to do with Manchester United signing Bebe, the $10 million mystery flop from Portugal. The other thing he was at pains to stress was the amazing passion of the Iranian people for football.

With passion comes pressure, and despite coaching Real Madrid and Portugal as well as sharing the Old Trafford technical area with Sir Alex Ferguson for a number of years, the veteran coach will never have experienced anything quite like this.

He travels to East Asia with the hopes and dreams of 80 million people. With one game remaining, Iran occupy the second of the two automatic qualification spots in Group A, a point behind Tuesday's opponents South Korea. A win in Ulsan, Korea, on Tuesday in the final game of the final round of qualification for the 2014 World Cup and Team Melli are going to Brazil. A draw may well be enough, and even defeat could be sufficient if Uzbekistan, two points behind, fail to beat Qatar in Tashkent.

If it all sounds familiar, it is. It was June 17, 2009, when Iran came to Seoul needing a win in the final game of 2010 qualification to keep South African hopes alive. A Park Ji-sung equaliser denied the visitors and opened the South African door for North Korea. The two rivals have a long history on the pitch and there are plenty of ghosts from plenty of past meetings.

But the present needle comes from the most recent clash last September when Korea lost 1-0 in Tehran. Then, Korea coach Choi Kang-hee complained of the standard of training facilities provided, much worse, he claimed, than those enjoyed by the hosts. The Koreans were told at the time that the training pitch they had requested was unavailable due to reconstruction work, leading Choi to remark that Iran should be made to train on the football pitches dotted along the Han River in Seoul. Instead, the KFA decided to play the game far from Seoul in the city of Ulsan.

"I remember being badly treated in Iran," Choi said on Tuesday after his team defeated Uzbekistan in Seoul. "The manners they showed were not good ... they were not hospitable. Honestly, I dislike Iran more [than Uzbekistan]. I hope Uzbekistan make it to the World Cup." It was not the brightest thing to say. Uzbekistan making it to the World Cup is the only thing that could stop Korea doing so.

Queiroz was quickly given a chance to over-react. "He said we didn't treat Korea Republic well in Tehran, but I say we provided them with the best possible capabilities. Choi is a disgrace to South Korean football and he has insulted Iran." The Portuguese boss also said he will buy an Uzbekistan shirt to give to Choi to wear during the game.

It's all rather silly. Buying an Uzbekistan shirt in Korea is close to impossible. If you wanted to be kind to the pair, perhaps they are trying to take the pressure off their players. After all, the stakes could not be higher.

Team Melli are not only looking to exorcise ghosts of 2009, memories of 2006 are also painful. Then, they arrived in Germany full of talent and expectations only to fall apart on the biggest stage of all. Games against Mexico and Portugal were lost as was any sense of unity with a dressing room reportedly split between Bayern Munich alumni Ali Daei and Ali Karimi. The point gained against Angola in the final game really didn't make anyone feel any better.

It has been a long seven years. Appointed in April 2011, Queiroz has taken his time to win over critics in Tehran and there are a lot of critics. Some of the dozen or so sports dailies in the capital compete for readers with sensation seeking that would put even English tabloids to shame. And with politicians and presidents making their presence felt, it can be a heady mix. It can also be a rewarding one for the right person.

Losing to Lebanon last September for the first time in the country's history and then at home to Uzbekistan had many doubting that the Portuguese was that. Big wins at home to South Korea, achieved despite playing for most of the second half with 10 men, and away in Tashkent demonstrated, however, that this team has spirit. A solid win in Qatar at the start of June and then the expected home victory against Lebanon in Tehran have put Iran on the brink.

Once again, Javad Nekounam has been the talisman, but new stars have emerged alongside the ex-Osasuna midfielder. Belgium-based Reza Ghoochannejhad has overcome visa problems to become a real menace in attack, making his debut in the win against Korea last year and scoring four goals since. Less welcome, at least from the visitors' viewpoint, is the absence of the injured Ashkan Dejagah of Fulham.

Tuesday marks the final game for Choi Kang-hee in charge of South Korea and he needs just a point to step down with mission accomplished, though he will not be missed by fans. The team is missing a few stars due to injury and suspension, but with home advantage, not reaching an eighth successive World Cup would be a surprise.

If Uzbekistan don't win, the game in Ulsan is irrelevant. If they do, they need to overcome a goal-difference deficit of four goals in the case of Iran and six in the case of Korea. Defeating Qatar in Tashkent is certainly not beyond the White Wolves, but for a team that has scored six in the past seven games, finding the net at least four times against a team that has conceded only four in the past six is a different prospect altogether. Still, stranger things have happened.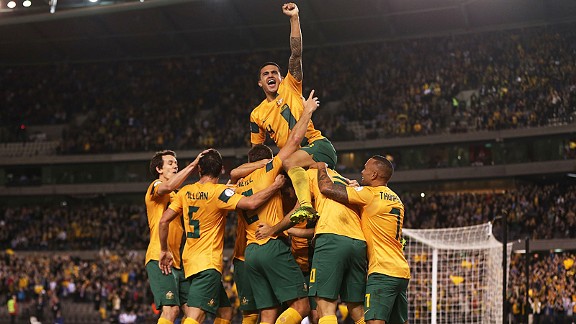 GettyImagesA repeat of Australia's win over Jordan will send them to Brazil


Group B is clearer. Japan qualified on June 4 but still defeated Iraq 1-0 a week later to end any chance the Lions of Mesopotamia had of 2014. Now Iraq travel to Australia with the hosts needing a win to secure the second qualification spot. As always with the 2007 Asian champions, you can never be quite sure what will happen.

If the Socceroos play like they did against Jordan, then the three points should not be a problem. It was the best attacking performance for some time. After the game, coach Holger Osieck saw fit to tell a room of journalists that women "should shut up in public," and after a performance like that, so should the German. His team did the talking on the pitch.

Robbie Kruse, recently signed by Bayer Leverkusen, was rampant on the right, recording two fantastic assists and scoring the third himself. Brett Holman was almost as impressive and Tim Cahill enjoyed himself in attack.

And even if the Socceroos slip in Sydney, it will cost them second only if Oman win in Jordan, which, given Jordan are strong at home and in need of victory to take third and a playoff spot, is by no means certain.

Nothing has been certain on this long Asian road to Brazil. The end is in sight now, but there could yet be a final twist.