Final countdown begins for Brazil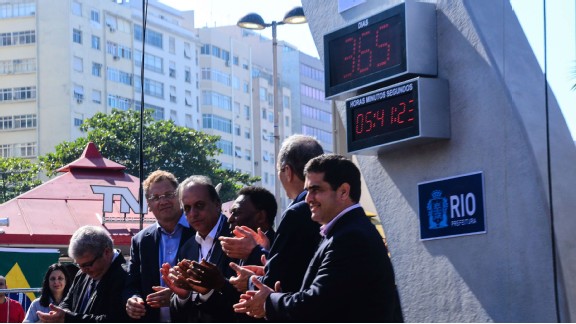 GettyImagesWith a year to go, the countdown to Brazil 2014 has begun.
With exactly a year to go until the 2014 World Cup, a clock was unveiled on Copacabana beach to mark the countdown to the big event.

Five things we learned: CONMBEOL
U.S. one year out
South America shifts into focus

The sun shone, Pele was present and there were lots of sunny smiles and corporate razzamatazz. And to add to the love-in, June 12th was Valentine's Day in Brazil.

Watching the world's media scramble for camera positions, it was impossible to escape one clear conclusion -- this thing is really going to happen!

For some of my local colleagues, all of this is very strange. Brazilian journalists, with whom I do a weekly TV show, confessed to a feeling of disorientation: a Confederations Cup and a World Cup with no need for them to take their passports! Instead of them getting on a plane and getting to know the world, the world is getting on a plane and getting to know them. It is plainly going to be a fascinating meeting.

One obvious consequence of all this is that Brazil is enjoying (and fretting about) a global visibility that it never had before. So many of the international images of the country are simplistic, hackneyed and limited -- as if a country the size of a continent could be restricted to bikini-clad girls on the beach, with a few images of samba and favelas thrown in. As one Brazilian journalist I interviewed today said, "Brazil is so much more than this!"

And now people are going to find out. True, not many of them in the Confederations Cup, though. Ticket sales for the competition have been fairly good, but the vast majority are being sold to local residents -- in the majority of cases, people from the cities in which the matches are being staged. The percentage of tickets snapped up by foreigners is tiny -- somewhere between two and three percent. The Confederations Cup is emphatically not the World Cup, with its capacity to draw multitudes from all over the planet.

Perhaps this is just as well. One of the problem areas of the 2014 project is how Brazil will deal with the influx of foreigners. This is true in a number of instances. How will the systems of crowd control function? Will there be enough hotels in all of the cities? And can the country's airport capacity deal with the demand?


---
More Coverage
- Drehs: Spotlight on Neymar
- Vickery: The countdown begins
- Exclusive: Duarte interviews Carlos Alberto
- Stark realities of preparation in Brazil
- Pele interview, video
- ESPN Brazil's Paulo Coelho on Confed Cup
- State of the Selecao
- Rafa Ramos on El Tri
- ESPN Argentina: Dreaming of Messi
- Macintosh: Brazucas, Belgians, and Brazilians at Barca
- Gallery: Best Brazilian players of all time
- Gallery: Views of Brazil
- Gallery: Neymar through the years
---
These are legitimate concerns. I confronted some of these issues planning my own strategy for the Confederations Cup. My original idea was to get round to all six of the host cities. It was a plan that crumbled with its first contact with reality. To start with, there is a logistical problem. Saturday's opening game (Brazil against Japan) is in Brasilia, with Spain taking on Uruguay in Recife the following day. Getting from one city to the other proved too difficult. One of them had to go. So, well versed in Brazil, I chose the chance to have a look at the current world and European champions.

Quite apart from issues with flight availability, there are also cost concerns. In the end I had to cut Fortaleza out of my plans as well. As it stands I have three flights planned -- Rio up to Recife, then on to Salvador and back to Rio. Combined cost? Around $575. Hotels are expensive, and there are hidden costs as well. Many of the airports lack mass transport options, and taxi bills have a tendency to add up. This is not going to be a cheap World Cup. Best advice for fans thinking of coming is to start saving yesterday.

Some Brazilians are worried that foreign visitors will go away with a negative impression of their country. Perhaps they lack faith in the rich experience that visiting Brazil can provide. But it is probably true that the only possible intelligent response to the complexities, the rewards and the frustrations of Brazil is a love-hate relationship.

A saying has caught on with Brazilians concerned that the world will only see their bad side. It is an exclamation made when anything goes wron -- "Imagine this happening in the World Cup!"

Now, with less than a year to go and the clock ticking away, the act of imagination does not take so much effort.