On June 12, the world's eyes turn to Brazil for the start of the 20th FIFA World Cup, but the planet's biggest football tournament will have plenty of news and views in the months leading up to it. ESPN FC's World Cup Daily blog is the place to be:

TOP STORIES:

• ESPN will present all 64 matches of the 2014 FIFA World Cup live and in high definition on ESPN, ESPN2 and ABC during its comprehensive coverage of the month-long tournament in Brazil, June 12 – July 13. Extensive studio programming originating from the host country is also planned, including pre-match shows, halftime and post-match segments. Read more.

• Sad headlines coming out of Brazil overnight where a man was beaten to death at a bus stop after a match between Santos and Sao Paulo. Read more at Sky News.

• Watch out Brazil, the English WAGs are coming. Wayne Rooney's other half Coleen said: "With the World Cup this year we'll be going out to Brazil to support Wayne and the England boys, so that should be really fun." Read more at the Daily Star.

INTERNATIONAL BIRTHDAYS: Park Ji Sung (1981), Marc Emmers (1966), Pierluigi Cera (1941).

DID YOU KNOW?

On this day in 1934, Paddy Moore scored four goals in the first World Cup match by any of the British Isles countries. The Republic of Ireland hadn't played for nearly two years, so they picked five new players for the visit of Belgium and the whole team averaged less than one cap each. They struggled to match the visitors' teamwork early on, going 2-0 down after 26 minutes but came back to seal a thrilling 4-4 draw. Moore's four goals are still the record for the Republic, equalled only in 1975 by Don Givens -- Cris Freddi

SNAPSHOT: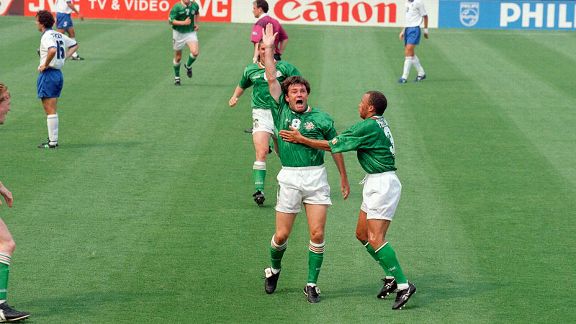 APIreland's Ray Houghton reacts with delight after scoring his team's first goal against Italy during their Group E World Cup shock win in the opening round match at Giants Stadium, East Rutherford, N.J. on Saturday, June 18, 1994.
MEDIUM:

You can contribute your thoughts on the World Cup by taking part in our Medium Project. Just click this link and get writing.