On June 12, the world's eyes turn to Brazil for the start of the 20th FIFA World Cup, but the planet's biggest football tournament will have plenty of news and views in the months leading up to it. ESPN FC's World Cup Daily blog is the place to be:

TOP STORIES:

• Barcelona captain Carles Puyol faces an uphill task convincing Spanish national team manager Vicente del Bosque to pick him for this summer's World Cup, according to Spain assistant coach Toni Grande. Puyol will be 36 by the time things kick off in Brazil, and with continuing concerns about his fitness -- the centre-back has played just once in La Liga in 2014 -- Grande says it's unlikely the 2010 World Cup winner will be involved. Grande told La Xarxa: "Puyol has always been a very important player for us, not only on the pitch but also in prematch meetings. He has experience, style, guts, behaviour and enthusiasm. Obviously, he needs to play a lot more and be more involved in Barca's key matches. He hasn't been completely ruled out, as there's still three months until the World Cup, but it is looking very difficult for him."

• Well-coiffed Colombia legend Carlos Valderrama has backed Hertha Berlin attacker Adrian Ramos for a national team comeback. Ramos, who has not played for Colombia in two years, has scored 14 Bundesliga goals this season, and Valderrama thinks it's time for Ramos to return. Asked whom he wants to see at the World Cup, Valderrama told Colombian daily El Tiempo: "Adrian Ramos! And why do I want to see Ramos? For everything he achieves in Germany."

• FIFA director of security Ralf Mutschke insists world football's governing body will not hide itself at the World Cup because of fear of being targeted by protests. In spite of obvious security challenges, FIFA will stand proudly in Brazil, with Mutschke saying : "FIFA is not coming now with less people. Instead, we are increasing our staff during the World Cup, obviously, and we are not hiding our brand. FIFA is not feeling as a target and we are not hiding ourselves or our symbol. We are proud to be here and to celebrate the World Cup."


INTERNATIONAL BIRTHDAYS: Georgios Samaras (1985), Phil Jones (1992), Tony Meola (1969)

DID YOU KNOW?

The first player to score two own goals in an international match did so on this day in 1970. In a friendly in Madrid, Italy took an early 2-0 lead through their Euro 68-winning strike force of Pietro Anastasi and Luigi Riva. But Sandro Salvadore put through an own goal twice in two minutes to leave the score at 2-2, and there were no more caps for the defender -- Cris Freddi

SNAPSHOT: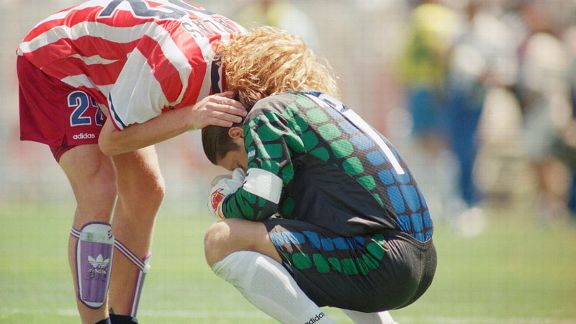 APUnited States defender Alexi Lalas comforts dejected team captain and goalkeeper Tony Meola after their 1-0 loss to Brazil in the second round World Cup match in Stanford Stadium, Stanford, Calif., Monday, July 4, 1994
MEDIUM:

You can contribute your thoughts on the World Cup by taking part in our Medium Project. Just click this link and get writing.