World Cup Daily: Wednesday
On June 12, the world's eyes turn to Brazil for the start of the 20th FIFA World Cup, but the planet's biggest football tournament will have plenty of news and views in the months leading up to it. ESPN FC's World Cup Daily blog is the place to be:

TOP STORIES:

• Ronaldo knows a few things about winning a World Cup, and losing one as well. The Brazilian's best advice for an expectant nation is to play one game at a time and make sure you take each team seriously. He told reporters at a warm-up event at the Maracana: "In the World Cup every opponent is tough. We've seen in many cups you get past the first stage , but then the games get more difficult. Especially here in Brazil, with the pressure the Brazilian team will have. We have to take each game as if it were a final." Read more at Sambafoot.

• Pope Francis has already admitted to being a huge football fan, and one who supports San Lorenzo in his native Argentina, so Brazil President Dilma Rousseff says that she will invite him to the festivities this summer. "He is committed to the poor. I respect him very much for that and also for the fact that he is a Latin American Pope, Argentine," she said. Read more at CONMEBOL.

• For Brazilians, the biggest fear is not over the hosting of the World Cup, it's that Argentina might win it. Read more at Taipei Times.

INTERNATIONAL BIRTHDAYS: Socrates (1954), Enzo Scifo (1966), Gianluca Zambrotta (1977)

DID YOU KNOW?

On this day in 1992, Alan Shearer scored on his England debut. France came to Wembley for a friendly as favourites for the European Championships -- they'd won all their eight qualifiers, with Jean-Pierre Papin scoring nine goals in six games -- but French credentials took a dent. From Nigel Clough's corner, defender Mark Wright headed the ball down, and Shearer shot home on the turn. Gary Lineker then finished the scoring to make it 2-0 after the break -- Cris Freddi

SNAPSHOT: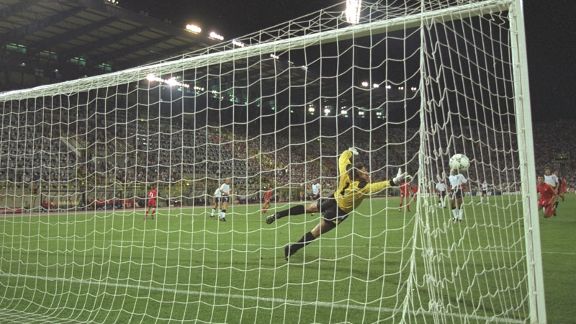 APEnzo Scifo of Belgium shoots and hits the post as viewed through the goal net during the 1990 World Cup match between England and Belgium in Bologna, Italy. England won the match 1-0.
MEDIUM:

You can contribute your thoughts on the World Cup by taking part in our Medium Project. Just click this link and get writing.