On June 12, the world's eyes turn to Brazil for the start of the 20th FIFA World Cup, but the planet's biggest football tournament will have plenty of news and views in the months leading up to it. ESPN FC's World Cup Daily blog is the place to be:

TOP STORIES:

• Amid conjecture over Ashley Cole's future at Chelsea, Jose Mourinho believes the left-back's hopes of playing in a sixth major tournament for his country, England, could be fulfilled. He said: "I cannot think in national teams at the same time as thinking about my team. There are national team managers that are very clear: they go with their players. It doesn't matter if their players are playing in the club or if they are not playing, they go with their players." Full story.

• FIFA has announced on Tuesday that Curitiba will stay on the list of host cities for the World Cup despite delays in construction of the Arena de Baixada stadium. Full story.

• The German national team kit is steeped in history, but it's not easy being green. Read Uli Hesse's feature, here.

INTERNATIONAL BIRTHDAYS: Bobby Robson (1933), Bryan Oviedo (1990), Roberto Baggio (1967)

DID YOU KNOW?

On this day in 1940, legendary Brazilian striker Leonidas da Silva equalled a world by scoring in a 10th consecutive international match. His two goals today, one in extra time, earned Brazil a 2-2 draw with Argentina in Sao Paulo -- Cris Freddi

SNAPSHOT: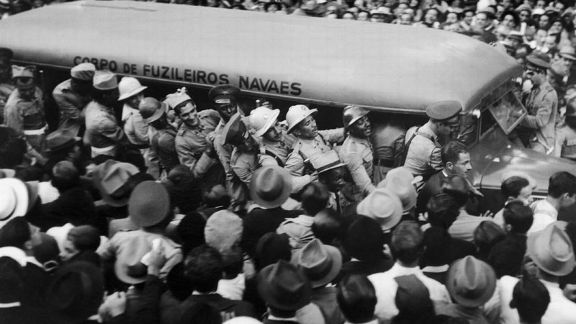 APBrazil's players arrive back in Rio De Janeiro from the World Cup in France in 1938. They made only the semifinals before being knocked out.
MEDIUM:

You can contribute your thoughts on the World Cup by taking part in our Medium Project. Just click this link and get writing.