Onyewu dreaming of third World Cup appearance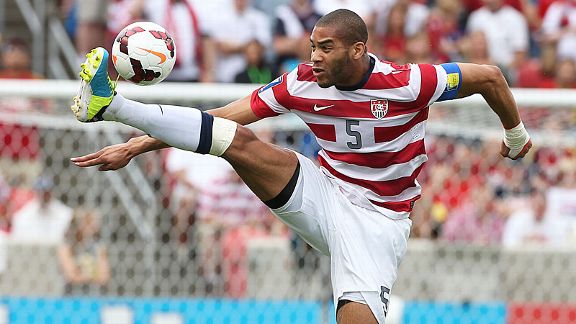 GettyImagesOguchi Onyewu wears the captain's armband on his last appearance for USA against Cuba in July 2013.
Oguchi Onyewu has had a nomadic professional career, packing up his bag and travelling the leagues of Europe while representing the United States around the globe.

A 12-year tour of duty began in France and has crossed many borders before settling, for now, in the English city of Sheffield. And while the defender is happy to be playing football again, his ultimate goal is a third World Cup appearance with the United States in Brazil this summer.

It's been a tough 18 months for Onyewu, who struggled for game time under Manuel Pellegrini at Malaga last season, then found himself benched at Queens Park Rangers in the first half of the current campaign. But the move to Sheffield Wednesday appears to have revitalised the 31-year-old, who remains very much on the radar of USA coach Jurgen Klinsmann.

Onyewu last played for Team USA last summer in a friendly against Guatemala and the 4-1 Gold Cup win against Cuba, and he remains confident that he can force his way back into the reckoning and add to his 68 caps. But to do that he needs to be playing football -- and most important stay fit to eliminate any doubts in Klinsmann's mind.

"Jurgen and myself, we have an open line of communication," Onyewu told ESPN FC. "We've had conversations, exchanged text messages, and I know he's a very thorough coach, so just as much as he's keeping tabs on me I know he's keeping tabs on everybody else -- and you sure want to expect that from a national team coach.

"He knows that I've found myself a position [at Sheffield Wednesday] where I can be playing week in, week out where he can monitor my form. That's all positive in terms of my main objective for this summer.

"I'm just going to keep on pushing, keep on working hard until that objective comes to fruition. And that's when it manifests itself into me being on that final roster for the World Cup.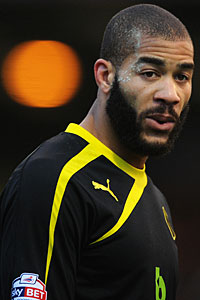 GettyImagesOguchi Onyewu in Sheffield Wednesday colours.
"I feel physically I can help out any team that I'm on and I've proven that when given an opportunity. That's definitely the case with the national team, and I was captain the last time I played [vs. Cuba].

"I don't think by any means my legs are finished from playing football and certainly not from playing with the national team. I'd like to get a third World Cup under my belt and I'm pushing towards that right now.

"I feel strong, I feel quite rested and I'm just going to continue to make a career out of proving people wrong and pushing forwards."

After playing four games for the Owls, in which they were unbeaten and Onyewu contributed a goal and an assist, a minor calf strain has come at just the wrong time. Though he is due to return to training next week after a couple of weeks on the sideline, his hopes of being in contention for USA's friendly against Ukraine on March 5 will have been hit.

Time is short for Onyewu to force his way to the front of the queue as Klinsmann's fourth centre-back in South America, with a game against Mexico on April 2 the only other warm-up scheduled before their 23-man squad must be named.

Matt Besler, Omar Gonzalez and Clarence Goodson -- three centre-backs who seem certain to make the plane -- are yet to play at a World Cup, and haven't competed at club level against high-level opposition. Only Goodson has played league football outside the USA, with spells at IK Start of Norway and at Danish club Brondby.

Onyewu could offer vital experience not only on the pitch but in the changing room too, and the States might just need all that big-game know-how after being handed a nightmare draw against Klinsmann's home nation Germany, old foes Ghana and Portugal.

"You qualify for these tournaments to play the best so it's almost understood that you're going to play against some stiff competition," he added. "Germany, without a doubt, are a world-class team. Portugal, it goes without saying they have one of the best players in the world [Cristiano Ronaldo] playing for their side.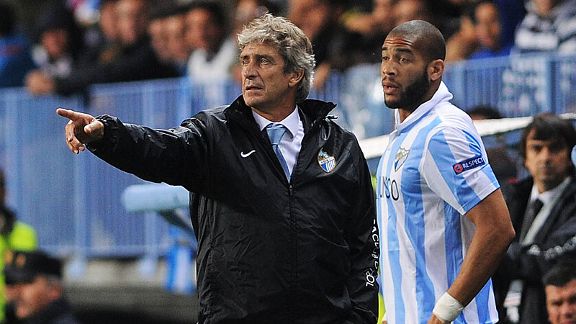 GettyImagesManuel Pellegrini gives instructions to Oguchi Onyewu before he comes on for Malaga last season.
"Ghana? I don't understand how we can draw them 12 years in a row! But somehow we have and I know that's going to be a very difficult match as well, having knocked us out of the last two World Cups. We'll do everything we can not to make it a third time around.

"As much as everyone says there are favourites on paper in a group, any team can be a wild card. Throughout the last three or four years, America has been able to progressively gain respect worldwide in terms of how we play. Teams know it's going to be a difficult game, that they're not going to be able to walk over us because we don't let teams do that. They know it's going to be difficult to the 90th minute."

Onyewu started his professional career in France with Metz, but made his name in Belgium at Standard Liege where he won two league titles and was named foreign player of the year in 2005. But a shock move to AC Milan in the summer of 2009 didn't turn out as he hoped, and he failed to make a single Serie A appearance in 18 months at the San Siro.

A serious knee injury, picked up on international duty in a World Cup qualifier against Costa Rica just weeks into his first season at Milan, damaged his chances of making an impact at one of the world's biggest clubs. His only appearance came as a sub in a home defeat to FC Zurich in the Champions League.

"When I went to Milan, at the age of 27 which is usually a player's peak, at that point I hadn't had any injuries. And then to be hit with such a massive injury as a patella tendon, especially after signing to a club like Milan, rocked my world a little bit," Onyewu explained.

"I was determined to get back, I worked hard at my rehab because I definitely wanted to be at the World Cup [in South Africa] the following summer. I wanted to get back and get my fitness back. But there was then a change in management at Milan [Massimiliano Allegri had replaced Leonardo], and he made it clear he wanted his own players -- and I wasn't a player that he brought in.

"That injury definitely cast a shadow over my time at Milan. There was myself, [Alessandro] Nesta, Thiago Silva and [Kakha] Kaladze and to be fair throughout that whole first season there was a lot of rotation that I wasn't able to be a part of. Had I got proper opportunities things might have gone differently. They might not have, but at least you would have the possibility to see.

"You accept what the past is and you move on to the present. A big focal point of my career has been not to dwell on past shortcomings, to push forward and try to make the best of the current."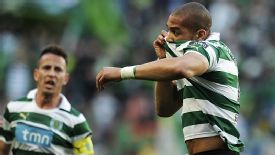 GettyImagesOguchi Onyewu enjoyed a successful season in Portugal with Sporting in the 2011-12 campaign.
Following a loan spell in the Netherlands at FC Twente in the second half of the 2010-11 season, where he won the Dutch Cup, he left Milan bound for Portugal. After a difficult couple of years he had put himself back in the shop window in the Eredivisie, and a free transfer to Sporting followed.

"I signed to Sporting and at first I was in and out, but finally I got my opportunity to get that starting position, came up with some pretty big goals and helped the team have a successful season," he explained. "I became something of a fan favourite there in Lisbon. My year at Sporting was very positive.

"Unfortunately the following season with the change in coaches and the financial situation they had to offload a lot of different players and I was one of those. That's when I went to Malaga in the very, very last minute of the [August 2012] window.

"It was a no-brainer -- it gave me the opportunity to play in Spain, in the Champions League and under a renowned coach like Pellegrini. Although I didn't have as much playing time as I had wished, coming into a defence which was solidified since the previous season, I think I made an impact, scoring two goals, in the little time that I had. You look at that, build from it, and move on."

Though he returned to Sporting last summer the two parties agreed to mutually terminate his contract. That's when he eventually headed back to England for a second time, having spent a few months on loan at Newcastle United in 2007, but initially it was a battle to find the right deal.

"There was definitely clubs interested in me," he added. "The problem I had at that time was that there were a lot of negative and false rumours going around about my fitness and my knees. Since my knee injury in 2009 there hasn't been any reoccurrence of it. Some clubs had doubts about that and they took false information from outside sources and it hampered some of the transfers that could have gone down."

Eventually he was handed a trial at QPR, and a short-term deal by manager Harry Redknapp.

"QPR was presented to me at first last January [2013] as a possibility," he continued. "At the time I wasn't interesting in leaving Spain and I kind of just wanted to focus on my current situation. An agent and friend of mine, Walid Bouzid, pushed for me to consider it. So I went there for a week's training and Harry Redknapp expressed that he wanted to sign me and that I'd have an opportunity to play.

"But that didn't happen, mainly due to the form the central defenders were in and also the team was in. So it was hard to change a well-functioning machine.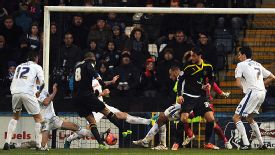 GettyImagesOguchi Onyewu scores what proved to be Sheffield Wednesday's match-winner in the FA Cup at Rochdale.
"I had to switch the gears in my head again to find a situation in which I would have the opportunity to play consistently week in and week out, and Sheffield Wednesday was presented to me. I spoke to the coach Stuart Gray on the phone, and I spoke to [USA international] Stuart Holden -- who was here on loan last season from Bolton -- and everybody's perception of the club was very, very positive.

"I put pen to paper and at the moment it's all going very positively. I've played four games now and we've been getting really good results and doing well in the games so I hope we can continue this good run of form that we have.

"The fans, the club, the players, the coaches, everyone's been very welcoming in general. I don't know if it's their temperament, whether they're open people or that they just like Americans in general. I think I definitely hit the ground running with a goal and an assist and I definitely made a case for myself with the fans.

"I'm contracted until the end of the season but who knows by April or May my future will be resolved and I'll sign, but at this moment it made sense to sign until the end of the season. Perhaps if I continue this positive run that I've been having that will change rapidly. I'm just trying to do my job as best I can and hope everything else falls into place."

"Gooch" has never actually played in Major League Soccer, and while he didn't rule out a move to play in the American league it is not a switch which he has on his agenda at the moment.

"It's always an option," he said. "Everyone always asks me, 'when are you going to come back home?' when I've never played there in the first place. You see that the league is getting stronger and getting more respect. More players in Europe want to hop over the pond and go to America.

"It's never been excluded from an option but I've never to this specific moment considered moving across because I've never been approached by the league. Maybe if that changes one day I'll rethink my options and put that into consideration."