Ever Banega is Europe's loss, Argentina's gain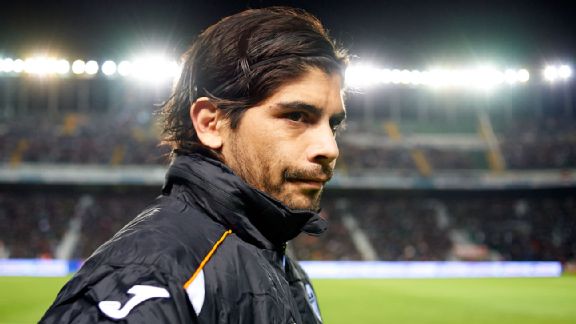 Manuel Queimadelos Alonso/Getty ImagesMotivated by the World Cup, it's surprising to see Ever Banega ending up back in Argentina and not elsewhere in Europe.
One of football's mysteries is the fact that Fernando Gago has not (yet) made much of an impact on the European game. The elegant Argentine central midfielder was his country's second-best player in World Cup qualification; indeed, part of the explanation for Lionel Messi's successful campaign was that Gago served as such an efficient supply line, using his passing ability and reading of the game to ensure that Messi received the ball in time and space to work his magic.

But after spells with Real Madrid, Roma and Valencia, Gago is currently playing his football right back where he started: Boca Juniors in Buenos Aires. And now he is joined in his homeland by his original successor in the Boca midfield and his reserve in the Argentina side. Ever Banega has been loaned by Valencia back to Newell's Old Boys in Argentina's second city, Rosario, where he was born 25-and-a-half years ago.

There are two surprises here. One is that Valencia were happy to let him go. But new coach Juan Antonio Pizzi clearly has his own ideas -- and after Saturday's 3-2 win at Barcelona, he is all the more entitled to them.

- Report: Banega joins Newell's on loan

The bigger surprise, perhaps, is that another major European club did not rush in to the rescue. Banega is a highly talented midfielder, technically gifted with a wonderful range of passing. Pep Guardiola made a point of praising him before a Barcelona-Valencia match a couple of seasons ago.

He first made the breakthrough at the South American Under-20 Championships, staged in Paraguay at the start of 2007. So consistently impressive were his displays that Boca Juniors hurriedly found a way to fast track him into their first team. This was a time when playmaker Juan Roman Riquelme, coincidentally back on loan from Spain, was in his pomp. That position was taken.

Back then, the way to squeeze Banega into the team was to play him in the role of defensive midfielder. It may not have been his natural function, but the move ensured that Boca's first forward pass was played with quality. Boca went on to win the Copa Libertadores, and Banega gave further evidence of his ability when he helped Argentina win the World Under-20 Cup in Canada, serving as the main supply line for star striker Sergio Aguero.

Along with Aguero, Angel Di Maria and goalkeeper Sergio Romero, Banega has successfully graduated to the Argentina senior squad. He appeared in all of his country's past seven World Cup qualifiers, starting four of them, and scored what turned out to be the winner in a friendly away to Italy last August. He is desperate to be part of coach Alejandro Sabella's World Cup squad. And it is precisely why Banega should have been especially interesting for European clubs.

Along the way Banega has attracted something of a reputation for wild child antics and a general habit of being accident prone. Sudden fame and riches are not always easily to deal with; there is often a price to pay somewhere down the line. But in the next few months, with the countdown to the World Cup, Banega is almost guaranteed to be on best behaviour. A World Cup in his home continent is a powerful incentive.

And now he can warm up with a few months back in his own country, playing for the team he grew up supporting. This is a massive bonus for Newell's Old Boys, semi-finalists last year in the Copa Libertadores and now boasting a touch of genuine class in their team as they go into this year's campaign.

But the mystery remains. Manchester United made an ambitious sounding-out of Barcelona's Cesc Fabregas a few months ago. Subsequent events have confirmed the view that the Old Trafford club need strengthening in that central midfield area.

Fabregas is happy where he is. Banega was not, and has some of the same skills to offer. The next few months look like being Newell's Old Boys' gain. Only time will tell if not getting Ever Banega on board might look like Manchester United's loss.