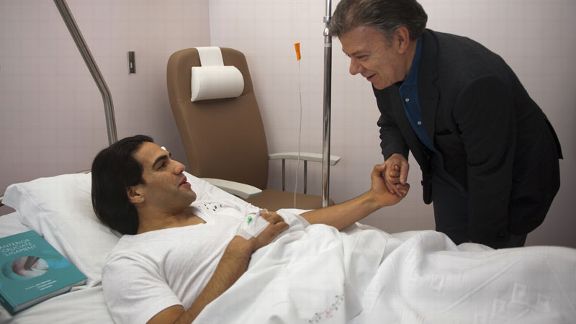 GettyImagesRadamel Falcao received a hospital visit from President of Colombia Juan Manuel Santos, such is the concern about the striker's World Cup hopes.
As Tim Howard helped Romelu Lukaku from the field at Anfield on Tuesday, Everton fans will have felt a creeping anxiety that this might be the last they see of their Belgian destroyer.

"It doesn't look too good at the moment," said a worried Roberto Martinez. Lukaku, though, would have had a more personal concern: Could his damaged ankle ligaments cost him a World Cup chance? Mercifully, the prognosis on Wednesday was "weeks rather than months."

Teammate Gareth Barry, whose collision with Lukaku helped cause the injury, would empathise with such fears. In May 2010, he was carried from the field in tears during Manchester City's defeat to Tottenham. An ankle injury looked set to kill any hopes of playing in South Africa.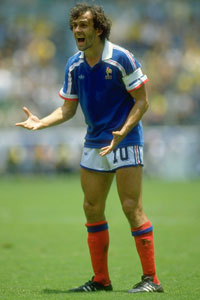 GettyImagesDiego Maradona and Michel Platini were both injured ahead of the 1986 World Cup; the former flourished but the latter was a shadow of himself.
Barry made it, but was an unfit shadow of himself, and became a scapegoat for England's last-16 exit to Germany. And that's another problem; the half-fit player being risked. "The big man is back in town," Wayne Rooney announced to teammates as he made a late arrival to Germany 2006, but the Manchester United forward endured a disappointing tournament after failing to recover sufficiently from a broken metatarsal, the same foot problem David Beckham had suffered four years earlier.

Ahead of Mexico '86, the anticipated big stars were Michel Platini and Diego Maradona. Both arrived with knee problems. Maradona eventually stole the entire show, while Platini could not hit his peak of Euro '84, and was retired from the game within a year.

As January turns to February, players from the 32 finalists heading to Brazil are now running a gauntlet. Serious injury would rule them from participation in Brazil, the ultimate heartbreak for an international footballer. Club managers might not like to admit it, but an oncoming World Cup can affect their players' psychology. Consider that Sir Alex Ferguson won only one league title in a World Cup year with either Aberdeen or Manchester United, and that was 1994 when England had not even qualified. Intensity can fall in the face of fear of missing out.

Those who will be missing, or whose participation is at risk, are mounting up. Anterior cruciate knee ligament injuries -- the dreaded ACL -- are already destroying some leading names' summer dreams. The metatarsal curse will resurface soon; World Cup woe betide.

Radamel Falcao (Colombia and Monaco)

Defender Soner Ertek and Championnat de France amateur club Monts d'Or Azergues Foot rose to infamy when his challenge on Colombia's star man caused a ruptured ACL. Ertek even received death threats from angry fans, until Falcao himself stepped in. "Do not blame yourself for what happened," Falcao tweeted, and the 50 million-pound striker is retaining a positive mental attitude about his prognosis after a reportedly successful operation. Surgeon Jose Carlos Noronha told Colombian media that Falcao has a 50-50 chance of making the World Cup. "There's a possibility," said Dr. Noronha. "It's not out of the question. It went well. The light at the end of the tunnel isn't small." Nevertheless, Falcao, a late developer who has never yet played in a World Cup finals, faces a hard road ahead.

Giuseppe Rossi (Italy and Fiorentina)

There can be no more luckless top-level footballer. This had finally looked like being Rossi's season after so long out with injury. Twin ACL injuries had robbed him of much of the last three seasons, and he was flying with Fiorentina when Serie A began. He is still the division's top scorer but a tackle from Livorno's Leandro Rinaudo on Jan. 5 had Rossi limping off in tears. Tests revealed this was no mere sprain; there was "a stress to the anterior knee ligament previously operated on," according to a Viola statement. Recent suggestions are that Rossi can return before season's end, but unfortunately he will now be a susceptible risk for Cesare Prandelli to bank on.

Theo Walcott (England and Arsenal)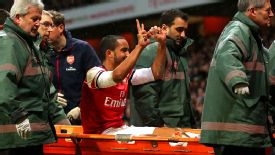 GettyImagesTheo Walcott appears certain to miss his second successive World Cup.
At first, the fuss was centered on Walcott's two-fingered gesture to Tottenham fans as he was carried from the field on Saturday, Jan. 4. By Monday, the reality was that Walcott would be missing two World Cups in a row, after being a non-playing substitute in 2006. He was dropped from the 2010 squad at the 11th hour. Initially, there were some calls to rush Walcott ready for Brazil, but the player himself chose to refuse the "quick fix" option. He underwent a patella tendon graft to reattach the ruptured ligament. The alternative option requires a synthetic tendon or even that from a cadaver. Walcott will not be seen until August, and must now hope that Russia 2018 proves his fourth-time lucky.

Sami Khedira (Germany and Real Madrid)

The engine of his country's ride to the semis in South Africa had remained an integral part of Jogi Loew's side, a guaranteed name on the teamsheet. His own ACL was ruptured during national service in a November friendly with Italy. Seven months gives him longer than the aforementioned, but it will still be a race to get the Madrid man fit. "The worst I have seen since I took over in 2004," was Loew's description, a reflection of Khedira's importance in the heart of midfield. When he plays, the likes of Mesut Ozil, Mario Goetze & Co. play better. Loew lives in hope. "If all goes well, Sami's calendar will be full this summer," the coach said last week.

Bryan Oviedo (Costa Rica and Everton)

"#GetWell Oviedo," hashtags Everton's official Twitter page. The double leg-break injury the defender-cum-midfielder suffered at Stevenage on Saturday hit Evertonian spirits hard. A squad of slim resources requires his versatility, but so do Costa Rica, for whom the 23-year-old is a key man. In days gone by, a leg break would keep a player out of the game for almost 12 months, but medical science has moved on significantly, and there are high hopes that Oviedo might be ready to face against England, Italy and Uruguay for the Ticos. Successful surgery on Monday put a rod through his tibia, with no bone fragments found in the process.