Spotlight set to test legend of Neymar


SANTOS, Brazil -- The man is busy. He has a school to run. From a humble office in the heart of this bustling port city, he keeps track of some 500 kids and more than 50 teachers, custodians and other employees. There isn't time for lengthy interruptions. But what's that? You have questions about who? Juninho?

"Please, sit down," the man says through an interpreter. "What do you want to know?"

But the man won't let me speak. At least not yet. Instead, he holds up a finger, begging for silence and patience. He shuffles over to a nearby DVD player, hits the play button and smiles.

The highlights from the 2004 state championship for futsal, an indoor variation of soccer, show up on the television screen. There is a boy -- a scrawny 12-year-old with a shaved head and infectious smile -- who is impossible to ignore. When he touches the ball, it's like an exquisite dance. He can go left or right. Forward or backward. He can spin and twist, stop and start. Through it all, the ball never leaves his feet. It's art more than sport. Soon, he slices between a group of defenders and blasts a shot past the helpless keeper. Fans in the gym erupt. The announcer calling the match does the same.

"NEYMARRRRRRRRR!"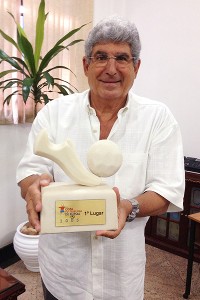 Wayne Drehs/ESPNErmenegildo Pinheiro da Costa Miranda, the administrative director of Neymar's old school Liceu Sao Paulo, insists the 21-year-old icon is ready to shoulder Brazil's legacy.
The boy, mobbed by his teammates, smiles. Here, in this office, nine years after that day, Ermenegildo Pinheiro da Costa Miranda, the administrative director of Liceu Sao Paulo, does the same. Miranda speaks little English. I speak even less Portuguese. But for now, we don't need many words. Miranda keeps smiling. And nodding.

"Neymar," he eventually says.

"Neymar," I reply.

As the spotlight of the soccer world shines on Brazil for this month's FIFA Confederations Cup and next year's World Cup, there is no single player who will face more scrutiny and pressure than that Brazilian boy, now 21 and one of the most electrifying soccer talents in the world. Fresh off his $74 million transfer to Barcelona, where his arrival at Camp Nou was greeted by more than 50,000, Neymar da Silva Santos Junior -- Juninho to those who know him best -- will spend the next year adjusting to a new club and country while shouldering the daunting expectations of his soccer-crazed homeland.

In these parts, there is no gray area. Only one outcome will suffice. Win the World Cup. And do it on Brazilian soil.

"In Brazil, football is life," Neymar said recently. "We adore this game. That's why World Cup is the most important thing for us. Winning it is my dream."

Since turning pro in 2009, Neymar carried Santos to championships at the state (Campeonato Paulista), national (Copa do Brasil) and international (Copa Libertadores) levels, scoring more than 130 goals in the process. He led the team to a second-place finish in the 2011 FIFA Club World Cup behind Barcelona, and that same year beat Lionel Messi and Wayne Rooney to win FIFA's Puskas Award, given for the best goal of the year.

For the next two summers, Neymar is the unofficial host of the world's biggest soccer party. Seemingly everywhere you turn in Brazil, his piercing brown eyes and color-of-the-week spiked hair are plastered on billboards and television screens, in newspapers and magazines. SportsPro, an international sports business publication, has ranked him the most marketable athlete in the world for the past two years. He's the only Brazilian athlete to ever appear on the cover of Time magazine.

"An icon," Miranda says.

Which is where my questions for Miranda begin. Is the boy ready for what lies ahead? Can his 5-foot-9-inch, 145-pound frame carry the expectations of being the prodigy, the god, the hero, the icon, the savior -- all rolled into one?

The answers depend on whom -- and where -- you ask. In these parts, on the cobblestone streets where he grew up, on the fields and in the gyms and stadiums where he learned his craft and awed thousands, the answer is: Of course. Neymar was born for this.

But elsewhere across Brazil, there is suspicion. In two tournaments with the senior national team, Neymar lost in the quarterfinals of the 2011 Copa America and then lost the gold-medal final to Mexico at the London Olympics. He was jeered by his countrymen during an apathetic performance against Chile in April. Yes, Neymar is the best soccer player in Brazil, but when the matches mean more, when the opposition starts pushing him around, when the criticism builds, how will the chosen one respond?

"He's ready," Miranda insists. "I know it."

A natural discovery

A day before my meeting with Miranda, in an another uninspiring office tucked away on an upper floor of Vila Belmiro, the stadium for FC Santos, another man glows. He carries with him a thick green folder stuffed with pictures and newspaper clippings. To better understand Neymar's future, he says, you first have to know about his past. You need to hear how his story began.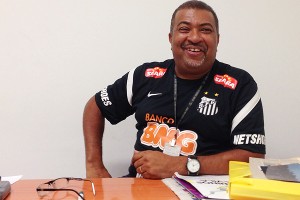 Wayne Drehs/ESPNRoberto Antonio dos Santos, known as "Betinho," discovered Neymar on Sao Vicente's beach and latched on.
Roberto Antonio dos Santos, the man known as "Betinho," was on the beach in Sao Vicente that day, just a few miles up the coast from Santos, searching for players for his new youth futsal team. Armed with a folder full of flyers, he couldn't take his eyes off this energetic boy with skinny legs, big ears and short hair. The boy, no more than 6 years old, kept running back and forth on a set of bleachers, mirroring the game taking place on the beach below. He ran over some people, scooted around others and never once seemed to worry about getting hurt.

"He was fast; I mean really fast," Betinho says through an interpreter. "He was very coordinated, had good balance. And he was so confident. It was just natural. He kept going and going."


---
More Coverage
- Drehs: Spotlight on Neymar
- Vickery: The countdown begins
- Exclusive: Duarte interviews Carlos Alberto
- Stark realities of preparation in Brazil
- Pele interview, video
- ESPN Brazil's Paulo Coelho on Confed Cup
- State of the Selecao
- Rafa Ramos on El Tri
- ESPN Argentina: Dreaming of Messi
- Macintosh: Brazucas, Belgians, and Brazilians at Barca
- Gallery: Best Brazilian players of all time
- Gallery: Views of Brazil
- Gallery: Neymar through the years
---
Eight years earlier, on a field not far from there, Betinho had uncovered another Brazilian gem. Robinho would go on to score more than 150 goals for Santos, Real Madrid, Manchester City and Milan, while also playing for the Brazilian national team.

"The way he moved reminded me so much of Robinho," Betinho said. "I knew I needed to find his parents."

The boy's father, Neymar Sr., was playing in the match. He had played professionally in Brazil's lower divisions, but a car accident and subsequent injuries had derailed his career. Now he was working multiple jobs to support his family. The boy's mother, Nadine, worked as a cook at a daycare. On this day, she tried to keep one eye on her husband's match and another on her roaming son. Betinho invited the boy to a training session. Three days later, Neymar and his mother showed up. And a few minutes into the first scrimmage, Betinho knew.

"No one could stop him," Betinho says. "It was like a skinny guy playing against a bunch of fat guys. I was filled with so much joy."

Betinho invited Neymar to play on the team, becoming his first organized coach. But within the first few matches, he had a problem on his hands. The other parents didn't like the new kid.

"He was so good that the other parents hated him," Betinho says. "Nobody wanted to put their kid next to this guy."

But Betinho knew not to leave Neymar's side. When he took a job at another club, he had it put in his contract that the boy would come with him. "I'm not dumb," he said. And later, when the boy would change clubs, Neymar and his father brought Betinho along. The young Neymar and the man in his late 50s developed a friendship. They would talk about soccer and life. Betinho would often bring his own son along on trips so the boy would have another kid to talk to.

"We were more than just a coach and a player," Betinho says. "We were friends. I tried to be there for him during the difficult times, be his counselor."

When he was 11, Neymar signed a contract to join the youth academy at Santos. Around the same time he began attending Liceu, where Miranda gave him and his younger sister Rafaela scholarships.

"He was a good student," Miranda said. "He worked hard. He had some trouble with mathematics, but since then I think he's figured out how to multiply millions times millions."

The boy was a soccer junkie. Nearly every day, Miranda said, Neymar would poke his head into the director's office and ask for a soccer ball.

"It was like, 'Neymar, you need to start practicing in Santos in one hour. Eat your lunch,'" Miranda said. "But he always wanted a ball. He always thought about football. He didn't want to know about anything else."

As Neymar's teams traveled across the state, word began to spread about the talented teenager. The legend grew one day during a tournament at a church camp in Cubatao, when a Neymar-led team of boys won a tournament filled with grown men, including a handful of low-level professionals. At one point in the final, Neymar escaped the clutches of the defense and found himself alone with the goalkeeper, a man named Cidclay. He stopped dribbling, stood for a second and then faked a shot. Stunned, Cidclay tripped over his feet and fell to the ground. Neymar then tapped the ball into the back of the net, much to the delight of those watching from the sidelines.

"That was it; the game was over," says Newton Lobato, one of Neymar's friends who was there that day. "Everybody ran onto the field, they all went crazy. And that keeper, he was ruined. What Neymar did to him that day messed with him so much he had to quit playing. His life hasn't been the same."

When he was 14, Neymar and his family were invited to Spain, where he was wooed by Real Madrid and offered a contract. Instead, he stayed at Santos, thanks in part to a reported $500,000 bonus. Three years later, as a 17-year-old, he would make his professional debut for Santos. From that first day, he was billed as the savior. The one expected to do amazing things every time he touched the ball.

This, Betinho believes, is the reason Neymar is ready. The pressure has always been there. It was there when he was just a little boy and opposing parents and fans would yell at him that he was nothing. It was there on the cold, rainy mornings when he would leave Santos on his tiny motorcycle and head home for a nap before going to school.

"He's been preparing for this his whole life," Betinho says. "He's always had to win the game. He's always had to be the best scorer. He's always had people who didn't want him to be successful, people who were jealous and hated him. This is just the natural progression. This is the next step."

'Juninho's' escape

In the hallways of the Peniel Baptist Church, no one uses the word Neymar. At least none of the regulars. Neymar is for the tourists. The visitors. The ones who poke their heads inside the glass door hoping that the star might show up. To everyone else, the church's most popular member goes by the name of "Juninho," which translates to Little Junior. It's the same thing they've been calling him since the first day he walked through those doors with his parents 13 years ago.

"People still look at him like he's just that little boy," says Lobato, the youth pastor at Piniel.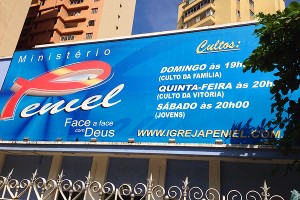 Wayne Drehs/ESPNNeymar makes it a habit to escape the pressures of stardom with visits every other Thursday to the Piniel Baptist Church.
It is here, Lobato explains, where Neymar comes to escape. With each goal, with each jaw-dropping highlight, comes more money, more attention, more expectations and more obstacles. At seemingly every turn are all the trappings of celebrity life. The women. The parties. The drugs. The alcohol. The nonstop attention. Neymar's teammates joke that when the team travels through airports or is in a mall or restaurant, nobody wants to sit or walk next to him.

"We always tease him, 'Get away from me -- we don't want to deal with that,'" says former Santos teammate Victor Andrade.

So every other Thursday, sometimes with his mom and sometimes without, Neymar has come here, in search of a reset button. On the days he can't make it, he trades messages with his pastors on Facebook and Twitter.

"He is thirsty for God," Lobato says. "When people are saying bad things about him, when he's getting criticized for this or for that, he can come in here and get some food for his soul. And when he leaves here, he feels stronger and lighter. It only helps him. He never leaves here feeling worse."

"Whenever he felt the pressure, he could go to his family and cry and find support through the church," Betinho says. "They would put him on his knees and he would cry. He could get it all out. He always had this help."

There have been plenty of moments when he's needed the support. Like in 2010, when Neymar threw an on-field temper tantrum after his coach at the time, Dorival Junior, didn't select him to take a penalty shot. Neymar hurled a water bottle at the coach and then hogged the ball for the remainder of the match. Critics howled that the boy was cocky, petulant and out of control, with one critic insisting the Brazilian worship of the boy had created a "Neymonster."

"After that game, his mother told him how wrong he was," Betinho said. "She told him, 'This is not the son that I raised.' And Neymar started crying. He knew he was wrong."

The next day at training, he apologized, telling the local media, "The real Neymar is not the Neymar you saw yesterday. The real Neymar is a joyful player, always happy with a smile on his face."

In 2011, Neymar fathered a boy with a 17-year-old woman with whom he was not in a relationship. The news caused a firestorm in Brazil, with pessimists again insisting Neymar's life was spiraling out of control. Neymar has since embraced his new son, supporting him and his mother and spending as much free time as he can with the boy.

And then there have been smaller run-ins with opposing coaches and players, like this past January when he accused Ituano coach Roberto Fonseca of calling him a monkey. Neymar later said he misheard the coach, who then accused the striker of being deaf. A few weeks later, Neymar was sent off for the fifth time in his career after a spat with an opposing player.

Those close to him say Neymar tries to control himself. But it isn't always easy. The most talented player on the field is often the biggest target for opposing fans and players, with jeers that he is soft and constantly diving on the pitch.

With most soccer players not reaching their peak until their mid-20s, there is still much to learn and more challenges to come. Barcelona will surely try to put more weight on Neymar and make him stronger so his body can better absorb the physical pounding of playing in Europe. His potential, some say, is limitless.

"Every day, he gets more and more mature. It's just amazing to watch," says Arouca, who played with Neymar at Santos for three years. "He knows when he makes a mistake and he feels bad. He's grown into a leader -- on the field, off the field. Now he thinks before he does something. He's going to great places. I'm excited to watch."

Inevitable comparisons

Whether Neymar likes it or not, the comparisons are inevitable. When you ask people in these parts about the boy, there is one name that continues to pop up: Pele. It's laughable, really. Pele was the greatest soccer player who ever lived. He is the only footballer to have won three World Cups. And he scored more than 1,200 goals in his mind-boggling career.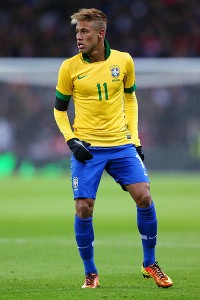 Clive Brunskill/Getty ImagesNeymar's potential with the national team is sky-high, but critics wonder if he'll be able to control his emotions.
They both grew up on the beaches of Sao Paulo state. They both played for Santos. They both have played the game with a passion and exuberance that light up their country. And they're both larger-than-life heroes. Even if Neymar isn't anything close to the next Pele, that's what his country so desperately wants.

"We don't have a lot of idols in Brazil," Betinho says. "We had Pele. We had [Formula One driver] Ayrton Senna. But since then the seat has been empty. He is the one who can be that man. He makes us Brazilian people so happy. You can have problems in your family, problems at work, but Neymar shows up on the TV and does something incredible and everything gets better. He is ours. He makes everybody so proud."

Pele, who is 72 now, has his own opinion.

"He has the football potential to be one of the best players in the world," Pele said. "Or maybe not. It is up to him."

Before Miranda gets back to his regularly scheduled day, he calls a math teacher down to his office to rave about Neymar. Then he pulls out a folder of his own newspaper clippings, including one black-and-white photo of the first autograph Neymar ever signed. He tries to put into perspective what Neymar means to his country.

"Neymar is not just important for Santos or Brazil; he's important for the world," Miranda says. "For us, Pele was the icon. But he won't be around forever. Neymar is starting to replace Pele and fill that role."

That's when there's an interruption from the hallway outside. It's Miranda's 4-year-old grandson, Jerome, booting a soccer ball back and forth between two nets he's set up in the hallway.

"Neymar," the boy says.

"Do you want to be like Neymar?" Miranda asks.

The boy nods in agreement. The only problem? His grandfather can't figure out how to get the boy's hair to stand up like his idol's. They've tried every hair product imaginable, but Jerome's hair is simply too thin to cooperate.

"But I'm not worried," Miranda says. "We have until next summer to figure it out. We'll be ready. Just like Neymar."