Falcao's serious injury won't ruin Colombia
Back in 2011, Radamel Falcao Garcia began Colombia's opening World Cup qualification match on the bench. He also missed the next two through injury.

Then coach Lionel Alvarez was sacked and his replacement, the experienced Argentine Jose Pekerman, made it a priority to get the best out of his star centre-forward. Up until that point, Falcao's international record was distinctly average. He had disappointed in Argentina at the 2011 Copa America, where Colombia looked short of ideas in the attacking third of the field.

- Report: Falcao set to miss World Cup?

There was no instant change under Pekerman, either. Falcao was not on target as Peru were beaten 1-0, nor did he shine in the 1-0 defeat to Ecuador. As has been the case so often in recent times, scoring goals was proving a problem for the Colombian side. But then it all clicked; he scored five times in the next four games, all victories, and Pekerman's team was on its way.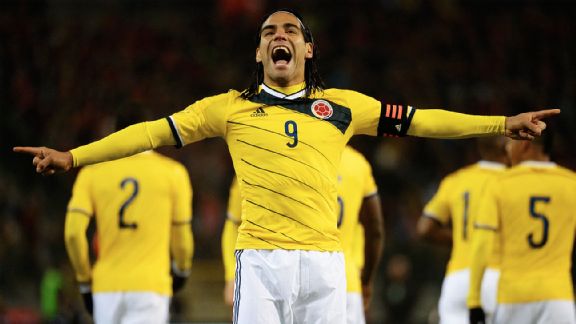 Jimmy Bolcina/Philippe Crochet/Vincent Kalut/Photonews/Getty ImagesFalcao has been superb for club and country but Colombia can survive without his bold attacking presence.


That run of results was a high point for the team -- and for its number nine. It was never quite that good again. With a place in Brazil assured, Falcao missed the last game, a 2-1 win away to Paraguay. But in the previous six matches all of his three goals came from the penalty spot, and there were only two wins -- a regulation home win against Peru and another, somewhat fortunate one at home to Ecuador.

These ups and downs are part and parcel of such a long qualification process. No one is able to maintain consistency throughout the 16 rounds spread over two-and-a-bit years. But there was also a sense that part of the team's oscillations had to do with their centre-forward.

Falcao Garcia -- the son of a defender, named after a midfielder -- is a wonderfully dynamic striker, fully worthy of his "El Tigre" nickname. He comes alive in and around the penalty area. Ever since making his name with River Plate in Argentina, he has been an exceptional sight cutting in on the diagonal toward goal, hair flowing as he goes. He has a prodigious leap and is a constant danger from crosses, either in the air or with his capacity to fire home off either foot.




But his linking play is not particularly good. He is a "front-to-goal" striker, who makes little contribution to the build-up play.

This is one of the main explanations for his slow start at the international level. In that golden season with Atletico Madrid he could expect good, quick service from either flank, a steady stream of crosses struck behind the defensive line for him to attack. Put him in the slower, more laborious buildup of Colombia in the 2011 Copa America and he struggled to be effective.

This meant that Pekerman always had a problem. He wanted three things from his midfield: defensive solidity, usually supplied by his holding player Carlos Sanchez and the more mixed approach of Abel Aguilar. He wanted width, for which he turned to Juan Guillermo Cuadrado on the right and James Rodriguez on the left. And he wanted passing penetration -- the capacity to split the opposing defence with a through ball and allow Falcao to burst through. Arguably, Colombia played their best football when Macnelly Torres filed this role from a central position, with the hugely talented Rodriguez also a fine supplier of the final pass.

That, of course, is a five-man midfield. But Falcao's problems connecting the play made it a difficult trick to pull off. When it was tried away to Venezuela, it did not work. Falcao functioned better alongside a strike partner, one with the versatility to drift out to the flanks and receive with back to goal.

The temperamental but talented Teofilo Gutierrez, currently with Falcao's old club River Plate, was the chosen man. Playing two strikers, however, meant that Pekerman had to sacrifice something from his midfield mix.

So what happens now that Falcao has an ACL injury? Sadly, Pekerman must make alternate plans now that Falcao has been ruled out of World Cup. The coach must have been happy when his big-name striker joined Monaco at the start of the season. With no Champions League football, it seemed that Falcao would arrive relatively fresh for the World Cup. But now a bad tackle in a domestic cup game means he will not arrive at all.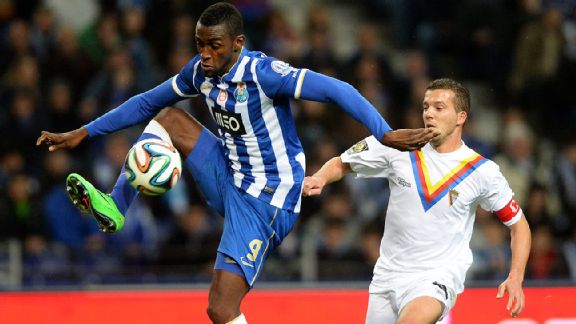 Francisco Leong/AFP/Getty ImagesJackson Martinez has followed in Falcao's footsteps nicely at Porto and could replace the injured star at the international level.

Colombia's coach could try Gutierrez up front and keep his five in midfield. Or if he wants a like-for-like swap, then the obvious answer is to introduce Jackson Martinez of Porto, Falcao's reserve and another out-and-out goalscorer. He may lack Falcao's dynamism, but he is a thoroughly efficient target man.

There are other interesting names as well; Carlos Bacca of Sevilla is getting better season by season. Luis Fernando Muriel of Udinese is big, barrel-chested and full of energy. There are other, smaller, nippier strikers -- the "scientist of football" -- Carlos Darwin Quintero of Santos Laguna, for example, or stocky and bullet-fast Dorlan Pabon of Valencia, who scored Colombia's first goal of the qualification campaign back in 2011.

Jose Pekerman, then, has resources at his disposal. Colombia's World Cup dream has been harmed by the loss of their star centre-forward, and Falcao has every right to rail against his ill fortune.

But there is no need yet for Colombia fans to despair.