Recent additions Albornoz and Hernandez could boost Chile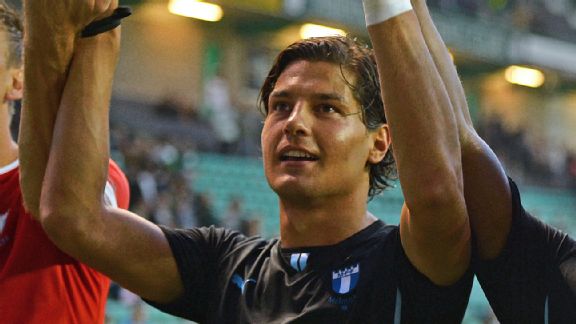 Mark Runnacles/Getty ImagesThe addition of Swedish-Chilean left back Miiko Albornoz to the Chile national team, could boost the team on defence.
A few weeks ago Miiko Albornoz was a Swedish left back who happened to have a Chilean father. And Pablo Hernandez was an Argentine playmaker who, for less than six months, happened to playing in the Chilean league.

Fast forward a month or so and they are both Chilean internationals, in with a real chance of going to the World Cup. Both made their debuts against Costa Rica on Wednesday night, in a friendly played in the northern city of Coquimbo. Albornoz scored the first goal, and Hernandez added the next two in Chile's 4-0 win. The gods of football appear to have smiled on their decisions to switch nationalities.

Albornoz, who plays for Malmo, had come up the youth ranks representing Sweden, and national team coach Erik Hamren considers him a great loss to the senior squad. He gave Chileans some evidence of why that might be. After 12 minutes, his first attacking surge of the night won a free kick down the left flank. It was not properly cleared by the Costa Rica defence. Centre-back Michael Umana had a wretched night, deservedly sent off just after the hour. On this occasion his defensive header was a disaster, giving Albornoz the chance to open the scoring with an acrobatic volley.

There was another equally impressive flash from the 23-year-old left back. In the second half, he turned with such adroitness that he almost snapped his marker in two, ran to the byline and pulled back a precise low cross. It was a moment that surely did a power of good to his chances of going to the World Cup as reserve to first choice Eugenio Mena. Certainly Albornoz has done enough to warrant another opportunity -- this time the far stiffer challenge of an away game against Germany on March 5.

Pablo Hernandez, too, brings some interesting things to the dance. The 27-year-old, who qualifies for Chile through his grandmother, has made a big impression on the domestic league since his club debut last August. He was the outstanding player as O'Higgins of Rancagua won their first league title -- despite being unable to play in their home city. With their stadium being redeveloped, O'Higgins are living a nomadic existence, staging their games in a number of different grounds in the capital, Santiago, a two-hour drive away.

Their first title, then, is a fairytale story, and it would not have happened without Hernandez, their second-leading scorer, and also the man who scored the clinching goal in the title playoff against Universidad Catolica.

His goals typically resulted from well-timed runs into the box, and efficient finishes either with his left foot or his head. Indeed, both goals against Costa Rica came from headers -- which makes them particularly interesting.

Chile are not a tall side -- indeed, they do not excel in the air both in defence or attack. So the addition of a player proficient in this area (Hernandez is listed at 6-foot-1) is a boon to the attack -- and perhaps to their defending on set pieces as well. Hernandez, too, has clearly justified his selection in the squad to take on the Germans.

The fourth goal was scored by Carlos Munoz, of Baniyas in the Arab Emirates. Apart from Albornoz, he was the only player on duty who is based abroad. This, then, was a scratch Chile side, nowhere near full strength, made up of fringe players pushing for a place on the plane to Brazil. Clearly, in such circumstances it is difficult to judge the collective side of the performance. The players lack team understanding, and the situation almost obliges them to be selfish. Moreover, the opposition were not at full strength, and on the night Costa Rica gave a thoroughly undistinguished display.

But they could easily have been ahead at halftime -- more as the result of early Chilean problems than anything else. Chile played a poor first 45 minutes, when their lack of pace at the back was frequently exposed by Jonathan McDonald -- which at least gave home keeper Johnny Herrera the chance to shine, and make it apparent that he is the backup to national team captain Claudio Bravo.

Chile's problems emerged from a duplication of functions in midfield. Braulio Leal and Esteban Pavez are both happier sitting centrally. So the full-backs pushed up too much, and a huge hole opened up between the two centre-backs. At halftime, coach Jorge Sampaoli sorted out the problem. Pavez was replaced by Fernando Meneses, a natural right-sided midfielder. Now, with more width in front of them, the defence could stay more compact and play the ball out better -- and once Chile hit their stride they played some lovely football.

The highlight was the second goal, an encapsulation of some of the team's key principles. From wide left Munoz hit a long diagonal switch to Juan Pedro Fuenzalida on the other flank. Right back Gonzalo Fierro launched himself on the overlap, taking the attention of the defence with him and giving Fuenzalida the space to curl in his cross -- met by Hernandez with a header that crept through Patrick Pemberton in the Costa Rica goal.

These are the kind of moments that neutral fans are hoping Chile can reproduce on a regular basis in the World Cup. After Wednesday night in Coquimbo, Miiko Albornoz and Pablo Hernandez have given themselves a chance of being there.