World Cup Daily: Saturday
On June 12, the world's eyes turn to Brazil for the start of the 20th FIFA World Cup, but the planet's biggest football tournament will have plenty of news and views in the months leading up to it. ESPN FC's World Cup Daily blog is the place to be:

TOP STORIES:

• Former England and Preston North End legend Sir Tom Finney died on Friday night at the age of 92. Finney, who scored 30 goals in 78 appearances for the Three Lions, played at the 1954 World Cup -- netting in England's 4-2 quarterfinal defeat to Uruguay. Bill Shankly, the great Liverpool manager and a former Preston teammate, once said of him: "Tom Finney would have been great in any team, in any match and in any age... even if he had been wearing an overcoat." FULL STORY.

• USA defender Oguchi Onyewu has been outlining his World Cup ambitions in an interview with ESPN FC. Onyewu, who moved to Championship side Sheffield Wednesday in January in a bid to win a call-up to his third successive World Cup, says USA coach Jurgen Klinsmann is keeping a close eye on him. Onyewu said: "Jurgen and myself, we have an open line of communication. We've had conversations, exchanged text messages, and I know he's a very thorough coach, so just as much as he's keeping tabs on me I know he's keeping tabs on everybody else -- and you sure want to expect that from a national team coach."

• Former Brazil midfielder Zico insists Brazil must not succumb to the pressure of being World Cup hosts at this summer's tournament. Zico, who played in Brazil's 1982 team -- cited by many as the best team never to have won the World Cup, believes that playing on home soil should be a boon not a burden. He told AFP: "That's normal; there's always pressure playing for your country. France, Argentina, England, Germany and Italy have won at home - whereas Brazil haven't. If the other (host winners) had that pressure and won then why shouldn't Brazil."

INTERNATIONAL BIRTHDAYS: Rui Patricio (1988), Philipp Degen (1983), Sergio Martinez (1969)

DID YOU KNOW?

On this day in 1998, Mexico won the CONCACAF Gold Cup for the third time in a row. In the Final, the Los Angeles Coliseum was packed with 91,255 spectators, most of them from the city's big Mexican population. The USA had a number of players familiar to English audiences -- Kasey Keller, John Harkes, Roy Wegerle, Brian McBride -- but Mexico had the flair of Cuauhtemoc Blanco and Luis Hernandez and it was the latter who scored the only goal of the game to seal the victory -- Cris Freddi

SNAPSHOT: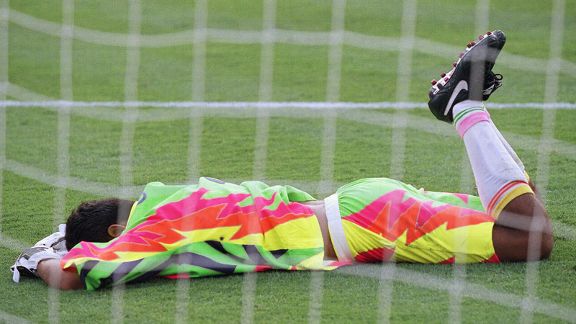 APMexican goalkeeper Jorge Campos buries his head after he allowed the winning goal in a penalty shootout between Bulgaria and Mexico on Tuesday, July 5, 1994. Bulgaria defeated Mexico 4-2 on penalties..
MEDIUM:

You can contribute your thoughts on the World Cup by taking part in our Medium Project. Just click this link and get writing.