On June 12, the world's eyes turn to Brazil for the start of the 20th FIFA World Cup, but the planet's biggest football tournament will have plenty of news and views in the months leading up to it. ESPN FC's World Cup Daily blog is the place to be:

TOP STORIES:

• Roy Hodgson will leave it up to the Football Association to decide whether foreign-born players like Adnan Januzaj should play for England. The 19-year-old can play for his country of birth -- Belgium -- and either Albania, Turkey or Kosovo through his parents. England are also interested, but Januzaj would have to wait until 2018 to play for the Three Lions -- although that idea is complicated by the fact that the Home Nations have opted out of FIFA's residency rules. "All I can say is that it's a matter for the FA board because it raises a lot of issues," the England manager said. "Until such time as the FA board have it very clear what their policy is going to be, is it going to be simply following FIFA dictates or slightly different in some way, all I can do is wait and see." Read more

• The U.S. soccer team will host Mexico in an exhibition game April 2 at Glendale, Ariz., as both nations prepare for the World Cup. The game is not on a FIFA fixture date and that means Europe-based players are not likely to be available for the match. "We are going to be watching our players very carefully before making final decisions on the roster for the World Cup, so this will be a great benchmark to see where they are at and how they compete against our biggest rivals," U.S. coach Jurgen Klinsmann said in a news release. Read more

• Nigeria coach Stephen Keshi says the door is open for anyone to impress and make their way into his World Cup squad: "Whoever impresses us ahead of the World Cup and is ready for the big stage will get the chance. This team is not yet the best but we can build on our successes. Our boys will have to fight for places in the team to the World Cup and that's why we have test matches to look at them," he said. Read more at Thisdaylive.

INTERNATIONAL BIRTHDAYS: Angel Di Maria (1988), Bakary Sagna (1983), Edinson Cavani (1987)

DID YOU KNOW?

On this day in 1973, Bobby Moore enjoyed his 100th match for England. He captained England to a 5-0 win at Hampden which wrecked the Scottish FA's centenary, Willie Ormond's first match as Scotland manager, and thousands of Valentine's Day nights up north. The scoreline equalled Scotland's heaviest ever home defeat, inflicted by the same old enemy back in 1888 -- Cris Freddi

SNAPSHOT: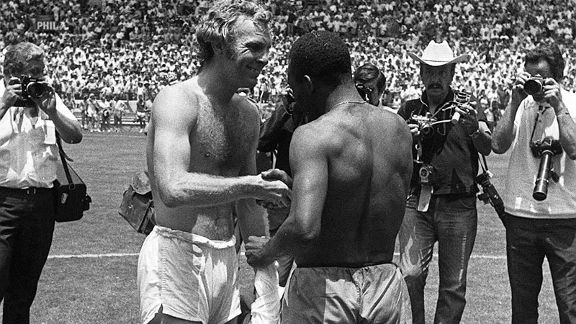 APEngland's captain Bobby Moore, left, exchanges shirts and shakes hands with Brazil's Pele in 1970.
MEDIUM:

You can contribute your thoughts on the World Cup by taking part in our Medium Project. Just click this link and get writing.