World Cup Daily: Wednesday
On June 12, the world's eyes turn to Brazil for the start of the 20th FIFA World Cup, but the planet's biggest football tournament will have plenty of news and views in the months leading up to it. ESPN FC's World Cup Daily blog is the place to be:

TOP STORIES:

• Fernandinho discussed his World Cup hopes in an interview with ESPN FC's Fernando Duarte. The midfielder recently received his first international call-up in two years after some impressive displays for Manchester City and is now ready to battle for his place at the World Cup on home soil. "There's a lot of good players for my position in Europe and that's delightful for the Selecao," Fernandinho tells ESPN FC. "But it also makes it quite difficult to get into the squad, which is why the biggest challenge is always to get the next call-up. ... Hopefully I will get a chance now to help where I can do it best."

• Another player determined to play in his first World Cup is Arsenal/Spain midfielder Santi Cazorla. The playmaker was ruled out of La Roja's triumphant 2010 World Cup campaign due to injury and said of missing out on another major tournament: "It would be bad news, that's clear. I really want to play this competition, especially as I wasn't able to play the last one with Spain because of injury. This year, it's my last chance to play in a World Cup. I'm conscious that it's difficult to play in this team, especially as there are a lot of other great players, but I hope to help and play as much as possible. To do that, I have to continue playing well with my club until the end of the season."

• Many may wonder why Brazil's World Cup mascot Fuleco is an armadillo. In fact, he is not just any armadillo -- but a three-banded armadillo. He was chosen in a bid to make the general public aware of the plight of an animal that could face extinction in the next 50 years. But while more people are aware of the three-banded armadillo thanks to Fuleco, biologist Rodrigo Castro says not enough money has been raised to aid protection of the creature, telling The Associated Press: "More Brazilians are aware of the animal than before, but it hasn't resulted in more funds to help save it." Full story.

INTERNATIONAL BIRTHDAYS: Brian Roy (1970), Hong Myung Bo (1969), Julius Aghahowa (1982)

DID YOU KNOW?

On this day in 2003, Wayne Rooney made his England debut. They were playing at Upton Park for the first time, in a friendly against Australia, when he came on as a halftime substitute in a 3-1 loss. Rooney, of course, was only 17 years, 111 days old, at long last undercutting James Prinsep as England's youngest player (April 5, 1879) at the time.
-- Cris Freddi

SNAPSHOT: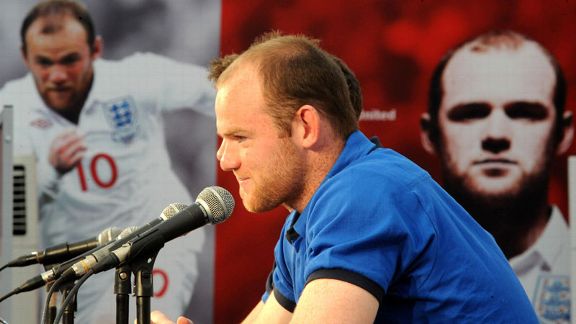 PA PhotosEngland's Wayne Rooney during a news conference at the Royal Bafokeng Sports Complex in Rustenburg, South Africa, on June 16, 2010.
MEDIUM:

You can contribute your thoughts on the World Cup by taking part in our Medium Project. Just click this link and get writing.