World Cup Daily: Saturday
On June 12, the world's eyes turn to Brazil for the start of the 20th FIFA World Cup, but the planet's biggest football tournament will have plenty of news and views in the months leading up to it. ESPN FC's World Cup Daily blog is the place to be:

TOP STORIES:

• Local organisers say a worker has been killed in an accident outside the World Cup stadium in the Brazilian jungle city of Manaus. Organisers in charge of the city's preparations said the worker died on Friday while dismantling a crane that was used to install the roof of the Arena da Amazonia. Spokesman Eric Gamboa confirmed the worker's death, the third linked to the stadium's construction. Read more (via AP).
• Sepp Blatter says he would seek re-election as FIFA president if the member federations ask him. The 209 member countries have their best opportunity on June 10 in Sao Paulo at their annual congress ahead of the World Cup opening match. Blatter could use the congress to pre-empt a widely predicted candidacy from UEFA president Michel Platini, who has refused to commit before the World Cup. Read more (via AP).
• Barcelona and Argentina forward Lionel Messi on Friday reflected on his current fitness, saying that he hopes to be in top shape for both the World Cup and the title race, according to a report. Read more.

INTERNATIONAL BIRTHDAYS: Clarence Acuna (1975), Hristo Stoichkov (1966), Ulises De La Cruz (1974)

DID YOU KNOW?

On this day in 1995, Chris Waddle's first penalty since the 1990 World Cup went much the same way as that notorious kick. Again he would only have kept his team in it until the opposition took their next one. Again someone called Pearce missed one before him. In an FA Cup replay at Wolves, Sheffield Wednesday came from a goal down to draw 1-1, led 3-0 in the penalty shoot-out - and suddenly imploded. Big Andy Pearce missed his kick, so did Chris Bart-Williams, and Waddle blew Wednesday's first penalty in sudden-death -- Cris Freddi

SNAPSHOT: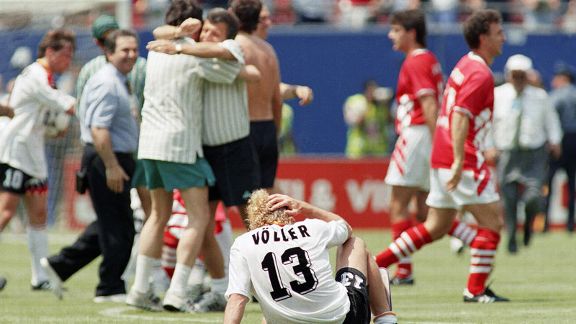 APBulgaria celebrate their 2-1 victory over West Germany in the quarterfinal match at Giants Stadium, East Rutherford, N.J. Sunday, July 10, 1994. Bulgaria eliminated the reigning World Cup champions, but lost to Italy in the semis.
MEDIUM:

You can contribute your thoughts on the World Cup by taking part in our Medium Project. Just click this link and get writing.