On June 12, the world's eyes turn to Brazil for the start of the 20th FIFA World Cup, but the planet's biggest football tournament will have plenty of news and views in the months leading up to it. ESPN FC's World Cup Daily blog is the place to be:

TOP STORIES:

• Frank Leboeuf has warned that Ivory Coast's World Cup challenge could be undermined by "an ego problem." FULL STORY.
• Spain coach Vicente Del Bosque has said he did not like clashes between players including potential international teammates Alvaro Arbeloa and Diego Costa in Real Madrid's 3-0 Copa del Rey semifinal first leg win over Atletico Madrid. FULL STORY.
• New Inter Milan player Hernanes has said on the club's official website that he hopes his switch from Lazio will help him to secure a place in Brazil's World Cup squad.

INTERNATIONAL BIRTHDAYS: Daniel Van Buyten (1978), Federico Marchetti (1983), Marino Klinger (1936)

DID YOU KNOW?

On this day in 2007, a world record came to an end: Luxembourg won a game. At home to Gambia, in front of only 520 spectators at the Alphonse Theis stadium in Hesperange, they won 2-1 in a friendly and ended a run of 83 matches without a victory -- Cris Freddi

SNAPSHOT: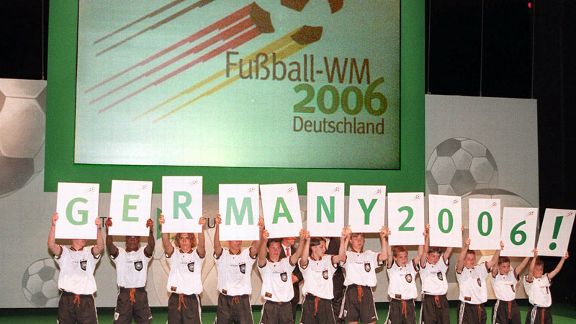 APYoung players in the German national team dress hold up boards saying "Germany 2006" as the German football federation (DFB) presents its bid for the 2006 World Cup tournament at Munich's Prinzeregent theatre on May 27, 1997
MEDIUM:

You can contribute your thoughts on the World Cup by taking part in our Medium Project. Just click this link and get writing.