World Cup Daily: Thursday
On June 12, the world's eyes turn to Brazil for the start of the 20th FIFA World Cup, but the planet's biggest football tournament will have plenty of news and views in the months leading up to it. ESPN FC's World Cup Daily blog is the place to be:

TOP STORIES:

• Italy coach Cesare Prandelli has insisted that Twitter and other social networks will be banned from the Azzurri training camp at the World Cup. Speaking after Mario Balotelli vented his fury on Twitter at media intrusion into his life following the paternity of his child with former girlfriend Raffaella Fico, Prandelli believes it serves an unnecessary distraction. "I think he needs to be helped to bring out his huge potential," Prandelli told La Repubblica. "In a tournament like the World Cup, with such media interest, you can't talk to your wives and girlfriends via the web because every single message reaches the whole of the world. Therefore, during that period, if anybody has anything to say in public, they can do it during a press conference, through a channel which includes all the media, including the web."

• Joachim Loew has been handed a boost in Germany's World Cup preparations with the news that Bayern Munich midfielder Bastian Schweinsteiger and Fiorentina striker Mario Gomez have returned to fitness. Schweinsteiger returned to training on Wednesday and completed his first full session since having surgery on his ankle nearly three months ago while Gomez made an equally timely comeback after a five-month absence with knee ligament damage. On his return to training, the 28-year-old forward comically introduced himself to Viola boss Vincenzo Montella as "Hi, I'm Mario the attacker," in a video on the club's official website before scoring an overhead kick to suggest that his injury problems are behind him.

• Carlos Queiroz has expressed his frustration at Iran's World Cup preparations, with the nation struggling to schedule testing warm-up matches. Iran booked their place in Brazil back in June 2013 but have managed just 270 minutes since -- all compulsory 2015 Asian Cup matches against Thailand (twice) and Lebanon. Iran are paired with Argentina, Bosnia and Nigeria at the World Cup and Queiroz is growing increasingly anxious at the difficulty in luring competitive nations to play friendly games in Tehran. A lack of funding prevented a useful game being played against Ghana at a September training camp in Portugal while the proposed trip to South Africa in April has been cancelled due to the unavailability of key players.

"Over the past 32 months, that I've been here as Iran football coach, I always tried to do my best and keep the team fully prepared," said Queiroz. "I have to call my friends [Sir Alex] Ferguson, [José] Mourinho, and [Fabio] Capello to get their advice for better decisions because I am not magician to do without financial support." Full story (Guardian).

INTERNATIONAL BIRTHDAYS: Billy Wright (1924), Darren Bent (1984), Afshin Peyravani (1970)

DID YOU KNOW?

On this day in 2007, two goals in the last eight minutes gave Portugal a 2-0 win over Brazil in a friendly at the Emirates. Chelsea central defender Ricardo Carvalho scored the second, while Cristiano Ronaldo and Ricardo Quaresma were brilliant on the wings -- Cris Freddi

SNAPSHOT: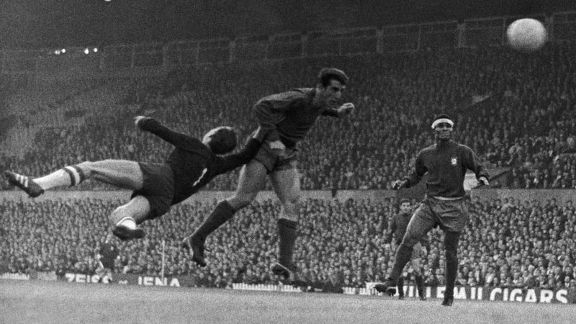 APJose Agusto heads his second goal for Portugal with Hungarian goalkeeper Antal Szentmihayli well beaten during their World Cup match at Manchester, England, United Kingdom, on July 13, 1966. Portugal won 3-1.
MEDIUM:

You can contribute your thoughts on the World Cup by taking part in our Medium Project. Just click this link and get writing.