Opportunity knocks for Chile's domestic players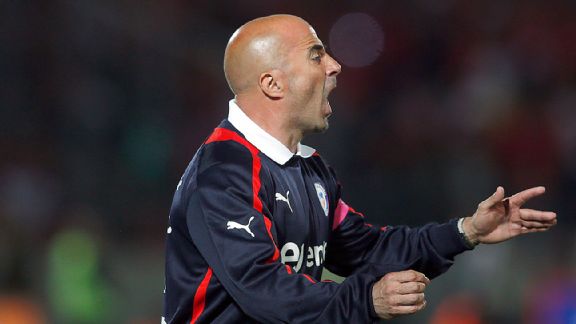 Esteban Garay/LatinContent/Getty ImagesChile boss Jorge Sampaoli will get a good look at his domestic league-based players when Chile face Costa Rica this week.
Chile take another step on the road to Brazil this Wednesday with a friendly at home versus Costa Rica. Coach Jorge Sampaoli is without his big-name, European-based players. This, then, is an opportunity for fringe names to transform themselves from "possible" to "probable" for the last few slots in the World Cup squad.

One of the most intriguing inclusions in the group to face Costa Rica is Mark Gonzalez, once of Liverpool, who has been back in Chile negotiating his return to Universidad Catolica. Does he still have the old pace and fire that made him such an interesting option down the left flank?

Another fascinating left-sided option is Miiko Albornoz, a 23-year-old full-back/wing-back who plays his football with Malmo of Sweden. Albornoz was born in Sweden to a local mother and a Chilean father, and has come up through the youth ranks representing the land of his birth at the Under-17, -19 and -21 levels. He had the chance to be named in the senior squad, but has chosen instead to cross the Atlantic and turn out for his father's country. It could be that last year's sex scandal has played a part in a desire for a new start.

Also changing nationalities is Pablo Hernandez, briefly of MLS side D.C. United. The Argentine-born attacking midfielder was the key figure in O'Higgins' winning the Chilean title for the first time last month, and has since taken on Chilean nationality. He makes his debut in the squad, while there is also a call-up for his young teammate, central midfielder Cesar Fuentes, a leading member of the highly promising squad Chile took to last year's World Youth Cup.

At the other end of the age scale, there is a great chance for 33-year-old striker Esteban Parades to force his way into World Cup contention. He has just rejoined local giants Colo Colo from Mexican football, and with the centre forward position something of a doubt in the mind of Sampaoli, opportunity knocks Wednesday for Paredes.

So there are plenty of interesting aspects to the Costa Rica match -- which also provides a much-needed breather to coaches in the Chilean first division.

This is the first year in which the country's footballing calendar is closely aligned to that of Europe, and so the current championship began on Jan. 3, unusually early for South America, where this month is by custom one of high summer holidays.

In order for the national team to prepare to meet Costa Rica, there are no domestic games this weekend. Three rounds, though, have been played -- and two coaches have already lost their jobs. Omar Labruna, son of one of the all-time greats of Argentine football, Angel Labruna, was sacked by Everton, the club from the lovely seaside resort of Vina del Mar. He had only taken over in October, and his short reign came to an end when Everton began the current campaign with no goals and three consecutive defeats. He is replaced by Nelson Acosta, a wily old Uruguayan with a hangdog expression who took Chile to the 1998 World Cup.

More surprising is that Marco Antonio Figueroa parted company with Universidad de Chile after only three games, a scratchy win followed by two defeats.

"La U" have been the major power in Chilean football in recent times -- it was the club where Sampaoli made his breakthrough, coming to global attention for the swashbuckling way his team won the Copa Sudamericana back in 2011. Of the last six championships, "La U" won three, but then went empty-handed for the next three -- and this despite snapping up almost anyone who was shining with one of the smaller clubs.

It seems as if over the past 18 months the club has been in a permanent state of transition -- continually selling on and buying up, with more players than they know what to do with and little idea of what the best starting lineup should be. Figueroa's replacement is the club's former player Cristian Romero. It is an interesting choice because Romero has been working with the youth team, and his appointment would seem to indicate that there will be more chances for homegrown youngsters.

But that is unlikely to include the chance to fight for a place in Chile's World Cup squad. Those domestically based players who have not been called up for the match against Costa Rica will have to perform miracles on a weekly basis to force their way onto the plane to Brazil.