Valcke's comments lead to more World Cup 2022 confusion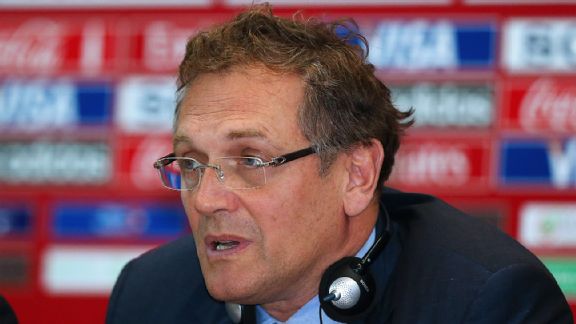 Alex Livesey/FIFA/Getty ImagesValcke's comments have ignited a fresh storm and triggered more confusion.
Sometimes you wonder if the drip-drip of news coming out of FIFA is coordinated or if you really have a bunch of different people expressing opinions. Nothing wrong with either scenario, mind you.

The first is the "corporate/on message" approach whereby everybody within the same organization spouts the party line, while the second is one where we're all grown-ups and we all make different predictions and give different opinions about what might happen.

With really clever, devious organizations, the former method of communication is used while it is made to seem as if it's the latter. I'm not sure FIFA is one of those entities.

- FIFA: No decision made
- World Cup Daily

I'm guessing that when you get statements like the one Jerome Valcke made on Wednesday -- the FIFA general secretary told a French radio station that he "thinks" the 2022 World Cup will be between Nov. 15 and Jan. 15, i.e., in the Qatari winter -- he's simply speaking his mind about what he suspects might happen. (Or better yet, what he wants the world to believe he thinks might happen.)

First of all, while many have treated Valcke's words as if he said the World Cup will DEFINITELY be in winter, he didn't do that. He said "I think." FIFA emphasized this is in a statement later in the day, reiterating that Valcke was simply stating an opinion.

What he thinks, of course, could turn out to be wrong, mainly because he won't be the one making the decision.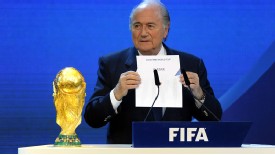 AllsportDec. 2, 2010: Sepp Blatter reveals Qatar as the 2022 host nation.
FIFA's Executive Committee -- these guys -- will be making the decision in December this year, according to Valcke's boss, FIFA president Sepp Blatter. And before you think the ExCo is simply a collection of Blatter cronies who fall in line with their leader, consider the fact that he wanted them to award 2022 to the United States and instead the ExCo went for Qatar.

Plus, there's always the "nuclear option" that I've written about before. That is, FIFA concludes that the 2022 bidding process was irregular and simply moves the whole affair somewhere else. It would upset Qatar, obviously, but it would also make Blatter a hero to some. (And it would also be a common-sense solution, not that it matters too much.)

That said, let's assume Valcke is right. Let's take it for granted that he has the pulse of the situation to the point that he can predict which way the ExCo vote will go in 11 months' time, despite the fact that FIFA's consultations with World Cup stakeholders -- the sponsors and TV companies who expected a summer World Cup and may consider legal action if it's held in the winter without some sort of settlement -- haven't yet taken place.

If the World Cup is to be held in Qatar, the only logical solution is NOT having it in anywhere near the summer. That much is obvious. So that basically means November to March, the five months out of the year when it's manageable.


You need roughly eight weeks, counting the tournament itself and the three weeks of preparation time beforehand, when teams assemble in training camps and play friendlies.

So which eight-week period do you choose? February and March are a no-go because the same TV companies who bid for the World Cup also bid for the Winter Olympics, and while the dates have not yet been set, it's likely that the 2022 event will be in February, as it is this year in Sochi. That leaves November to January, which is Valcke's point.

It means having a World Cup during the holiday season for much of the world. It means leagues taking two months off in the middle of the season. It means disrupting the Champions League calendar (but not massively).

If you have to have a World Cup in Qatar, it's the logical solution. And evidently, that was what Valcke was driving at.

Beyond that, on this occasion at least, it seems like a case of Valcke not realizing that folks see him as the "voice of FIFA" with media organizations jumping the gun and having trouble understanding there is a difference between "I think" (or in this case, "Je pense") and "I know."