On June 12, the world's eyes turn to Brazil for the start of the 20th FIFA World Cup, but the planet's biggest football tournament will have plenty of news and views in the months leading up to it. ESPN FC's World Cup Daily blog is the place to be:

TOP STORIES:

• The whole of Colombia waited with bated breath to hear the prognosis for Falcao after his knee operation on Saturday. The news was not exactly positive, with the Monaco striker given a 50-50 chance of making it to Brazil, but at least he has been offered some hope of involvement. As his nation's footballing talisman, it is perhaps not too surprising that one of Falcao's first visitors was the president of Colombia. We hope he brought grapes and flowers. Fingers crossed that Falcao recovers in time, as it will be a poorer World Cup without him. FULL STORY.

• Legendary Brazil striker Ronaldo appears to have struggled to take in the significance of Saturday's mass anti-World Cup protests in Brazil. His rose-tinted glasses, being worn in his role as a World Cup ambassador, led to him telling the Observer: "I feel as good about the World Cup as is possible. Like all Brazilians, the mood is supportive and vibrant." Hmm. These pictures of demonstrations across Brazil would seem to suggest otherwise, O Fenomeno.

• Unfortunately it is a double dose of injuries on Sunday, with the sad news that Costa Rica's Bryan Oviedo may miss the World Cup after breaking his leg. The left-sided Everton man suffered a clean break to his tibia and fibula 15 minutes into Everton's FA Cup match at Stevenage after appearing to get his studs caught in the turf when he went in for a challenge. Everton boss Roberto Martinez said afterward: "It was a real negative today, an unfortunate incident. We end up with Bryan picking up a bad injury. We need to give him as much support as we can." FULL STORY

INTERNATIONAL BIRTHDAYS: Sebastian Giovinco (1987), Erwin Vandenbergh (1959), Oscar Ruggeri (1962).

DID YOU KNOW?

On this day in 1982, Brazil's national team scored its 1,000th international goal. There's argument about the status of some of their early matches, but their top statisticians have nominated Serginho as the landmark scorer when he came on as a late sub and scored the third goal in a 3-1 home win after East Germany had taken the lead. -- Cris Freddi.

SNAPSHOT: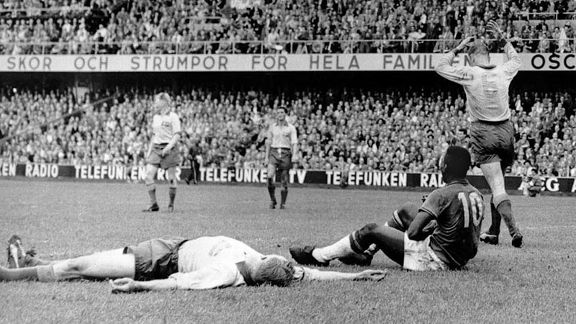 APPele sits in the grass after scoring Brazil's fifth goal against Sweden in the closing minutes of the World Cup final in Stockholm, June 29, 1958. Brazil ran out 5-2 winners to claim the title.
MEDIUM:

You can contribute your thoughts on the World Cup by taking part in our Medium Project. Just click this link and get writing.