World Cup Daily: Saturday
On June 12, the world's eyes turn to Brazil for the start of the 20th FIFA World Cup, but the planet's biggest football tournament will have plenty of news and views in the months leading up to it. ESPN FC's World Cup Daily blog is the place to be:

TOP STORIES:

• Brazil is bracing itself for anti-World Cup protests on Saturday after radical group Anonymous warned that it has scheduled demonstrations in 36 cities across the country. AFP reports that Anonymous has used social media to organise the protests, under the slogan "The Cup will not take place" on Facebook and "FIFA go home" on Twitter. Violent demonstrations marred last year's Confederations Cup -- the World Cup organising committee and FIFA will be watching nervously for similar scenes.

• Parma defender Gabriel Paletta has his eye on a World Cup spot with Italy. Paletta was part of the Argentina team with Lionel Messi and Sergio Aguero that won the 2005 Under-20 World Cup, but is now looking to switch his allegiance to the Azzurri. The former Liverpool centre-back's agent is quoted as saying on Forza Italian Football: "He has a dream. He wants to play at the World Cup in an Italy shirt. Is a call-up nearby? I haven't seen any signs of one. Gabriel doesn't know anything yet, but he has hope. If they need him, then he'll be ready."

• Having been ruled out for an "indefinite period" by his club manager Brendan Rodgers, it is perhaps no surprise that fears are growing that Liverpool's Glen Johnson could miss the World Cup. The England right-back "is struggling with a number of injuries now" and the Daily Express suggests he will face a battle to be fit before the end of the season, putting his chances of travelling to Brazil in jeopardy.

INTERNATIONAL BIRTHDAYS: Eusebio (1942), Tostao (1947), Xavi (1980).

DID YOU KNOW?

Claudio Suarez won 179 caps for Mexico; but he had only reached 174 by the end of 2005. So when Saudi Arabia's Mohamed Al-Deayea won his 175th on this day in 2006 in a 1-1 draw with Greece in Riyadh, he set a new world record -- Cris Freddi.

SNAPSHOT: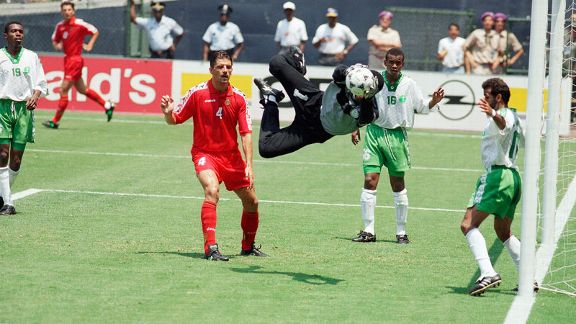 APSaudi Arabia goalkeeper Mohammed Al Deayea saves a shot during the Saudi Arabia vs. Belgium in Group F on Wednesday, June 29, 1994 at RFK Stadium in Washington, D.C. Saudi Arabia defeated Belgium 1-0 but did not advance to the next round.
MEDIUM:

You can contribute your thoughts on the World Cup by taking part in our Medium Project. Just click this link and get writing.