World Cup Daily: Thursday
On June 12, the world's eyes turn to Brazil for the start of the 20th FIFA World Cup, but the planet's biggest football tournament will have plenty of news and views in the months leading up to it. ESPN FC's World Cup Daily blog is the place to be:

TOP STORIES:

• Colombia and Monaco striker Radamel Falcao faces an anxious wait to discover the extent of a knee injury that could put his place at the World Cup finals in doubt. Falcao, 27, suffered the injury following a heavy challenge by Soner Ertek in the 40th minute of Monaco's 3-0 French Cup win at Monts d'Or Azergues Foot. Earlier, he had scored the goal that gave his team the lead at the break. Monaco issued a short statement after the game, which read: "The player Radamel Falcao was hit in the left knee. He must await further tests in the coming days to clarify the exact nature of the injury." Read more

• Brazilian President Dilma Rousseff cut the ribbon to open the Arena das Dunas stadium in Natal but was then faced with questions over the stadium in Curitiba which has been so delayed. "I believe that everyone, the state governor, the mayor and the contractors responsible for the Curitiba stadium, will finish it on time. I am sure of that," she said. Read more at Reuters.

• Where is the World Cup trophy today? Currently in Lima, Peru before heading off to Ecuador tomorrow. Read more at Peruthisweek.

INTERNATIONAL BIRTHDAYS: Arjen Robben (1984), Stephen Keshi (1962), Dong Fangzhou (1985).

DID YOU KNOW?

On this day in 1995, the first woman referee took charge of a men's international match. At Newtown Park in Wellington, New Zealander Linda Black took charge of her country's win over Denmark's Olympic team -- Cris Freddi

SNAPSHOT: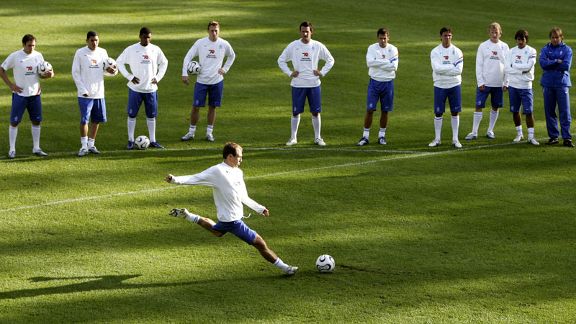 APDutch star Arjen Robben kicks the ball as his teammates watch on during their practice session in Hoenderloo, The Netherlands, Tuesday May 30, 2006, as part of preparations for upcoming World Cup in Germany.
MEDIUM:

You can contribute your thoughts on the World Cup by taking part in our Medium Project. Just click this link and get writing.