World Cup Daily: Wednesday
On June 12, the world's eyes turn to Brazil for the start of the 20th FIFA World Cup, but the planet's biggest football tournament will have plenty of news and views in the months leading up to it. ESPN FC's World Cup Daily blog is the place to be:

TOP STORIES:

• FIFA secretary general Jerome Valcke is giving Brazilian organisers only four weeks to show that the stadium in Curitiba will be ready in time for the World Cup. The stadium, whose progress is 'very delayed', has been given until Feb. 18 to prove its readiness for the summer. "For the time being, I trust that the decisions that have been made today will give us Curitiba as one of the host cities," Valcke told a news conference. "It will be a difficult birth, but at the end we will have a baby." Read more

• England's goalkeeping situation isn't great -- Joe Hart, who hasn't kept his place for Man City this season and, erm, a couple of others. One name is Celtic's Fraser Forster and former England manager Graham Taylor is backing him for success. "It is clear that Fraser is a very good goalkeeper who has done very well at Celtic - so much so that he has been brought into the England squad," he said. "Roy Hodgson will have been able to have a good look at him behind the scenes and he' ll be keeping tabs on him in Scotland. The fact that Roy has got him on his list of players earmarked for Brazil while he is playing in a Celtic shirt says it all. Things are going fine for Fraser at the moment. So is there a real necessity for him to move to an English club? I don't think so." Read more at the Daily Mail.

• A group of English fans are looking to break a world record and raise 20 thousand pounds for charity by walking 1966km (no mistake there!) to this summer's World Cup. Setting off from Mendoza in Argentina on March 1, the group will walk for around 80 days through Argentina, Uruguay and then into Brazil ready for the beginning of the tournament on June 12. Read more at walktotheworldcup.com

INTERNATIONAL BIRTHDAYS: Alf Ramsey (1920), Frank Leboeuf (1968), Hidetoshi Nakata (1977)

DID YOU KNOW?

Ghana-born wonderkid Freddy Adu made his debut for the USA at the age of 16 on this day in 2006. At 14, he'd been one of the youngest sports figures to sign a professional contract in the States; at 15 the youngest goalscorer in Major League history. Today he became the youngest man to play for the USA at senior level, coming on near the end of a goalless friendly with Canada and getting himself booked for diving after his first touch! -- Cris Freddi

SNAPSHOT: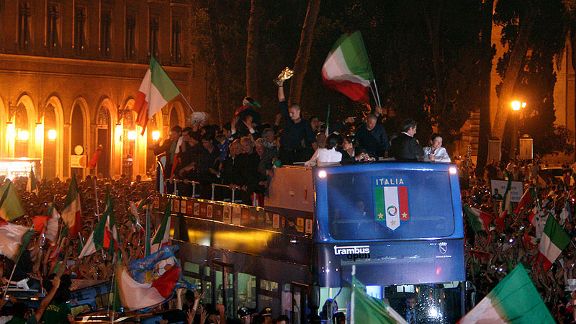 APItaly captain Fabio Cannavaro raises the the World Cup as the rest of the team wave flags and celebrate above the open-top double-decker bus on their way to the ancient Circus Maximus for a welcome home rally, in Rome, Monday, July 10, 2006.
MEDIUM:

You can contribute your thoughts on the World Cup by taking part in our Medium Project. Just click this link and get writing.