On June 12, the world's eyes turn to Brazil for the start of the 20th FIFA World Cup, but the planet's biggest football tournament will have plenty of news and views in the months leading up to it. ESPN FC's World Cup Daily blog is the place to be:

TOP STORIES:

• Antoine Griezmann has admitted playing for the French senior side would be "a dream" and one he feels is getting closer. "The most important thing is to be good with the club and pick up a European place. Personally, I'm going to give everything on the pitch to - why not? - be called up. But to do that, I have to show my qualities on the pitch, and that's what I try to do," Griezmann told RMC. "To wear the French team's shirt, it's a dream. Each time I've been called up with junior national sides, I was always proud to wear the shirt and happy to be a Bleu. It's something I miss."

• Another World Cup Daily, another quote from Sepp Blatter. Blatter, who turns 78 in March, has been the president of FIFA since 1998 after taking over from Joao Havelange but said he is "not yet tired." "Let me repeat what I have been saying. I am not yet tired enough to decide that I will retire," he told L'Equipe 21 TV, according the Telegraph. "Having said, that everything is open. I will certainly take a stand before this year's Congress." Read more

• Iran coach Carlos Queiroz is a big fan of Tom Cruise. Those action movies where the impossible happens and a something shocking happens towards the end. Hopefully, he suggests, his team can pull off a shock in Group F with Argentina, Nigeria and Bosnia-Herzegovina. "This is our mission impossible once, twice and three times," Queiroz, the 60-year-old who took charge as head coach in April 2011, told AFP in Tehran. "But that is what makes the tournament attractive." Read more on AFP

INTERNATIONAL BIRTHDAYS: Cuauhtemoc Blanco (1973), Carlos Alberto (1961), Guillermo Stabile (1906).

DID YOU KNOW?

On this day in 1967, Bolivia's Roberto Troncoso suffered the rare indignity of scoring an own goal on his international debut, a 4-0 defeat by Uruguay in a Copa America match in Montevideo -- Cris Freddi

SNAPSHOT: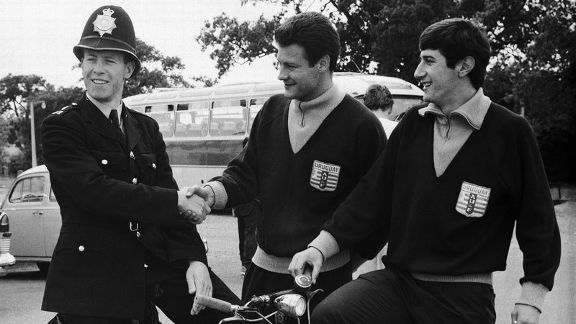 APNestor Goncalvez, left, and Milton Viera talk to a policeman when they and other members of the Uruguay World Cup team went for a walk in Harlow, Essex, United Kingdom on July 14, 1966. Uruguay lost 4-0 to West Germany in the knockout stages.
MEDIUM:

You can contribute your thoughts on the World Cup by taking part in our Medium Project. Just click this link and get writing.