Having shone in Europe, what can Neymar do in 2014?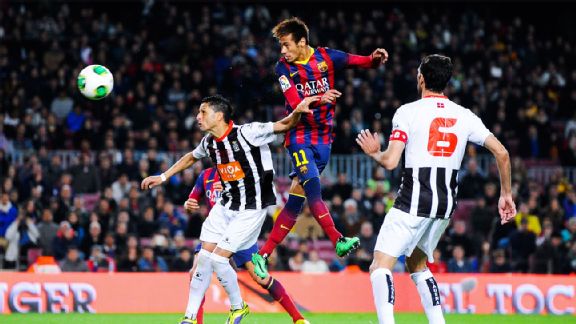 David Ramos/Getty ImagesNeymar's adjusted well at Barcelona, leaving fans and pundits equally excited to see what he can do at the 2014 World Cup.
Is Neymar ready for the responsibility he will carry in June, when at the tender age of 22 he will expected to lead Brazil's attack to World Cup glory?

It is a question that the local sports daily Lance! recently posed to Cafu, Brazil's 2002 World Cup-winning captain. "He's totally ready," replied the great right-back. "And he could have been ready well before. I always argued that he had to leave Brazil. For more than three years I kept telling him that if he moved abroad he would come back in 2014 with a different mentality, with more maturity and experience. And this is what is happening."

Cafu clearly has a point. With his deal to Barcelona done and dusted, Neymar suddenly came alive in the Confederations Cup, scoring a superb goal in the first few minutes of the opening game against Japan and maintaining that rhythm all the way through to the triumphant final against Spain.

In the two years prior to that, though, he seemed to have stalled. It was not certain that he was making progress. And come the opening months of 2013, restricted to the absurdly obsolete Sao Paulo State Championship, he was cutting a frustrated figure. It was evident that he had achieved all that he could in South American club football. The time for a bigger challenge had arrived -- a long time ago in the opinion of Cafu, Ronaldo and others with top level European experience.

- Young: 2013 review of Brazilian football

Why, then, did Neymar seem so reluctant? He continually stressed that he was going to move to Europe, but it was always in some ill-defined future.

For one, he didn't feel ready. Why not?

I well recall the first time I saw Neymar live and in the stadium, the place where you really want to be to observe young talent making a name for itself. I can hardly forget.

It was the eve of my birthday, May 24 2009, and the gods of football contrived to give me a present. Publicity had surrounded Neymar for years, but I expected nothing more than a quick glimpse of a skillful dribbler when he came on with seven minutes remaining at Rio's Maracana stadium. His Santos side were leading Fluminense 2-1. The game was in the balance. But not for long.

The first thing he did was receive the ball from a throw-in and play a lovely, long diagonal pass, splitting the Fluminense defence and paving the way for the third Santos goal. Soon after that, he drew a foul which earned a red card for the opposing right-back -- and there was still time for him to fire a vicious shot at goal, beaten out by the keeper only for the rebound to be tucked away by a Santos centre-forward, thus completing a 4-1 win.

All in all, it was an astonishing cameo from a 17-year-old. What on earth would he be capable of against opponents his own age?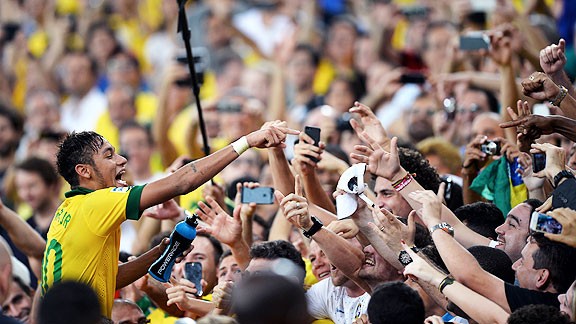 Laurence Griffiths/Getty ImagesNeymar's dazzling display for the Selecao at the 2013 Confederations Cup proves that he's more then capable of leading Brazil in 2014.

We would soon find out in the Under-17 World Cup, staged a few months later in Nigeria. With Neymar, Philippe Coutinho, Wellington Silva (picked up by Arsenal) and Casemiro (now of Real Madrid) in the squad, Brazil were right up there with the favourites.

But the tournament soon turned into a disaster. Only a bizarre 94th minute blunder by the opposing keeper gave them victory over Japan, followed by 1-0 defeats to both Switzerland and Mexico. Of the 24 participating teams, only eight were eliminated in the group phase-- Brazil, amazingly, were among them. Neymar had been a huge disappointment. Though he scored against Japan, he was so ineffective in the subsequent two games that, with his team desperate for a goal, he was taken off in the second half.

I have no way of knowing for sure, but I have long held the view that Neymar paid a huge psychological price for failing in that tournament. In his mind, it seemed to turn international football into a seven-headed monster. True, he had some outstanding moments for Brazil -- he was the player of the tournament when Santos won the 2011 Copa Libertadores -- but he did not have to face a single big Argentine club on the way. And whenever the stakes were raised -- the 2011 Copa America or matches against Velez Sarsfield and Corinthians in the 2012 Libertadores -- he did not seem to be the same carefree player.

It was in part a technical problem -- teams that were able to stay compact and reduce his space presented him with a stiff challenge. But it was also surely a mental question and a lack of confidence in his own ability, based on the scars he had been carrying since 2009, to tip the balance at the highest level.

Cafu may well be right. Neymar the footballer would have benefited from making the move across the Atlantic at least a year earlier. For Neymar the human being, however, perhaps things worked out at the right time. First he needed time to build up courage, to acquire the nerve to dive into the deep end.

It is one of the classic themes of drama; in order to conquer the world, first the hero has to win the battle with himself. It will be fascinating indeed to see what chapter fate has in store for him come June and July -- a page-turner to rival the greats of literature.