World Cup Daily: Wednesday
On June 12, the world's eyes turn to Brazil for the start of the 20th FIFA World Cup, but the planet's biggest football tournament will have plenty of news and views in the months leading up to it. ESPN FC's World Cup Daily blog is the place to be:

TOP STORIES:

• England's refereeing representative at the World Cup will again be Howard Webb. The 42-year-old former policeman gained criticism for his handling of the feisty 2010 World Cup final, but the FA have chosen him again over Mark Clattenburg, and Webb becomes the first English ref to return in the next tournament. Read more.

• The U.S. have started their training camp in Sao Paulo, and boss Jurgen Klinsmann wants his players and staff to get used to the conditions and begin to learn some Portuguese. "It gives us the opportunity to be already at the facility we are going to stay in the World Cup, to get to know the hotel we are going to stay at and to get a feeling for the country," Klinsmann said. "What we want to get out of it is that the players experience all those things. In the technical side there is a lot that we can achieve, on the organizational, logistical side there is a lot we can experience." Read more.

• Worried about the price of flights to Brazil from Australia? Well, you should be. Evidently the remaining flights are now more than 3,000 Australian dollars and double the normal price -- some of which are coming in at a cool 38-hour travel time. Looks like there aren't too many options left Down Under. Read more at Yahoo! Travel.

INTERNATIONAL BIRTHDAYS: Rene Adler (1985), Hugo Viana (1983), El Hadji Diouf (1982).

DID YOU KNOW?

On this day in 1958, Northern Ireland reached the World Cup finals for the first time. They did it by beating Italy 2-1 in qualifying with goals from Jimmy McIlroy and Wilbur Cush; it was the only time after 1934 that the Italians didn't reach the finals -- Cris Freddi

SNAPSHOT: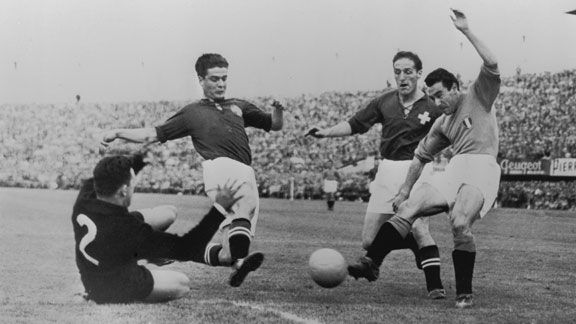 APItalian forward Benito Lorenzi (right) in action during a 1954 World Cup first-round match against Switzerland at La Pontaise in Lausanne, Switzerland. Switzerland won 2-1.
MEDIUM:

You can contribute your thoughts on the World Cup by taking part in our Medium Project. Just click this link and get writing.