On June 12, the world's eyes turn to Brazil for the start of the 20th FIFA World Cup, but the planet's biggest football tournament will have plenty of news and views in the months leading up to it. ESPN FC's World Cup Daily blog is the place to be:

TOP STORIES:

• FIFA's head of security, Ralf Mutschke, has told the German newspaper Frankfurter Allgemeine Zeitung that world football's governing body must expect the worst when it comes to match-fixing if it is to avoid criminals influencing the World Cup. "We must assume that organised crime gangs will also try to fix matches at the World Cup," he said. "We have security agents in the 12 stadiums. All World Cup matches will be monitored on the betting market. We're in contact with the bookmakers and are going through the social networks and specialised forums with a fine tooth comb." Read more

• Germany striker Miroslav Klose has told Welt am Sonntag that he will not give up on his bid to be at the World Cup. He is one goal behind Ronaldo in the all-time finals scorers list but is struggling to make Joachim Loew's squad. "I don't want any free rides," he said. "And the coach will also not give any player a free pass. You have to work everything for yourself like so many other things in life. I know I have to fight for the World Cup and it does not matter how many tournaments I've played." Read more

• Sunday Mba is another player hoping to make the World Cup finals, but for the first time. The midfielder, who scored the winner in the African Nations Cup final a year ago, has won 17 caps for Nigeria and made his debut for Bastia at the weekend. "It was a very frustrating time after the Nations Cup, training hard but not getting the chance to play competitively," he told the BBC Sport. "My dream is to play in the World Cup with Nigeria and to fulfil that desire I have to keep playing." Read more

INTERNATIONAL BIRTHDAYS: Huh Jung Moo (1955), Mario Yepes (1976), Dan Eggen (1970).

DID YOU KNOW?

After the infamous Antonio Rattin incident when the Argentinian team captain failed to understand that he had been sent off in a match against England at Wembley in 1966, the use of red and yellow cards was introduced in 1970. Cautions and dismissals were previously listed in reports, however, and the first player to be sent off in a World Cup was Peru's Placido Galindo in the match against Romania in 1930.

SNAPSHOT: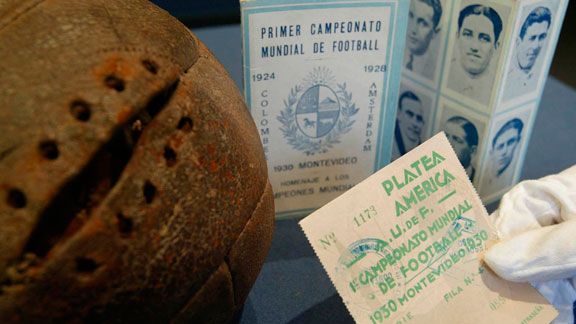 GettyImagesThe inaugural World Cup final leather soccer ball from 1930, left, with a ticket to the final, front, and a programme, which shows the photos of both teams, on view at Bonhams auction house, Wednesday, March 26, 2003. Uruguay beat Argentina 4-2.
MEDIUM:

You can contribute your thoughts on the World Cup by taking part in our Medium Project. Just click this link and get writing.