On June 12, the world's eyes turn to Brazil for the start of the 20th FIFA World Cup, but the planet's biggest football tournament will have plenty of news and views in the months leading up to it. ESPN FC's World Cup Daily blog is the place to be:

TOP STORIES:

• FIFA president Sepp Blatter believes this year's World Cup in Brazil will be the "best ever" despite recent setbacks in preparations. The buildup to this year's finals has been plagued by problems, highlighted by the deaths of construction workers hurrying to finish stadia in time for the start of the tournament. But despite the host nation's struggles to be ready for the June 1 kickoff, Blatter is confident the tournament will be remembered as the best in history. "Despite all the criticism, it will be the best ever World Cup," the 77-year-old told FIFA.com. Read more

• Interesting quotes from former Nigeria head coach Christian Chukwu, who has a series of suggestions for current boss Stephen Keshi ahead of Brazil, including banning his players from having sex. "As a major stakeholder in the game, every Nigerian expects nothing less than the best preparation ever," he said. "The World Cup is not for rookies or disco dancers, it is for senior boys that are ready to stake their careers for the passion and love they have for the round leather game and at the same time make money and name for themselves." Read more at Vanguard

• Spurs striker Jermain Defoe may be set to join the MLS and Toronto FC, but Tim Sherwood thinks that Defoe should be an automatic choice for England at the World Cup. "Wherever Jermain plays, anywhere in the world, he will score goals," he said. "That's why I would say he's an automatic choice to be on that plane for Brazil.

"You always need goalscorers. I think in this country, we've got good young talents but I'm not sure we've got many better goalscorers than Jermain Defoe." Read more at Sky Sports.

PLUS: Gilberto Silva, who helped Brazil win the 2002 World Cup, and veteran Dutch player Ruud van Nistelrooy will work as studio analysts during ESPN's World Cup coverage. Read more

INTERNATIONAL BIRTHDAYS: Ottmar Hitzfeld (1949), Axel Witsel (1989), Oribe Peralta (1984).

DID YOU KNOW?

On this day in 2009, Manchester United's Cristiano Ronaldo was voted World Player of the Year by FIFA. Apart from George Weah, who was with Paris Saint-Germain as well as Milan in 1995, he was the first player to win the award from a club outside Italy or Spain. The only other Portuguese player to win it was Real Madrid's Figo in 2001.
-- Cris Freddi

SNAPSHOT: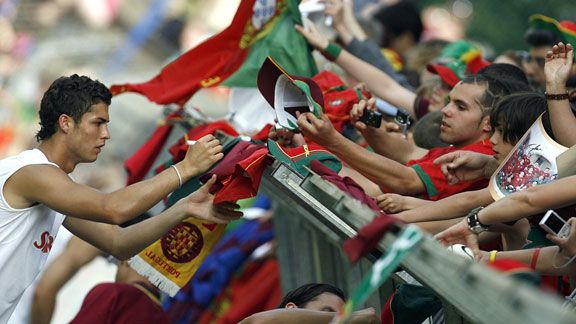 APPortugal's Cristiano Ronaldo signs autographs after a training session on Sunday, June 18, 2006, in Guetersloh, Germany. Portugal would knock out England, but fell 1-0 to France in the semifinals.
MEDIUM:

You can contribute your thoughts on the World Cup by taking part in our Medium Project. Just click this link and get writing.