World Cup Daily: Saturday
On June 12, the world's eyes turn to Brazil for the start of the 20th FIFA World Cup, but the planet's biggest football tournament will have plenty of news and views in the months leading up to it. ESPN FC's World Cup Daily blog is the place to be:

TOP STORIES:

• The World Cup trophy has arrived in South America as part of its very own world tour, having recently been paraded in Asia. First stop is Chile before heading to Argentina, among other nations. Read more (FIFA.com)
• Portugal coach Paulo Bento has been speaking ahead of the summer's tournament and was unsurprisingly asked about star player Cristiano Ronaldo. Of the Real Madrid man, he said: "He's a guy who's approachable and easy to talk to, a good teammate who is extremely competitive." Read more (FIFA.com)
• Belgium are something of the hipsters' choice at the World Cup, with the country boasting a fine selection of talent, both renowned and somewhat under the radar. And of the Red Devils, Sky News has run a feature on their progress and hopes at the finals. Read more

INTERNATIONAL BIRTHDAYS: Bryan Robson (1957), Jens Nowotny (1974), Stijn Schaars (1984)

DID YOU KNOW?

The first FIFA World Cup to be televised was filmed in Switzerland in 1954 and shown via tape delay. In the following decade-plus there were breakthroughs in the industry, including the introduction of replay and communications satellites, and the 1970 World Cup in Mexico was broadcast live to global audiences.

SNAPSHOT: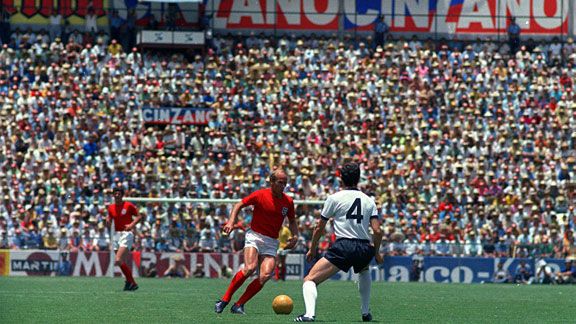 APEngland's Bobby Charlton, centre, attacks West Germany's goal, watched by West Germany's captain Franz Beckenbauer, back to the camera, during the quarterfinals of the World Cup, in Leon, Mexico, June 14, 1970. The final score was 3-2 to West Germany.
MEDIUM:

You can contribute your thoughts on the World Cup by taking part in our Medium Project. Just click this link and get writing.