World Cup Daily: Thursday
On June 12, the world's eyes turn to Brazil for the start of the 20th FIFA World Cup, but the planet's biggest football tournament will have plenty of news and views in the months leading up to it. ESPN FC's World Cup Daily blog is the place to be:

TOP STORIES:

• Switzerland manager Ottmar Hitzfeld is not happy that his team will have to play in the heat in Brazil. The Swiss play Honduras in Manaus in the Amazon rainforest, then tackle the heat and humidity of Salvador for the game with France. "In Salvador it's very hot, Manaus is much worse because you are playing in a humid, tropical climate, with 95 percent humidity, and a temperature between 30 and 40 Celsius," Hitzfeld told SWR Radio. "I find it almost irresponsible that one has to play football in such a place, in the middle of the jungle, in the middle of the Amazon region." Read more at Sportsmole.

• Wondering how much your flight will cost to Brazil this summer? Well, Brazilian domestic airline Azul Linhas Aereas -- Brazil's third-biggest airline -- has capped its price after founder David Neeleman said none of its routes during the tournament would cost more than 999 reais ($420). Read more at Reuters.

• Nigeria's Super Eagles won't be spending too much time getting used to the conditions in Brazil, as they will land in the country on June 11, the day before the tournament starts. Nigeria are based in Sao Paulo but have five days before they play against Iran in their first match in Curitiba. Read more at ThisDayLive.

INTERNATIONAL BIRTHDAYS: Claudio Caniggia (1967), Ray Houghton (1962), Javier Guzman (1945).

DID YOU KNOW?

After a gap of 12 years, that incredible little winger Alcide Ghiggia won his last cap for Uruguay on this day in 1965. Moustachioed and beaky, so thin he made footballs look like medicine balls, he also was a quick and elusive match winner. His late goal gave Uruguay the World Cup in the biggest match of all time, and he also played five times for Italy, getting himself sent off in a World Cup qualifier in Belfast. Today's match was a warm-down friendly, a 1-1 draw at home to East Germany -- Cris Freddi

SNAPSHOT: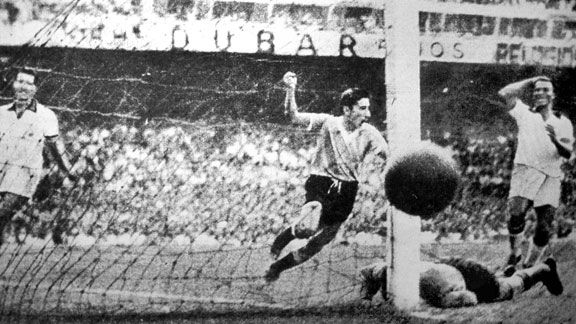 APUruguay's Ghiggia scores during the World Cup final against Brazil in the Maracana Stadium in Rio de Janeiro on July 16, 1950. Uruguay defeated Brazil 2-1 to win the Rimet Cup.
MEDIUM:

You can contribute your thoughts on the World Cup by taking part in our Medium Project. Just click this link and get writing.