On June 12, the world's eyes turn to Brazil for the start of the 20th FIFA World Cup, but the planet's biggest football tournament will have plenty of news and views in the months leading up to it. ESPN FC's World Cup Daily blog is the place to be:

TOP STORIES:

• Brazilian president Dilma Rousseff used her Twitter account to hit back at FIFA boss Sepp Blatter's attack on her country's lack of sufficient World Cup preparation. "Brazilians start 2014 confident that they are going to host the World Cup of World Cups," Rousseff wrote. "In Brazil, the World Cup is going to be at home because this is the home of football." Read more.

• Oliver Bierhoff, the German team manager, is aware that Brazil will be a challenging place to play. "The distances play a huge role in Brazil," he said. "The last time I was there I travelled 24 hours to get to an accommodation. So you can't get anywhere fast just to check some details. That is not possible. And the whole behavior and the art of living is different, so we need help to manage that. But we are prepared and also the FIFA is helping us out. And we will also be prepared so that the climatic distinctions will not affect us." Read more at Soccerway.

• With Theo Walcott ruled out of the World Cup with an ACL tear, Gareth Barry has backed Everton teammate Ross Barkley to force his way into the England squad for next summer's World Cup finals. "Ross should absolutely be nailed on to be on that plane for me," Barry told reporters. "I'm sure the England manager knows enough about Ross to know that he could go out there and surprise a lot of teams, because he has that natural ability." Read more.

PLUS: Where is the World Cup trophy? It's currently in Jakarta, Indonesia, on its tour. Read more at the Jakarta Globe.

INTERNATIONAL BIRTHDAYS: Dieter Hoeness (1953), Eden Hazard (1991), Vladimir Kovacevic (1940).

DID YOU KNOW?

Mohamed Kallon played for a number of clubs, especially in Italy, including Inter, Bologna and Vicenza. Today in 1995 he made his international debut only three months past his 15th birthday, helping Sierra Leone beat Gambia in an Africa Cup of Nations qualifier. In the same competition a few months later, Kallon's goal against Congo made him one of the youngest scorers in senior international football.
-- Cris Freddi

SNAPSHOT: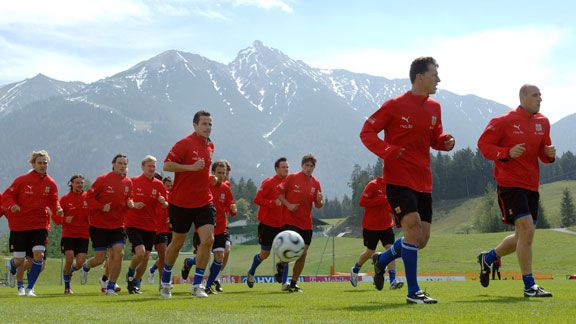 APPlayers of the Czech national team jog during a practice session in Seefeld, Austria, on Monday, May 22, 2006. But after beating the USA, they would fail to get out of Group E.
MEDIUM:

You can contribute your thoughts on the World Cup by taking part in our Medium Project. Just click this link and get writing.