On June 12, the world's eyes turn to Brazil for the start of the 20th FIFA World Cup, but the planet's biggest football tournament will have plenty of news and views in the months leading up to it. ESPN FC's World Cup Daily blog is the place to be:

TOP STORIES:

• It seems remarkable that a player as talented as Antonio Cassano has never featured at a World Cup. There was clamour for him to be selected in both 2006 and 2010 but the former Inter Milan and Real Madrid man can only point to appearances at Euro 2004, Euro 2008 and Euro 2012 on his list of international achievements. Everybody's favourite pastry-loving forward is being championed again ahead of this summer's finals in Brazil, but he appears to have nipped that idea in the bud, telling a news conference: "I've got a zero percent chance of going to the World Cup." (Read more)

• Diego Maradona is a demigod in Argentina and he certainly knows a thing or two about having to carry a nation's hopes on his shoulders. So he has pleaded with his adoring public to take it easy on four-time World Player of the Year Lionel Messi should Argentina fail to win the World Cup on Brazilian soil. "I haven't watched the national team since I coached it, but all I can say is that we mustn't blame Messi if we don't win the World Cup," Maradona said on a show hosted by his daughter, Dalma, on Fansworld.tv. "[But] I know Messi is going to deliver, he's going to play really well." A football icon and a fortune teller; impressive stuff, Diego. (Read more)

• Legendary Portugal striker Eusebio died at the age of 71. Considered to be one of the greatest players of all time, Eusebio was the top goal scorer at the 1966 World Cup for Portugal, scoring nine goals as they finished in third place. The former forward had been admitted to hospital a number of times over the past 12 months as he battled heart and respiratory problems. On Sunday, it was confirmed he had died of cardiac arrest. (Read more)


The king!! Grande perda para todos nos! O mais grande!! pic.twitter.com/eavtaUG8Z9

— Luís Figo (@LuisFigo) January 5, 2014
INTERNATIONAL BIRTHDAYS: Jaroslav Plasil (1982), Uli Hoeness (1952), Leroy Fer (1990).

DID YOU KNOW?

In his 108 games for England, Bobby Moore scored only two goals, both during the season in which he lifted the World Cup. On this day in 1966, he scored the first of the two, a header which rescued England in their first match with Poland. At Goodison Park, man of the match Jerzy Sadek scored just before halftime, and Moore didn't convert George Cohen's cross until 13 minutes from the end. The England captain enjoyed the unaccustomed feeling so much he almost won the match with another header which hit the bar. (Cris Freddi)

SNAPSHOT: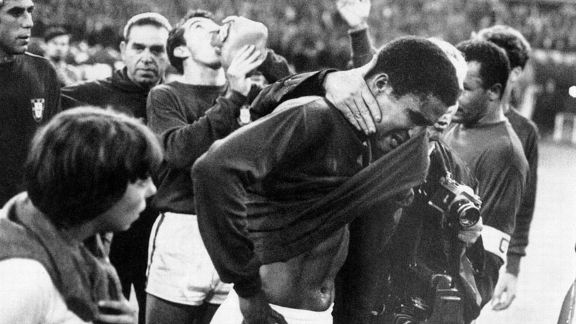 APWorld Cup top scorer Eusebio cries as he walks off the pitch after Portugal were defeated by England in their 1966 World Cup semifinal.
MEDIUM:

You can contribute your thoughts on the World Cup by taking part in our Medium Project. Just click this link and get writing.