World Cup Daily: Sat, Jan. 4
On June 12, the world's eyes turn to Brazil for the start of the 20th FIFA World Cup, but the planet's biggest football tournament will have plenty of news and views in the months leading up to it. ESPN FC's World Cup Daily blog is the place to be:

TOP STORIES:

• U.S. coach Jurgen Klinsmann named 26 players to his January training camp squad on Friday. The preliminary roster features 10 players who helped the U.S. advance to the World Cup for the seventh straight time. Midfielder Graham Zusi led all players with nine appearances while defender Omar Gonzalez and forward Eddie Johnson had eight each. (Read more)

• Brazil has created a 10,000-strong army of riot troops to help keep demonstrations under control during this summer's tournament. After two years of intense training the troops, selected from state police, are now ready to be deployed to the 12 host cities when the finals near. (Read more)

• Cameroon have lined up testing friendlies against Portugal and Argentina as the World Cup finals near -- as well as the game against Germany on June 1. They will face the Portuguese on March 5 and Argentina on June 6 at venues yet to be announced. It means the Indomitable Lions have lined up games against three of the top five nations in the current FIFA Rankings. They have drawn hosts Brazil plus Mexico and Croatia in Group A. (Read more)

INTERNATIONAL BIRTHDAYS: James Milner (1986), Toni Kroos (1990), Norberto Alonso (1953)

DID YOU KNOW?

On this day in 1977, Uruguay's Hector Rodriguez was taking charge of his first international match -- and his own country. Five minutes into the second half, Uruguay were a goal down at home when Rodriguez gave his lads a helping hand by sending off Ecuador's goalkeeper Carlos Delgado for time wasting. Soon afterwards, the prolific Fernando Morena equalised for Uruguay -- and with 12 minutes to go, Rodriguez added to Ecuador's sense of grievance with another red card. And another. And another. As the visiting players protested, Rodriguez sent off five in all, including Luis Granda, who was making his international debut. Somewhere in all that, one of the Uruguayans was sent off too, and the match was abandoned. (Cris Freddi)

SNAPSHOT: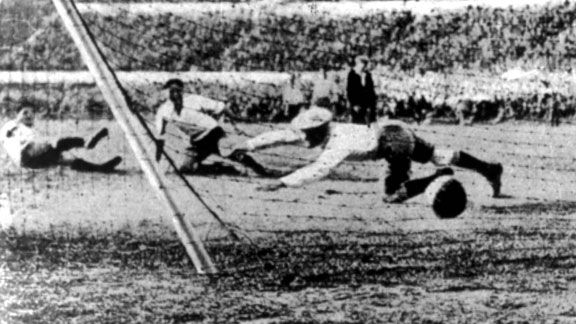 APUruguay, who ran out 4-2 winners, score during the World Cup Final against Argentina, in Montevideo, Uruguay, July 30, 1930.
MEDIUM:

You can contribute your thoughts on the World Cup by taking part in our Medium Project. Just click this link and get writing.