World Cup Daily: Fri, Jan. 3
On June 12, the world's eyes turn to Brazil for the start of the 20th FIFA World Cup, but the planet's biggest football tournament will have plenty of news and views in the months leading up to it. ESPN FC's World Cup Daily blog is the place to be:

TOP STORIES:

• Argentina legend Diego Maradona has been speaking on television about his nation's chances at the World Cup, and the pressure on Lionel Messi's shoulders. He said: "I have not seen the national side since I managed them. But the only thing I can say to you is that if we do not win the World Cup, we will not blame Messi. I know Messi is going to tear it up, he is going to play very well, but we will not blame him."

• Up to 5,000 England fans could make the summer trip to Brazil to attend the tournament, according to a report in the Guardian, as they embark on a "experience of a lifetime." (Read more).

• Bosnia-Herzegovina coach Safet Susic has been speaking about his team's chances in Brazil. He told FIFA.com: "The aim is to get through the first round. That's what we want to do, but that doesn't mean we'll succeed." (Read more).

PLUS: The first ceremonial kick of the World Cup may be made by a paralyzed teenager clad in a robotic body suit. (Read more)

INTERNATIONAL BIRTHDAYS: Angelos Basinas (1976), Claudio Maldonado (1980), Lucas (1979).

DID YOU KNOW?

The only coach to have won back-to-back trophies, Vittorio Pozzo led the Italian national team to two FIFA World Cups and an Olympic gold medal in the 1930s, establishing himself as one of the greatest coaching figures in football history. Il Vecchio Maestro (The Old Master) said once: "English players can be treated collectively. Italians have to be treated individually. They like to know that you're on their side."

SNAPSHOT: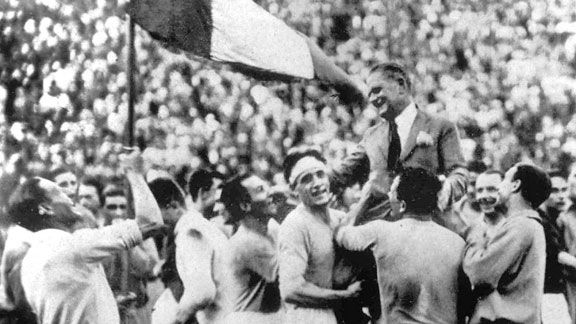 APVittorio Pozzo is carried in triumph after Italy defeated Czechoslovakia 2-1, after extra-time in the World Cup Final, to win the Rimet Cup, June 10, 1934, at the Fascist National Party Stadium in Rome, Italy.
MEDIUM:

You can contribute your thoughts on the World Cup by taking part in our Medium Project. Just click this link and get writing.