World Cup Daily: Weds, Jan. 1
On June 12, the world's eyes turn to Brazil for the start of the 20th FIFA World Cup, but the planet's biggest football tournament will have plenty of news and views in the months leading up to it. ESPN FC's World Cup Daily blog is the place to be:

TOP STORIES:

• Spain coach Vicente del Bosque insists that the world champions have to be humble in their quest for another World Cup title. "We have to forget the past and not gloat over what we have won in previous years," he told Spanish daily AS. "Humbleness is not an empty word. When I ask for it, it is because it is the path to success." Read more

• The festive period has seen a number of potential World Cup players injured, Wayne Rooney, Robin van Persie and Mesut Ozil among them, but for England's Roy Hodgson it seems like a number of his players might just be fresh by the time the summer rolls around. Read more (Daily Telegraph).

• Hong Myung-bo claims that his South Korea squad for the summer is 80 percent complete. "We have a lot of young and talented players, but they lack international experience," Hong told reporters at the headquarters of the Korea Football Association in Seoul. "My job is to try to address that in the coming months. Our core players are aged 22 to 25, and we will need older players for the World Cup to give our team some balance." Read more (Korea Herald).

PLUS: How can Ghana stop Cristiano Ronaldo and Portugal? The views of the Ghana fans make interesting reading. Read more (Ghanasoccernet.com)

INTERNATIONAL BIRTHDAYS: Roberto Rivelino (1946), Lilian Thuram (1972), Davor Suker (1968).

DID YOU KNOW?

Mexico's first game was on Jan. 1, 1923, against weak opposition, a streaky 3-2 win away to Guatemala. It took them 26 minutes to score their first goal, through Juan Izquierdo, and they had to hold out for the last 18 minutes after Guatemala's Constantino Kinhie pulled it back to 3-2. Mexico lost 3-1 in the same city three days later before winning the deciding match 4-1. They won another three-match series with Guatemala in December, then didn't play another international until 1928, when they were thrashed 7-1 by Spain at the Olympic Games. (Cris Freddi)

SNAPSHOT: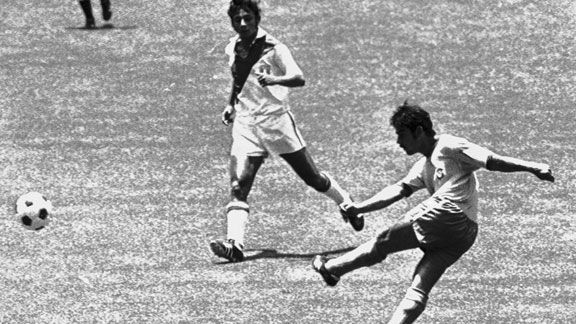 APRivelino, right, scores Brazil's first goal during the World Cup quarterfinal match against Peru in Guadalajara, Mexico, on June 14, 1970.