Long-range World Cup predictions
We're six months away from the start of the 2014 World Cup, and Iain Macintosh is already getting overexcited. Here are his long-range predictions.

Team That Will Surprise: As Michael Cox rather astutely pointed out a while back, so many people have nominated Belgium as next summer's "dark horse" that Marc Wilmots' side are now about as dark as Gandalf's snowy-haired stallion, Shadowfax. Instead of Belgium, keep an eye on Colombia.

Colombia manager Jose Pekerman memorably resigned as manager of his own nation, Argentina, after the 2006 World Cup when a tweak too many cost them a place in the semifinals. What is hardly ever recalled is how impressive La Albiceleste were until the final stages of that game. A tinkerer he may be, but Pekerman knows how to get the best out of a football team. Yes, we've been here before. Colombia's optimism in 1994 was usurped first by disappointment and then by tragedy, but as they say in high finance, past performance is no guarantee of future results.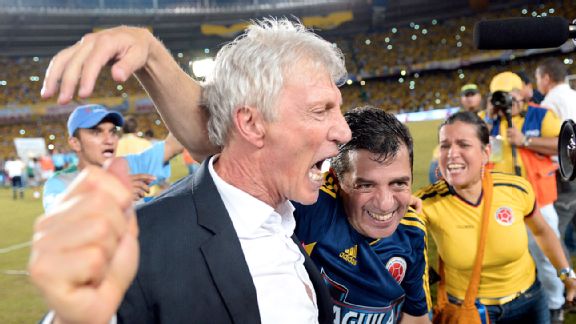 Inaldo Perez/Getty ImagesJose Pekerman has worked wonders in charge of Colombia. Does he have more tricks up his sleeve for 2014?

Colombia are not short of talent. Led by Radamel Falcao, they also boast the likes of James Rodriguez and Jackson Martinez. They qualified in second place behind Argentina, conceded fewer goals than anyone else, and will have absolutely no problems in adjusting to the conditions. Oh, and one other thing: They beat Belgium 2-0 in November...

Team That Will Bore: England played four matches in the 2012 European Championships and three of them were, for the neutral at least, as exciting as an accountancy seminar.

Roy Hodgson had his reasons. Having taken over as national coach just six weeks before the tournament began, it was understandable that he would stick with his time-honoured banks of four and hope to plod carefully toward respectability, which of course is exactly what he did. But while Hodgson made efforts to improve and refine England's playing style, it wasn't until the final qualification doubleheader that the Three Lions raised anything more than a timid meow.


Back-to-back defeats to Chile and Germany have sapped what little confidence the English supporters once had in their team.

Key players are aging and the star turn, Wayne Rooney, self-destructed in 2006, flopped in 2010 and turned up in 2012 with a self-inflicted two-match suspension.

With Uruguay and Italy awaiting England in unfamiliar conditions, it's hard to foresee anything other than the backs of white, sweat-drenched shirts being pressed hard against the wall.

Sure, it might work. But it certainly won't be much fun to watch.

Team That (Might) Flop: A long shot to match all long shots, but could this be a tournament too far for the all-conquering Spanish? Dumped into a hellish group with Chile and the Netherlands -- and, yes, Australia too -- this pool isn't so much a dropped banana skin on the floor but rather an entire carpet of banana skins floating above a thick layer of olive oil.

Before you scoff too heartily, think back to the 2002 World Cup when France arrived in Japan on the back of triumphs in both the 1998 World Cup and the 2000 European Championships. They were beaten by Senegal in the opening match, held by Uruguay and then unceremoniously ejected from the tournament by Denmark.

Spain are, of course, still an exceptional football team. They qualified for this competition without losing a single game. But they did draw a couple -- at home to France and, more surprisingly, to Finland. The Netherlands, in contrast, were unbeaten and drew only once. And Chile, as Roy Hodgson will testify, are a very dangerous team.

Spain are not invincible and perhaps, just perhaps, the hunger that drove them forward has diminished a little. It certainly makes you wonder...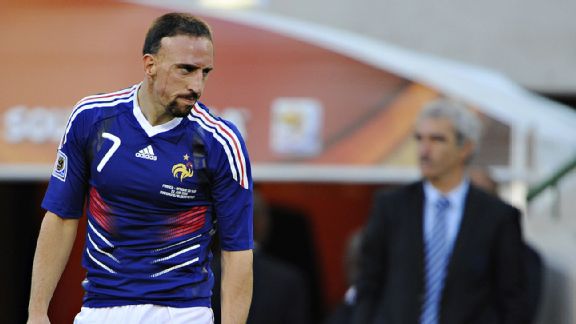 Gianluigi Guercia/AFP/Getty ImagesFrance's complete collapse in 2010 was shocking and entertaining. Despite a generous draw, we should prepare for similar chaos in Brazil.
Team That Will Implode: Oh, I know they fought back to overturn a 2-0 deficit to Ukraine in a historic and cathartic return to form, but one glorious night isn't enough for the French football team to shake off the baggage of the past.

A newspaper poll held shortly before that extraordinary second leg asked readers of L'Equipe if they still supported their nation. Only 16 percent said yes. They can't all have changed their minds in the meantime. The French public and their footballers have loathed each other for years, and those wounds won't heal easily.

As for the media? Remember well that the French team celebrated their success by running through the mixed zone and spraying the press with drinks. The journalists who were there that night certainly will.

When France's ball was gently lowered into what must have been the most accommodating World Cup group possible, it was easy to assume that progression was assured, yet this confidence may breed only complacency. Facing Switzerland, Ecuador and Honduras, the supporters, the players and the media will all expect a smooth progression. Expect a very public and mutually assured destruction at the first sign of trouble.