View from Brazil: who's who in the groups
COSTA DO SAUIPE -- Here's a look the groups following the World Cup draw, and the teams that should advance to the next stage.

Group A (Brazil, Croatia, Mexico and Cameroon)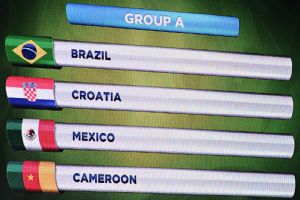 Vanderlei Almeida/AFP/Getty ImagesBrazil and Mexico should prevail in Group A.
Mexico played 5-3-2 in the World Cup playoffs and is thinking over which 'foreign' players to bring to the Cup. Oribe Peralta, instead of Chicharito Hernandez? Well, Peralta was Brazil's executioner in the Olympics. Croatia has excellent players and came in through the qualification as it did in 1998, when it advanced to the semifinals. But it has never gotten past that round and Mexico has never gotten out of the second round since 1978. The pick here is Brazil in first place, and Mexico in second place. FIFA ranks Cameroon 30th among the World Cup participants. Eto'o plays in the midfield, with Webo up front.

Group B (Spain, Holland, Chile and Australia)
It is not going to be easy to beat Chile, but Jorge Sampaoli was heartbroken after the draw. Holland has the longest winning streak among the World Cup's participants. It has not lost in 17 games, with 11 wins and six draws. With Van Gaal, it only lost its first game. But it has a difficult opponent, Spain, which was beaten only twice this year. Spain in first place, Holland in second place. Australia is the team ranked last among the World Cup's participants.

Group C (Colombia, Ivory Coast, Japan and Greece)
Greece is in 12th place in the ranking. It is ahead of the Ivory Coast and Japan. It plays 4-3-3 and is coached by Fernando Santos, the former manager of Porto, the Portuguese champion in 1999. But Ivory Coast and Colombia are stronger. Radamel Falcao Garcia vs Drogba... Or Yaya Toure, in peak form, a star for the Ivorians. Japan played badly in Brazil in the Confederations Cup and disappointed its coach, Alberto Zaccheroni. It needs a center forward. Here, the tip is Ivory Coast in first, with Colombia in second place.

Group D (Uruguay, Costa Rica, England and Italy)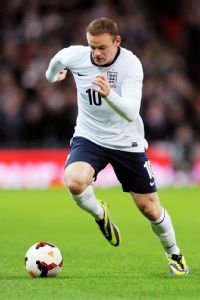 Steve Bardens/The FA/Getty ImagesWayne Rooney might not be enough for England against the likes of Uruguay's Luis Suarez and Edinson Cavani.
For the first time, there are three world champions in the same group. Italy feared this and smiled with the 2010 bracket. Four years ago, it was eliminated by Slovakia and Paraguay in the bracket that had New Zealand. It is now the strongest team among the three champions. Uruguay and England will fight for second place in the group. Edinson Cavani and Luis Suarez must, and can, defeat Wayne Rooney. Bryan Ruiz' Costa Rica plays 5-4-1 and is the dark horse.

Group E (Switzerland, France, Honduras and Ecuador)
The bracket echoes that of 2006, when France was disparaged on arrival and passed the round in second place, behind Switzerland. There is time to convert this group of French players into a solid team. Switzerland has players such as Granit Xhaka and Seferovic, under-17 world champions in 2009. It is a solid team. But the pick is France first, Switzerland second in the bracket. Honduras has good players who play in England, such as Figueroa, at Hull, and Palacios, at Stoke. Ecuador defeated Uruguay in October. But it is below the Europeans, in theory.

Group F (Argentina, Bosnia, Iran and Nigeria)
Argentina was the winner of the draw. It had good luck with its group, in the matchups and in geography. It could meet Switzerland (or France) and Belgium on the way to the semifinals. Bosnia is the second force. It plays 4-4-2 and has Mimisovic and Pijanic in midfield with Dzeko and Ibisevic up front. Nigeria is not dazzling. It plays 4-3-3, has Moses on offense and Mikel in midfield, but it has already demonstrated weakness in the Confederations Cup. Iran has Dejagah, who plays for Fulham, and manager Carlos Queiroz. But here the idea is Argentina in first place, with Bosnia second.

Group G (Germany, Portugal, United States and Ghana)
Germany is the strongest team. The star player in the group is Cristiano Ronaldo. But what if the ace arrives exhausted due to the amazing season he is having in Europe? In 2002, the United States eliminated a Portuguese team that had Figo, who had been voted the world's best player the year before. Ghana plays 4-1-4-1, has Boateng on offense and Essien, Muntari and Asamoah in midfield. The group is harder than it looks. But indications are Germany and Portugal, in first and second place.

Group H (Belgium, Russia, Algeria and South Korea)
The South Koreans are coached by Hong Myung Bo, the sweeper on the 2002 semifinalist team, and a disciple of Guus Hiddink's ball possession. He was his assistant at Anzhi. They have been stronger in the past. Algeria can play hard, with Ghoulan from Saint Etienne, Slimani from Sporting, and the excellent coach Vahid Halihodzic, formerly at Paris Saint-Germain. But Fabio Capello's Russia is strong. And the Belgian team has youth: Hazard, Lukaku, Mirallas, Fellaini... The bet here is on Russia in first place and Belgium in second place. But they have to play.