Qualifying forgotten as CONCACAF giants focus on Brazil
The disparity in performance levels between the U.S. and Mexico during World Cup qualifying was vast.

The Americans cruised for the most part, clinching qualification with two matches to spare, while El Tri needed a once-in-a-lifetime favor from their old rivals just to secure a playoff spot against New Zealand, which ultimately led to their passage to Brazil.

It amounted to a complete turnaround in the respective fortunes of the two rivals. Just two years ago, Mexico was in the ascendency. Its youth teams were excelling at all levels, and a 4-2 triumph over the U.S. in the 2011 Gold Cup final only seemed to confirm that an extended period of dominance was in store.

That June day in Pasadena, Calif., seems a distant memory given what transpired during World Cup qualifying. Furthermore, it suggested that the U.S. would enjoy more success next summer. However, the draw provided a stark reminder that there is little correlation between form in qualifying and performance at the tournament itself.

Assessing classic rivalries ahead of the World Cup
- Vickery: Brazil-Argentina
- Winner: Netherlands-Belgium
- Moonda: Ghana-Ivory Coast
- Duerden: Japan-South Korea

This is nothing new, of course. Back in 2002, the U.S. finished third in the final round of CONCACAF qualifying, behind Costa Rica and Mexico. Yet when it came to the actual tournament, it was the Americans who recorded an unforgettable 2-0 victory over El Tri in the round of 16.

In 2006, the U.S. was flying high, securing 23 points to qualify in first place and reaching a top five position in the FIFA rankings. Though Mexico finished with the same number of points, their relative performances were quite different.

A difficult draw that included Italy, the Czech Republic and Ghana saw the U.S. drummed out of the tournament with just a point to its name. Mexico, by contrast, acquitted itself well before falling in the last 16 following an epic match against Argentina.

This time around during qualifying, the U.S. was as strong as it has ever been, once again amassing 23 points while fashioning a 12-match winning streak in all competitions earlier this year. But after they received a dream draw -- England, Slovenia and Algeria -- in 2010, karma bit the Americans with a vengeance, putting them in a group with Germany, Portugal and Ghana.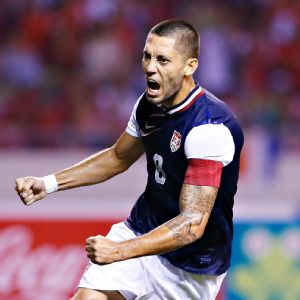 Kevin C. Cox/Getty ImagesDempsey will be a key man in what will be his third World Cup appearance.
As veteran forward Clint Dempsey put it, it will require the U.S. to play its "best ball" to get to the second round. A more likely scenario sees the U.S. being eliminated after the group stage.

As for Mexico, its disarray has been so complete that during qualifying and the subsequent playoff, as many victories as coaches (four) were witnessed. Yet last Friday it was handed a lifeline of sorts.

Being grouped with Brazil is certainly no easy task, and it essentially means that the remaining three teams in Group A are playing for second place.

But given that the remaining teams are Croatia and Cameroon, Mexico's task seems doable. El Tri has a history of playing up to its competition and can draw hope from the fact that it has reached the second round in every World Cup since 1994.

Another plus is that while expectations are always high, now that qualification has been assured, the suffocating pressure that had drawn in has eased somewhat, giving manager Miguel Herrera a bit more time to try to rebuild his team's psyche.

Add it all up and it looks like Mexico stands a better chance of progressing to the second round than does the U.S.

If that happens, the tribulations of Mexico's qualifying odyssey -- not to mention the Americans' success during that time -- will largely be forgotten.