'Rumble in jungle' reveals prejudices about Manaus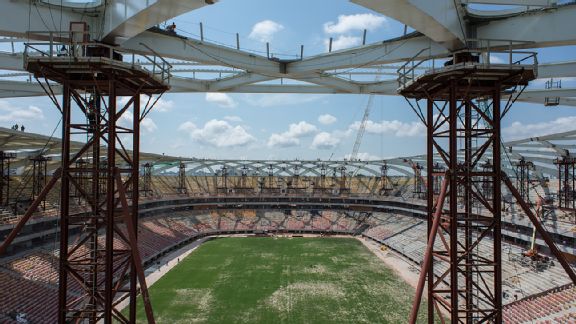 Yasuyoshi Chiba/AFP/Getty ImagesManaus has come under a lot of criticism from teams which will have to play at the Arena Amazonia stadium.
With average temperatures of 33 degrees Celsius (92 degrees Fahrenheit) in June and humidity in the high 80s, Manaus is a horrendous place to play football. And what about all those problems with domestic violence? What if I get killed by a stampede?

If the Internet had been up and running in 1994 as we have today, these worries could easily have been floated by Brazilian media outlets in regards to the problems offered by Dallas as a World Cup host city -- it could have added to the coverage of a World Cup quarterfinal match between Romario's Brazil and Dennis Bergkamp's Holland.

It could also have sounded silly and misinformed, just like the headlines around Manaus, Brazil, the host city everybody wanted to avoid but where four 2014 World Cup games will take place -- including England versus Italy on June 14. This is not a case of overlooking the blatant differences between the most important city in the Amazon and one Texas venue's crown jewel, but a point against simply promoting pure scaremongering, which seems to be what a good part of the British media has done the last few days.

Any England supporters who believe all they read would have reasons to fear being mugged by alligators or chewed up by drug-crazy slum warlords -- all while frantically wiping sweat or tarantulas from their necks. The reality is much different. While Manaus is certainly a place where the weather can prove inhospitable even for Brazilians, thanks to the heat and humidity, it is far from the cheap doomsday plot reported by the tabloids.

In fact, Manaus could actually be a joy and a lesson for visitors who don't buy into the histrionics and manage to get tickets for England's "rumble in the jungle" against the Azzurri. A living, breathing history lesson given its tales of pomp and doom -- and thanks to its role in the frenzy for rubber at the end of the 19th century -- the Amazonian capital is also the gateway to the world's biggest rain forest. This last point is a tourist magnet that has helped make Manaus the 10th-most-visited city in Brazil.

Yes, there are slums, and indeed somebody could get mugged, especially if they don't abide by hints and recommendations from authorities on both sides of the Atlantic. But any Brazilian will certainly be laughing out loud after reading the picture of urban violence painted by certain well-known sources of diatribe. There are riskier places for one to go in Brazil if you fear losing a wallet or a watch. Rio de Janeiro is one of them.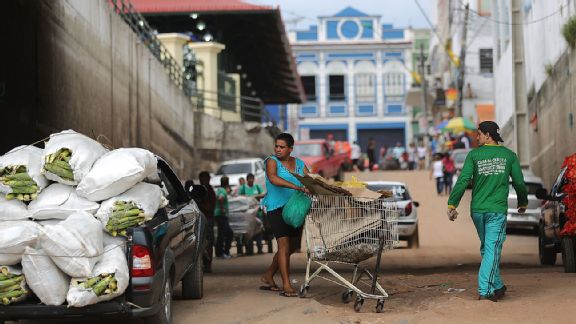 Mario Tama/Getty ImagesA street in the city of Manaus.
Ah, but Manaus features high up on a list of the 50 most violent cities in the world, doesn't it? Yes, but so does Durban, in South Africa, which could not have been a calmer place to be in the last World Cup -- I know that because I spent three weeks there during the 2010 tournament.

This piece is not to say that I'm defending Manaus (or any other Brazilian host cities) from the incompetence and decades of negligence by the authorities that led to poor infrastructure and poverty -- although it is tempting to remember that Manaus' fall from grace as the thriving rubber capital of the early 20th century was not helped by rival low-cost production schemes set up by European countries, including ... England.

Let's be clear -- no foreign visitors should be forced to immediately feel at ease at the sight of a Brazilian favela or a kid sleeping on the street. Before immediately assuming they are at risk, though, my advice for any English or Italian fan thinking of heading to the Amazon for the World Cup is simple: Research properly before having an anxiety attack.

As for why Manaus was chosen as one of the 12 host cities, the answer there is also complex. Since the whole country is footing the World Cup bill, Brazilian authorities did not want to confine the party to the usual cities like Rio, Sao Paulo and Salvador. While one can point out that another Amazonian city, Belem, would have represented a better choice in terms of legacy, since it has stronger clubs that could guarantee more use of a brand-new stadium, it is undeniable that Manaus offers much more for fans than the footballing experience.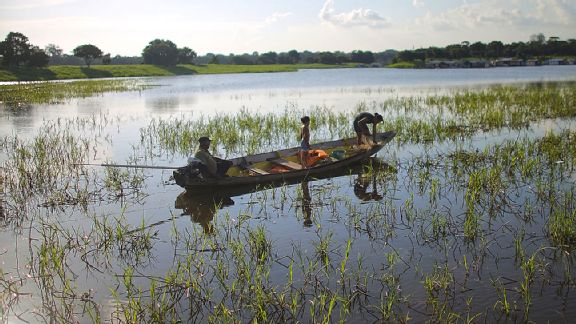 Mario Tama/Getty ImagesRio Negro in the amazon.
Tours of the famous Amazon river can start from basic visits (10 pounds) to the mesmerizing water -- where the yellow Solimoes and the dark Rio Negro meet to help form the behemoth -- to proper incursions through the jungle. Manaus offers visitors a glimpse of a side of Brazil that many people outside the country still have no knowledge of. Don't believe me? Just ask an Englishman currently there.

Amazonian gastronomy will blow your mind thanks to its indigenous ingredients, and there are many things to do outside a football stadium, although the Arena Amazonia -- built in the form of a traditional indigenous basket -- should also become an attraction in itself (later building work notwithstanding).

Above all, Manaus and Brazil won't give you a European World Cup. If you have a problem with that, perhaps you'd better sit in front of the telly instead.